When you choose to go privately to treat your varicose veins, you will have the task of deciding which surgeon you would like to perform your procedure. There are a number of things that you should be looking at out for but the most important are:
Experience
Results
Expertise
When you have treatment with the NHS, you will have been allocated a surgeon and you will have most likely not really thought about researching their credibility as you trust the NHS as a service.
When you choose to go private, you are a lot more in control of your treatment options and taking the time to research a surgeon and clinic is a lot more common.
One of the first things you should research is the experience of a surgeon. Many vascular surgeons also hold positions within the NHS which gives an indication what type of experience they may have.
When meeting with a vascular surgeon you are entitled to ask them how many varicose vein procedures they have performed or how many they perform on average a year.
Many expert vascular surgeons are highly sought after and are often very busy so although going private often means a quicker treatment time, don't be put off by a busy waiting list as choosing a busy surgeon is usually confirmation that you are getting a professional that performs varicose vein removal procedures on a regular basis.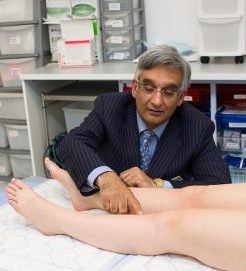 One of the benefits of choosing to self-pay varicose vein treatment is that you will get a chance to see the results of your selected surgeons work before committing to treatment.
When meeting with your vascular surgeon, ask to see before and after photos of the different types of treatments that they are offering.
You can also check through review websites such as Trustpilot to see what other patients have to say about the surgeons and clinics you are researching.
You will need to feel reassured that the surgeon has the expertise required to safely perform the varicose vein procedure. This will come from their education and training so asking about this is really important.
Ensure that your Vascular surgeon is full registered with the General Medical Council (GMC) which you can check by searching their online register here.
Another great way to show expertise is through being members of professional vascular organisations which often require them to meet strict criteria.
One of the most common professional memberships for Vascular Surgery in the UK is the Vascular Society for Great Britain and Ireland.
The Vascular Society for Great Britain and Ireland
The Vascular Society for Great Britain and Ireland has over 600 members which mainly include vascular surgeons and vascular radiologists which the Society represents and provides professional support for. Holding Membership with the society is widely recognised in the vascular community as a mark of professional achievement.
Members must:
Be a specialist at a level equivalent to Consultant in independent vascular practice.
Be of good professional standing
Be on the Specialist Registers of the General Medical Councils of Great Britain and Ireland
Be living and working in Great Britain and Ireland.
Be proposed by two current ordinary members of the Society who will be asked to ascertain that the applicant has an established vascular practice.

How do I know if my vascular surgeon is a member of The Vascular Society for Great Britain and Ireland?
In the majority of cases, vascular surgeons will have this information displayed on their website or within their clinic. If you are still unsure, ask your surgeon directly what professional memberships they are part of as they should have no reason to hide this information.
Other professional memberships
There are of course numerous other professional memberships that your surgeon may hold including the European Society for Vascular Surgery (ESVS) and The Society of Vascular Medicine (SVM).
Depending on your vascular surgeons' background, interests and specialities, they may be a member of many different organisations which shows they are dedicated to developing and sharing their knowledge.
Expert Vascular Surgeons at The Private Clinic
We are one of the UK's most recognised Varicose Vein clinics and are able to offer non-surgical varicose vein removal treatments to 99% of patients who come to visit us. We have a team of expert vascular surgeons who are able to offer the most advanced, minimally invasive treatments for all types of varicose and thread veins. Our Consultant vascular surgeons are pioneers in EVLA(Endovenous Laser Ablation) and have treated thousands of patients.
Varicose Vein Procedures available at The Private Clinic
We are proud to offer our patients the most minimally invasive varicose vein removal procedures available. All of our procedures are performed under local anaesthetic in-clinic and do not require an overnight stay. The downtime for all procedures is minimal with many returning to work within days after having EVLA (Endovenous Laser Ablation) or Endovenous laser treatment. All varicose vein consultations include a free ultrasound scan of the legs to allow our vascular surgeons to recommend the most suitable treatment.
We offer patients:
EVLA (Endovenous Laser Ablation) or Endovenous laser treatment – a minimally invasive method of destroying dysfunctional varicose veins that uses laser heat to collapse the wall of the vein.
Sclerotherapy (Foam & Liquid) – a treatment that involves injecting the affected veins with a foam solution to cause inflammation which closes off the vein.
VenaSeal – a closure system that uses medical adhesive to close varicose veins.
Phlebectomy – a procedure that involves making very small incisions to allow large varicose veins close to the surface to be removed using a specialised tool.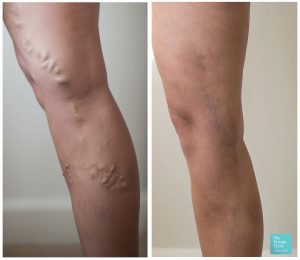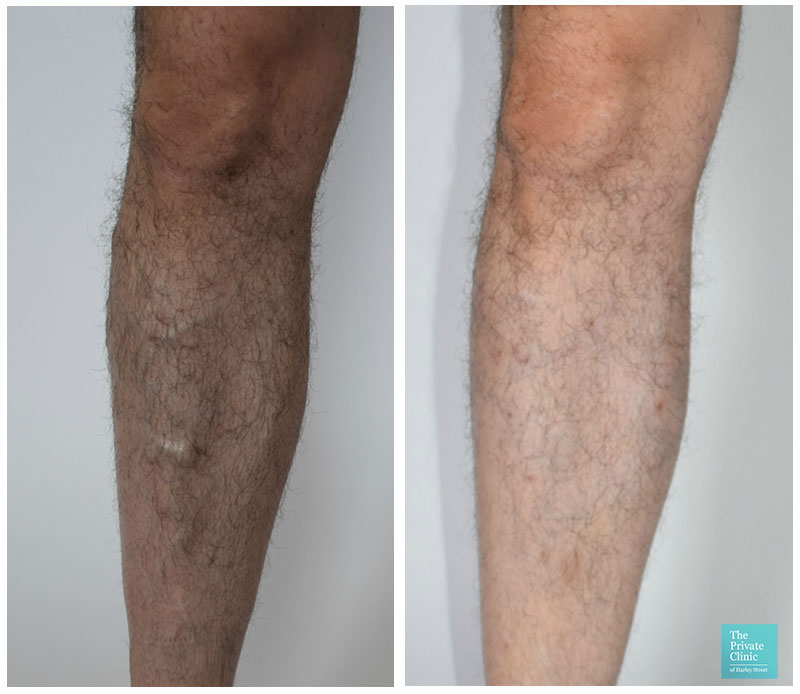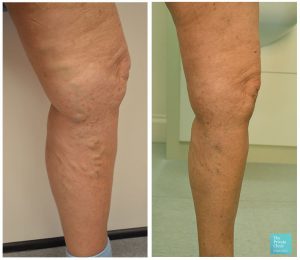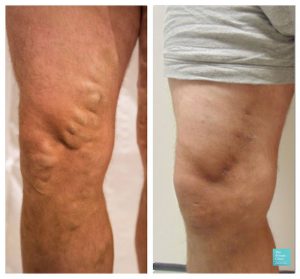 Where can I have varicose vein surgery?
We are able to offer varicose vein removal consultations in our clinics located nationwide.
Why Choose The Private Clinic for Varicose Vein Surgery?
We offer the least invasive methods for varicose veins.
We only work with highly specialised Vascular surgeons who are pioneers in EVLA (Endovenous Laser Ablation) and have treated thousands of patients.
We have carried out over 7,000 vein treatments.
We treat in our discreet state of the art clinics.
There is no need to travel to a big hospital with lengthy approvals from BUPA.
95% of patients would recommend us to their friends and family.
All treatments are carried out under local anaesthetic.
Treatment takes one hour; you can go home shortly after being treated.
No lengthy downtime or recovery required.
We have treated thousands of patients who have regained their confidence whilst avoiding health issues.
Owing to our success, we have been featured on Channel 4's Embarrassing Bodies , TLC's My Naked Secret and featured in Harper's Bazaar's Cosmetic Tweakment Trends for 2019 and The Daily Mail.
Read our extensive varicose vein FAQs
Hear from previous patients in our varicose vein patient stories
Find out more information in our varicose vein blogs
Download our varicose vein treatment brochure
If you would like to find out more about our varicose vein treatments or to arrange a consultation with one of our Consultant Vascular Surgeons, please call 0333 920 2471 or use our varicose vein online contact form.