Veins, we all have them and they are vital part of the makeup of our body but why are some more prominent than others?
Thread Veins are a common cosmetic issue which often appear on the legs or face. Many of us refer to thread veins as spider veins due to their web like appearance but the medical term is actually telangiectasia and it basically means that you have small dilated blood vessels sitting close to the surface of the skin. The causes of thread veins will vary between patients but can include;
Pregnancy
Genetics
Weight
Age
Lifestyle (e.g. excessive smoking or alcohol consumption)
Thread veins are often not a medical concern and sufferers usually only seek treatment as they are unhappy with the appearance of them but in some cases they can signal underlying issues such as varicose veins.
There are suggestions to help reduce your risk of thread veins which include living a healthy lifestyle, maintaining an ideal weight, keeping active and avoiding wearing tight clothing but these are not always sure ways to avoid thread veins appearing.
At The Private Clinic in Harley Street we have a range of treatments to help treat thread veins depending where they are. Our team of qualified practitioners will help advise you which treatment is best considering their location.
What is the Best Treatment for Thread vein removal?
Sclerotherapy
Sclerotherapy or microsclerotherapy is often the most common treatment for treating thread veins. It is a very effective treatment that can greatly reduce the visibility of thread veins on the legs. It involves a sclerosing agent being injected into the affected veins which causes the vein walls to become sticky resulting in blood no longer being able to pass through them. Once the blood stops using the veins, the veins will begin to collapse and then are naturally absorbed by the body.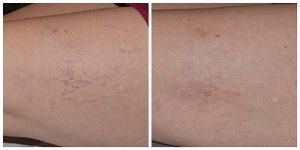 Cutera CoolGlide
The Cutera CoolGlide is a laser treatment that targets direct light at the thread veins causing the blood within them to coagulate and divert over to alternative veins located deeper below the surface of the skin. The thread veins are then absorbed naturally by the body as they are no longer in use.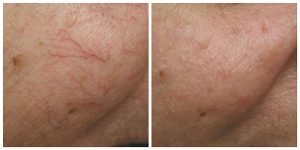 IPL
IPL is a non-invasive treatment that is ideal for facial thread veins. It uses intense pulsed light to target small thread veins close the skin. It works by heating up the vein causing damage to the walls of the blood vessel resulting in the vein collapsing and then being absorbed naturally by the body.
Varicose Vein treatment in London
In some cases, thread veins may be caused by underlying varicose veins – or some people who think they have thread veins may actually have varicose veins. Our team of vascular surgeons at The Private Clinic are very experienced in treating varicose veins and we have a range of treatments including EVLA (Endovenous Laser Ablation) or Endovenous laser treatment, Sclerotherapy (Foam & Liquid), VenaSeal and Phlebectomy to help treat them.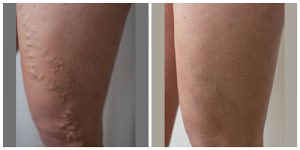 To find out more about Varicose Veins and treatments available click here.
Thread Vein Clinic London
Our London thread vein clinic is located on Harley Street making it easily commutable from surrounding areas including; Bayswater, Hyde Park, Green Park, Soho, Notting hill, Kings Road, Kensington, South Kensington, Chelsea, Fulham, Battersea, Regents Park, St Johns Wood, Primrose Hill, Victoria, West End, Marylebone, Knightsbridge, Belgravia, Mayfair, Holland Park, Earls court and Fitzrovia.
Why Choose The Private Clinic of Harley Street for Thread Vein Removal?
Here at The Private Clinic, we have carried out over 7,000 procedures in treating veins and are a UK centre of excellence for the minimally invasive treatment of veins. We provide the highest standard of clinical care and offer the latest technologies available in the industry.
"All I can say is what a treatment! I literally walked in with thread veins on my legs, felt a bit of a sting during treatment, walked out slightly red, and woke up the next day with no veins. Although I could slightly feel the burn, the results were immediate. I have thread veins on my thighs and I could literally see them being zapped away. Thank you Nikola and The Private Clinic team!" *
D.G., London
If you would like to find out more about thread vein and varicose vein treatments at The Private Clinic and to book your free consultation call 0333 920 2471 or click here.
Thread Vein treatments are available at our clinics nationwide in: London, Birmingham, Bristol, Buckinghamshire, Glasgow, Leeds, Manchester and Northampton.