A perfect complexion and clear skin are at the top of the majority of peoples list of desires. Acne is one of the most common skin complaints we see at our London Skin Clinic and our patients have long since left the school corridors meaning they are usually suffering from what is known as 'adult acne'.
For some, they may not have experienced acne at all in their youth and it is more of a recent occurrence but for others, they may have always suffered with it and are simply fed up of dealing with what feels like an adolescent problem in their 30s.
There is no clear reason why one person may be prone to acne over another and the exact cause of acne is still unknown but what we do know is that hormones or menopausal changes can play a big part in contributing to adult acne.
80% of adult acne occurs in women and this is due to things like the monthly cycle, pregnancy, and polycystic ovary syndrome are all known to increase sebum production and contribute towards the risk of adult acne. Of course, this does not mean that men are immune from acne and they can still experience excess sebum production which is instead usually linked to genetics which can make men in their 20s and 30s particularly susceptible to spots or cysts.
There are a whole range of acne 'cures' and treatments available from face masks and cleansing washes to sudocrem and toothpaste but finding the perfect treatment to suit you and your skin, you often need a little bit of specialist advice which you will be able to find at our specialist skin clinics across the UK.
Acne Treatments Near Me
The Private Acne Clinic in Harley Street London
Acne treatments in London are available at our London Harley Street clinic which is located in central London with great links to surrounding areas such as Marylebone, Fitzrovia, Hyde Park, Regents Park, Battersea,
Bayswater, Soho, Notting Hill, Green Park, Kings Road, Chelsea, South Kensington. Fulham, St Johns Wood, Primrose Hill, Victoria, Kensington, West End, Belgravia, Mayfair, Holland Park and Earls Court.
Treatments available at London Harley Street includes the N-Lite acne laser treatment which works in 3 ways: killing the bacteria, stimulating new collagen and reducing inflammation. The N-lite laser treatment can be used to treat acne on the face, neck, back and chest and has been described as the most significant advancement in the treatment of acne in decades.
We also offer a range of chemical peels, Obagi and cosmeceutical products to help reduce acne and promote healthier looking skin.
For those suffering from particularly severe acne, our expert dermatologist clinic will be a great place to start where they will be able to take a deeper look at your skin, your medical background and lifestyle to see what the best way forward is. Our dermatology advice is first class helping many patients achieve fresher, brighter and clearer skin.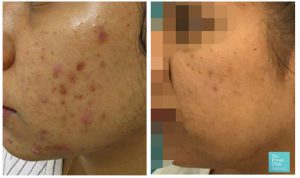 The Private Acne Clinic in Birmingham
Acne treatments in Birmingham are available at our West Midlands based clinic in central Birmingham close to Lichfield, Sutton Coldfield, Solihull, Shrewsbury, Kidderminster, Hampton in Arden, Leamington Spa, Stratford, Edgbaston and Harborne.
Treatments available at The Private Clinic in Birmingham include N-Lite acne laser treatment, Chemical Peels and Obagi as well as other cosmeceutical products which our specialist skin therapists will be able to advise you on helping you achieve clearer and brighter skin with a reduction in spots.
The Private Acne Clinic in Manchester
Acne treatments in Manchester are available at our clinic location in the Spinningfields district of central Manchester. Our northwest clinic is ideally located for those travelling from Hale/Hale Barns, Bowdon, Alderley Edge, Wilmslow, Macclesfield, Leigh, Prestbury, Nantwich, Tarporley, Knutsford, Worsley, Altrincham, Cheadle and Deansgate.
We offer the N-Lite acne laser treatment at The Private Clinic in Manchester which is a great treatment that aims to treat the root cause of the problem by targeting the bacteria that actually causes the infection. As the bacteria in the skin is targeted and destroyed it will work to clear the acne and leave you with smooth, fresh and healthy looking skin.

The Private Acne Clinic in Leeds
Acne treatments in Leeds are available at our central Leeds location which is easily commutable from surrounding areas in the northern English county of Yorkshire including Farsley, Methley, Oulton, Stanningley, Yeadon, Roundhay, Chappel Allerton, Scarcroft, Headingly, Wetherby, Pudsey, Calderdale, Kirklees, Otley, Harrogate, York, South Yorkshire, Sheffield and Doncaster.
The N-Lite acne laser treatment is available at The Private Clinic in Leeds which uses laser light to kill the acne bacteria that cause the infection which results in a reduction of lesions and spots appearing on the skin. The best results are seen after a course of treatment all of which can be carried out at our clinic in Leeds.
The Private Acne Clinic in Northampton
Acne treatments in Northampton are located at our East Midlands clinic set in the grounds of Northampton's St Andrews hospital. Known locally as The Gatehouse clinic, our Northampton location is ideal for surrounding locations such as Yardley Hastings, Collingtree Park,  Boughton, East Hunsbury, Great Brington , West Hunsbury, Great Houghton, Grange Park, Little Houghton, Abington, Maidwell, Golf Lane, Harrington, Sandy Lane, Chapel Brampton, Wootton, Kelmarsh,, Abington Vale, Grendon , Weston, Kislingbury, Althorpe, Quinton, Ashton, Harlestone, Upper Harlestone, Guilsborough, Roade, Stanwick, Wellingborough, Raunds and areas from the East Midlands, Leicester, Peterborough, Northants, Cambridge, Norwich and Norfolk.
We are able to offer a range of acne treatments with skin specialist Vikki which includes n-lite laser therapy, chemical peels and obagi as well as a range of product recommendations to use alongside treatments to help boost the best results.
Chemical Peels are a great way to treat acne breakouts, common types that we use are DermaFrost, Blue Peel Radiance, Oxygen Rx treatment and if you have darker skin then a MandeliClear Peel may be suggested. Chemical peels and enzyme treatments are great treatments to help reduce and control the redness and inflammation of acne whilst regulating your oil production.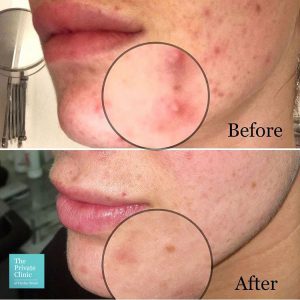 Acne Treatment at The Private Clinic
We are the UK's leading non-invasive and minimally invasive cosmetic group of clinics and have some of the most experienced specialists in the industry that can advise on the best treatment for acne. We treat thousands of patients every year offering our knowledge and expertise. All of our Clinics are registered with the Care Quality Commission and The Independent Healthcare Advisory Services. Our Consultant Dermatologist; Dr Rishika Sinha, MA(Cantab), MB BChir, MRCP(Derm). GMC Number: 6092256 is able to consult on the condition at our London Harley Street clinic, while our skin specialists are available at all of our clinics in UK – Birmingham, Bristol, Leeds, Manchester and Northampton.
We pride ourselves on being able to offer an acne treatment service where;
There are no hidden costs
We afford all our patients the right care well before, during and long after every procedure
Our aftercare promise – you can call, email and visit us to discuss how we tailor-make each procedure and offer ethical and professional aftercare for every patient
We are contactable 24/7, 365 days a year for patients
We are competitively priced for the expertise and professionalism we provide to every patient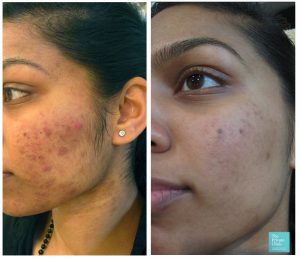 To find out more about acne treatments or to book an appointment with our skin specialists give us a call on 0333 920 2471 or use our acne treatment online contact form.