More than 15 million people both men and women in the UK have bunions, including many celebrities such as Amal Clooney or Duchess of Sussex Megan Markel.
Bunions can be described as the bone deformity of the joint appearing on the area which connects the big toe to the foot. This condition forms overtime when the big toe starts to slowly push and curve to the other toes, causing the joint of this toe to grow and protrude out.
The most common symptoms associated with bunions are soreness on the affected area after standing for a long period of time and some shoes do not fit comfortably.
Many people hesitate to undergo traditional bunion removal surgeries as they often involve long recovery periods, often over 6 weeks long, where patients are not able to walk, go to work or exercise. However, at The Private Clinic, we offer the innovative minimally-invasive bunion removal procedure performed by the highly acclaimed Orthopaedic surgeon Dr Andreas Bianchi. Dr Andreas Bianchi has developed a technique that allows him to perform the surgery without having to insert any plates, wires or screws and has such a minimal trauma and downtime that patients are able to walk after their procedure and return to their daily activities. Dr Bianchi has over 15 years of experience performing bunion surgeries and has treated over 1700 patients with this minimally invasive treatment.
Minimally Invasive Bunion Removal London
What does the minimally-invasive bunion treatment consist in?
This exclusive bunion treatment follows a keyhole surgery technique using a small 5cm incision on the outer area of the foot along with a few smaller incisions on the inner side to release the tissue. It is only performed under local anaesthetic.
The bunion deformity is corrected utilising surgical burrs which help align and reshape the foot, without having to use any wires, plates or screws at any time which is the main reason behind the fast recovery time and minimal downtime.
Once the surgery is finalised the surgeon will bandage your foot and you will be required to wear this bandage until your post-op check-up which usually takes place a few weeks after the procedure. This procedure has exceptional results with a 98% success rate and provides minimal scarring.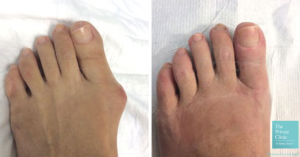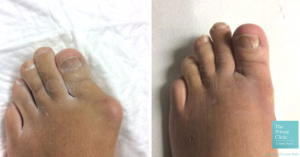 The Private Clinic of Harley Street for Bunion Removal Treatment.
Our exclusive bunion removal surgery is only available at our clinic in London, located on Harley Street. Why you should choose The Private Clinic?
This treatment is completely exclusive to The Private Clinic in the UK.
The bunion removal surgery does not require the insertion of any plates, screws or wires and the patients doesn't need to use crutches as patients are able to walk right after the procedure.
This surgery utilises a keyhole technique and its performed under local anaesthesia.
Dr Bianchi has performed an average of 1,200 bunion operations a year and has over 15 years of experience performing bunion surgeries.
The procedure has an outstanding 98% success rate.
There is no need for an overnight stay.
The treatment involves minimal post-operative pain and aftercare.
Treatment carried out in our state of the art London Fitzroy hospital.
There is a 24-hour patient helpline which directs to your nursing team and surgeon, in case you need any assistance or have any concerns.
We provide dedicated post-operative care with our nurses and surgeon in order for you to obtain the best care.
Patient safety and satisfaction is at the forefront of our organisation where honest advice and outstanding care means your journey with The Private Clinic will be an exciting experience to newfound confidence.

To book a consultation with our expert orthopaedic surgeon at our clinic in London Harley Street  call us on 0333 920 2471 or book via our bunion website page where you will be able to find more before and after images of our bunion patients.