Have you been seeing a podiatrist for your bunions?
A podiatrist or chiropodist is often who you go to see with common foot problems such as ingrown toenails, verruca's and corns or calluses. But podiatrists can also offer help and advice for those suffering with heel pain, flat feet, sports injuries and bunions.
A podiatrist may offer suggest a range of different treatments to help relieve the pain that your bunion may be causing such as;
Padding & Taping – Using bunion pads or taping the foot into a 'normal' position can help to reduce the stress on the bunion and minimise the pain.
Medication – Anti-inflammatory drugs are often recommended to help reduce the pain and inflammation that the bunion may be causing, you may also be offered cortisone injections.
Physical Therapy – Your podiatrist may offer ultrasound therapy to help provide relief from bunion pain and inflammation.
Orthotics – Shoe inserts may be offered to try and prevent the bunion from getting worse.
Surgery – Bunion surgery is the only way to heal a bunion. A bunionectomy can involve removing the bony prominence and using screws to realign the bone. An extensive period of downtime is required and discomfort is common for several weeks following surgery. A new form of bunionectomy is now available exclusively at The Private Clinic which does not require any metal fixtures such as wires or screws and patients are able to walk immediately after surgery with minimal downtime. More details on minimally invasive bunion surgery are below.
You may have noticed that a lot of the things your podiatrist is offering you for your bunions are helping to relieve the pain, but not helping to treat the issue. Bunion surgery with the NHS requires a lot of downtime and usually is not an option for many who lead busy lives.
Have you thought about an easy solution to remove your bunion with the minimally invasive keyhole surgery method offered exclusively at The Private Clinic in London Harley Street.
Mr Andrea Bianchi is our Orthopaedic Consultant Surgeon at The Private Clinic. Andrea Bianchi is the founder of PBS, the team who developed the minimally invasive bunion surgery in 1996 and has supervised over 50,000 surgeries since.
Minimally invasive keyhole bunion removal surgery is able to remove bunions from the foot with a quick mini-invasive surgical procedure performed under local anaesthetic that doesn't involve any fixative devices such as screws, plates or wires. After the treatment patients are able to walk immediately with no crutches and get back to their everyday activities, with no downtime and a lot quicker than traditional bunion removal surgery. The scaring post-procedure is also minimal as no z shaped cut is used.
Mr Bianchi uses small surgical dental burrs which are inserted through a very small 2-3 millimetre incision. These burrs are then guided using a special radiological device which allows him to see the bones and surgical burrs without the need for larger incisions. Dr Bianchi will then create a series of small and precise fractures to correct the bunion deformity and modify the bones of the foot which is known as a geometric fracture. These geometric fractures do not require fixative devices such as screws or pins which force the bone into place. The geometric fractures created are left to heal naturally without the strain of being forced into a 'pre-set standard which may not be natural for the patient. After the procedure, the patient is encouraged to walk on the foot which means the foot can heal according to the patient's load-bearing needs and the correct physiological readjustments.
Our minimally invasive bunion procedure is increasingly popular with patients with demanding jobs, busy family lives and generally anyone who does not want to commit to a 6 month period of downtime. Patients will have their treated foot taped using a personalised bandaging technique allowing for the physiological healing process to restructure the foot without the need for the patient to keep it rested at all times. Patients will be required to wear a specialised orthopaedic shoe for up to 20 days before then returning to the clinic to have the bandaging replaced and reduced and many patients are then able to wear wide-fitting trainers to return home.
To find out more about how minimally invasive bunion surgery could benefit you, watch Karen's patient testimonial video here
Minimally Invasive Bunion Removal Before and after photos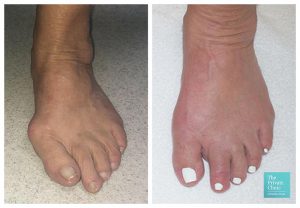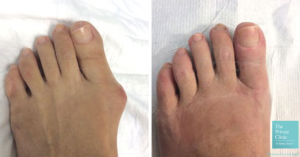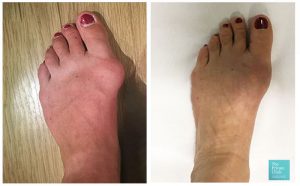 Visit our keyhole bunion surgery before and after photo gallery
Why choose The Private Clinic for Minimally Invasive Bunion Correction Surgery
Exclusive to The Private Clinic in the UK, there is no other operation like this one.
A minimally invasive procedure, bunion removal surgery is performed under local anaesthesia using keyhole techniques.
This is the only natural operation with no metal fixtures such as wires or screws being used.
There is a 98% success rate following the bunion operation.
Orthopaedic Consultant Surgeon, Mr Bianchi is an expert in his field and has been carrying out bunion operations for 15 years.
Dr Bianchi carries out over 1,200 bunion operations a year.
Walk immediately after surgery, with no crutches or extensive downtime required.
No need for an overnight stay.
Minimal post-operative pain and aftercare.
2-3mm skin incisions which leaves no scar.
Treatment carried out in our state of the art London Fitzroy hospital.
24-hour patient helpline direct to your nursing team and surgeon, which means should you have any concern we are here to help.
Dedicated post-operative care and appointments with your surgeon and nursing team. We are here to give you the best experience.
Our excellent reputation for patient safety and satisfaction, honest advice and outstanding care means your journey with The Private Clinic will be an exciting experience to newfound confidence.
To find out more about Minimally Invasive Bunion Correction Surgery call 0333 920 2471 or use our keyhole bunion correction online contact form.