There was a time when the word 'liposuction' probably would have conjured up visions of complex surgery and a stay in hospital, but the face of the procedure is changing and, thanks to pioneering surgeons including The Private Clinic's own, new forms of the treatment have become less invasive and better suited to our modern busy lives. Two such varieties that mark a revolutionary step in this progression are VASER Lipo and MicroLipo. Minimally invasive and performed under local anaesthetic, both claim to produce results with unbeatable precision. But just how good are these pioneering lipo procedures, and are they really worth it? We explore the options and give you the facts.
VASER Lipo
VASER Lipo works by using advanced ultrasound technology to liquefy fat cells before they are removed through a suction process. This means significantly less damage to surrounding tissues, and less risk of bruising and scarring as a result. The procedure is 'walk-in walk-out' meaning no overnight hospital stay, and minimal recovery time.
Despite the procedure's less invasive nature, however, results are extremely impressive. As the below image shows, it can make a real difference for those looking to shape and tone their figure, and different forms including VASER 360 and VASER 4D allow patients to tailor their procedure to achieve the results they want.
MicroLipo
Currently lesser known in the UK than VASER, MicroLipo is similar in its results. Like VASER Lipo, it is relatively quick and is performed under local, rather than general, anaesthetic. The risk of bruising and scarring is again hugely less than traditional methods and most patients are able to return to work within 48 hours of the procedure.
Where the two differ is their process. Unlike VASER Lipo, MicroLipo doesn't break down the fat with ultrasound and heat prior to removal, instead using tiny tubes called cannulas ranging in size from 0.9mm to 3mm. The size of the cannulas means there is minimum trauma to the surface of the skin and no damage to the tissues underneath it. The procedure is extremely specialised and The Private Clinic is one of the very few clinics with professionals in the UK able to perform it. Its rarity doesn't make it any less effective and, as you can see from below, the results are highly impressive.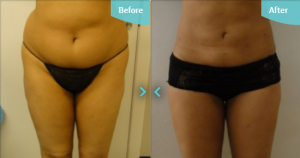 Both VASER Lipo and Micro Lipo are incredibly effective options in the banishment of stubborn areas of fat. However, it is vital to remember that neither is a 'quick-fix' solution for weight loss, and the procedures will not be worth it if that is what you are seeking. You will only see the benefits of either procedure if you lead a healthy lifestyle and are committed to maintaining your figure afterwards. A trained doctor will need to assess your suitability prior to the procedure and there are many who are turned down due to it not being the best way forward for them.
As to whether the procedures are worth it for those who are suitable? We'd obviously tell you a resounding yes; providing you work with the correct professionals, the quick procedures achieve fantastic results with minimum trauma on the body and significantly less risk of scars and bruises. However, we think you'd be more convinced if you see a few of our before and after shots or testimonials.
Liposuction at The Private Clinic
The Private Clinic's Doctors have performed over 11,000 VASER Liposuction treatments to date, making us one of the UK's largest and most specialised providers. Our pioneering fat removal and body sculpting doctors have been at the forefront of MicroLipo and VASER Lipo development.
We've been helping patients achieve their goals for over 35 years, and we strive to offer honest and open advice so we can stick to our promises.
Consultations with your specialist surgeon and expert doctor.
24-hour patient helpline to ensure you are always in the best of hands.
As many post-operative care and appointments with your surgeon, doctor and nursing team as required.
One year cover for all surgical, hospital and nursing care, in case of any medical issue giving you peace of mind.
Comprehensive patient information, every step of the way
Highly experienced surgeons and doctors who have years of experience in vaser liposuction.
Outstanding hospital facilities.
Competitively priced for our expertise and experience.
With over 35 years' experience of Cosmetic medical Excellence, you are in expert hands.
Our excellent reputation for patient safety and satisfaction, honest advice and outstanding care means your journey with The Private Clinic will be an exciting experience to a newfound shape.
View our before and after photo gallery on Micro Lipo and Vaser Liposuction
View our patient stories
View our extensive FAQs on Micro Lipo and Vaser Liposuction.
Vaser Liposuction Surgeons
Micro Lipo Surgeons
We offer VASER Lipo in our clinics in London, Birmingham, Manchester and Leeds.
MicroLipo is available at our Harley Street clinic.
To find out more about Liposuction at The Private Clinic call 0333 920 2471 or click here to use our liposuction online contact form to book an appointment.