The Telegraph
April 2021
Tess Daly exclusively reveals the secret to maintaining her beautiful looks. In an article for The Telegraph, beauty director Sonia Haria discusses how Tess has used Ultherapy's world-class skin tightening and lifting technology to keep her skin looking luminous, youthful and "well-rested."
Tess Daly is "one of those celebrities who looks so good you can't help but wonder what her secret is." Today she explains by commenting on how Ultherapy's collagen-boosting technology has helped her skin to look firmer, tighter and more refreshed.
The Strictly Come Dancing presenter turned 52 last month and decided to opt for having the Ultherapy treatment a year and a half ago.
She comments: "A friend of mine had had the treatment a few months earlier, and she looked so great," she says. "She looked well-rested and her skin was glowing. I thought 'ok, let's give this a go'. I loved the fact that Ultherapy boosts your own collagen for natural-looking results, and that it was a non-invasive treatment. I think it's quite a revelation really."
"Within a few months I was getting compliments from friends – this was back when we saw friends before lockdown! But what I love most is that you just look well rested and like yourself but on a really good day."
Superior Skin Lifting & Tightening
Ultherapy is a leading skin tightening and lifting treatment that uses cutting-edge "ultrasound technology to boost the skin's own collagen and tighten and lift the skin on the face, neck and brow area." As a non-invasive treatment, it is quick and easy to perform, which is why it has become known as the "lunch hour" treatment. It also has effective long-lasting results, as it starts to gradually boost your own natural collagen production over time once the treatment has taken place. After just 3 months, patients will start to notice the visible skin rejuvenating results. 
Tess was impressed by how they have given her skin a luminous glow: "For me, my goal is luminous skin," explains Daly. "It's skin that looks good. In order to achieve that I know I have to use SPF and drink as much water as I can, and this is another treatment that is working with your skin from the inside out to give it a helping hand and a boost."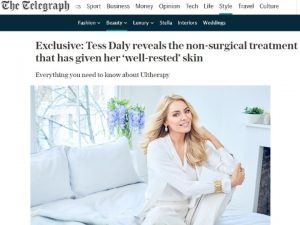 Natural-Looking Results
Ultherapy has become a popular go-to treatment for a range of "celebrity fans including Jennifer Aniston, Courtney Cox and Kim Kardashian." Its appeal lies in the fact that results are very natural-looking, and "you often won't need a top-up until 12-18 months later."
Following her initial treatment, Tess enhanced the effects with a top-up procedure to refresh and revive her jawline:
"I had a top up treatment around the jaw area to boost it a bit, because I have a lot of laughter lines. I talk a lot in my job so it's an occupational hazard, and I laugh a lot by nature. I think I've had laughter lines since I was about 15!"
When reflecting on her goal for natural beauty, she comments: "Nobody wants to look like a strange wind tunnelled version of themselves. I think that in itself can be quite ageing. We've all seen it before when someone has had a treatment that may have been a bit extreme and I think it can have the opposite effect and actually be quite ageing."
Thankfully, with Ultherapy's advanced 'no-needle' technology, it can restore youth and beauty in a fresh and revitalising way that doesn't look contrived.
A Growing Trend
This demand for non-surgical self-improvement approaches is a trend that has been noted by The Private Clinic, which has seen a surge in demand for non-surgical treatments like Ultherapy in particular. In July 2020, demand for non-surgical treatments was almost three times higher than in July 2019. The Private Clinic also conducted a survey that showed that "79 percent of Britons admit that they think having a cosmetic treatment is seen as much more acceptable than it was just ten years ago," thanks partly to the "natural-looking results you can now get from non-invasive treatments."
The Private Clinic's group managing director Valentina Petrone comments on this noticeable trend:
"Our research clearly shows that consumers are wanting cosmetic procedures in greater quantities than previously seen."
"This is a trend we have seen for some years now, as people invest more in self-care and self-improvement, to boost self-confidence and their overall wellbeing. The pandemic doesn't seem to have changed that. Quite the opposite, we have seen a surge in demand."
More people are now taking the time to take expert care of their skin and invest in high-quality treatments that generate impressive results. Tess summarises why this has been so important for her own sense of wellbeing:
"We've only got one skin for all of our lives, which is why I really believe in investing in my skin. I look after my body through good food and exercise, and I want to invest in my skin's future, too."
To find out more about the Ultherapy skin lifting and tightening treatment, fill out our online contact form. Alternatively, get in touch with us by calling our contact centre directly on 0333 920 2471.