Daily Mail
April 2021
Beauty journalist Natasha Hooper from the MailOnline reports on the "terrifying" moment that Abbey Clancy experienced when clumps of her hair started falling out during her pregnancy. The famed 35-year-old model, who is married to England footballer Peter Crouch, has revealed how "her multiple pregnancies took a toll on her body and skin."
Speaking about her personal ordeal in OK! Magazine, she commented:
"I was so ill during pregnancy, and my skin was so reactive. It was allergic to everything, even fabrics and washing powder. I also had a lot of hair loss."
Abbey Clancy's Pregnancy Hair Loss
She added how she found the experience very distressing and how it took a toll on her personal confidence and wellbeing:
"When clumps of hair fall out when you're washing it, it's terrifying. I had three kids in four years, so I felt like I had no hair left by the end! It's another thing that was damaging to my confidence. It's scary for any woman going through that."
Abbey also mentioned how skin pigmentation issues became a problem during her pregnancy, when she experienced patches of skin discolouration and redness as soon as she became pregnant with her first daughter, Sophia. She explained how she had to "cover it up" using makeup products to combat the disorder, and how she still uses skin products to this day to combat flare-ups.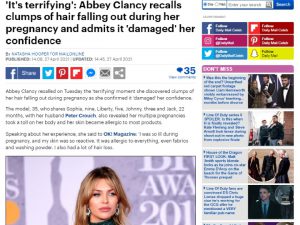 Hair Loss Pregnancy Triggers
On the subject of pregnancy-related hair loss, the MailOnline spoke to Jane Mayhead, senior trichology consultant at The Private Clinic of Harley Street, who explained how hormonal changes during pregnancy can directly trigger the condition:
"It is the fluctuating hormone levels during pregnancy and following childbirth that are the primary cause of hair thinning for new mothers."
During pregnancy and breastfeeding, the body experiences a surge in oestrogen, which keeps hair looking lustrous and thick and in a growing phase. However, as hormone levels change and when the oestrogen levels begin to drop back to normal, hair experiences a shedding phase resulting in hair loss – a condition known as telogen effluvium, or temporary hair loss.
Independent medical research has verified that hair loss affects 50 percent of women at some point in their lives. The condition of temporary hair loss, in particular, is also now being noticed in some Covid-19 sufferers, with research in Wuhan, China showing that 359 out of 1,655 hospital patients who had the virus suffered from hair loss. This experience was brought into the spotlight recently when well-known TV personality and fashion expert Trinny Woodall revealed her own post-Covid-19 hair loss in her live Instagram Story.
Temporary Hair Loss Solutions
When it comes to solutions to combat temporary hair loss, studies have shown how iron-rich foods like spinach, eggs, lentils and red meat can help boost hair growth, while relaxation techniques can minimise stress, which is another temporary hair loss trigger.
Topical hair loss medications like Minoxidil and Finasteride (Propecia) are a great solution to opt for when you are experiencing an episode of temporary hair loss, as they can limit the damage. These lotions are available directly from The Private Clinic. They slow the process of hair loss by 80% to 90%,
Female Hair Loss Recovery
The Private Clinic also recommends HydraFacial's Keravive scalp treatment to boost hair loss recovery. The treatment improves hair fullness and vitality in 75% of patients. This non-invasive hair stimulation treatment encourages hair regrowth through a 3-step process, which clears the scalp of dead skin cells before enriching it with a specialised blend of skin proteins and supercharged hair regrowth stimulants.
In some temporary hair loss incidents, not all hair stands may restore themselves. In cases where significant patches of hair do not recover, we can use minimally-invasive FUE hair transplants to reinsert healthy hair follicles into areas that have suffered permanent damage. Within 6 months to 12 months, healthy hair will grow back, leaving patients with no signs of their previous hair loss experience.
To find out more about any of these hair loss treatments, complete our online enquiry form. You can also call our helpline directly on 0333 920 2471.