Having a baby is one of the most amazing experiences a woman will go through, but the effect it can have on our bodies is sometimes difficult to reverse. When your world becomes all about one (or more) tiny person, your figure can be the thing that takes the toll with breastfeeding and pregnancy leaving the chest sagging without volume, stretch marks in places you didn't think were possible, a thicker waist that seems to hold on to fat more easily, and loose skin on the stomach that won't go away through exercise or dieting.
You'll often hear clinics talking of a 'mommy makeover' but, with every story different, it can be hard to understand exactly what that is. We explain the basics of what the 'mommy (or mummy seeing as we're British) makeover' entails and how to get the best out of one if it's something you're considering.
To start off with, remember that a mummy makeover isn't so much a set process of treatments, as the best combination of treatments for you. It's hard to give an exact definition of the treatment, as each person has a completely different experience from it. Key areas that the treatment commonly (but not exclusively) targets are: sagging breasts; flabby tummies; excess fat on the hips, buttocks, thighs and arms; and stretch marks.
Excess fat on the hips, buttocks, thighs, stomach and arms
Women are prone to carrying fat in the most frustrating places and, unfortunately after giving birth, this becomes especially true. Areas that were perhaps once easy to tone begin to store fat more rapidly and, despite even the best exercise and eating regime, the figure simply won't return to the shape of its youth.
Many mothers experiencing this turn to various forms of liposuction, but the best type for you will be entirely personal. With a small child around, invasive surgery is obviously not the most practical option so, where we can, The Private Clinic tries to use minimally-invasive forms of the treatment. Walk-in walk-out VASER Lipo and MicroLipo are common choices for many women looking to ease fat away, but you have to bear in mind that this might not be a successful way for you. The treatments are normally performed under local anaesthetic and use only small tubes for fat extraction, meaning your risk of scarring is significantly reduced. But your weight and the amount of fat you want to remove play a large role in whether they would be the best way forward. The most important thing you can consider is which surgeon you work with; their level of skill and expertise will mean they'll only suggest the best method of fat removal for your needs.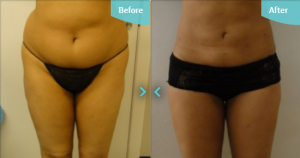 Flabby Stomach
After pregnancy, it is likely that your abdominal muscles will have been stretched. Most will be only slightly so, but some may experience more severe results with the skin or muscles around the stomach damaged permanently.
It is in these cases that it might be beneficial to consider a tummy tuck (or abdominoplasty as it's officially called). The procedure is surgical meaning it is a huge thing to undertake but, for the right person, it can give impressive results and completely transform the figure. The treatment removes excess fat and skin to make the stomach tighter and is often combined with liposuction for a more holistic, complete transformation. Just because your stomach is loose, however, doesn't mean you need a tummy tuck; a surgeon will look at your skin and figure and work out whether surgery will actually be beneficial. It may be that exercise will be the best way forward or, if not, liposuction without surgery may succeed.
Sagging breasts/breasts that lack in volume
Breast augmentation is the most popular procedure in the UK for women, but it isn't the only option when it comes to restoring lost volume in the breasts. If you're not keen to increase the size of your chest, a breast uplift may be much more beneficial option.
A breast uplift involves tightening sagging skin on the breast and moving the nipple to a higher position. Most surgeons will only perform it if a patient is not planning on having any more children after surgery as results can easily be lost again through the trauma of another pregnancy.
Stretch Marks
While there are many products that claim to effortlessly rid buyers of stretch marks, in reality, it's not as easy as a simple cream on the area. Keeping your skin thoroughly moisturised and conditioned helps massively, but there may be treatments available that can assist you further. Treatments like mesotherapy or dermaroller may help reduce the appearance of stretch marks but you would need to have a consultation to find out whether or not they are suitable for you. Another option is to speak to your doctor and show them your skin; they may suggest that treatment isn't necessary and the marks will go in time or, if not, they will work with you to find to right option to get your skin how you want it.
Summary
Regardless of what treatments you think you might need, it is important to remember that cosmetic procedures at the time of childbirth or shortly after are very rarely recommended. Even with the most minimally-invasive methods, recovery time is necessary but not always practical with a newborn baby. And likewise, after pregnancy, your body will change and some issues will reverse themselves. If you're not sure whether you've left it long enough before considering surgery, speak honestly with a professional who can look at your body and discuss your options.
After having a baby, your life often becomes all about that one little person. This doesn't mean you can't give yourself the time and affection you want. Providing you work with a reputable clinic who have your best interests and real priorities at heart, a Mummy Makeover can restore confidence and allow a little bit of space in your world for your needs again.
The Private Clinic
With over 30 years of Harley Street medical excellence and a team of some of the UK's most respected plastic and cosmetic surgeons behind us, we understand that sometimes you need a little time to rediscover you. We also understand, however, that having a child means your priorities will change. Plastic surgery is a huge decision and we'll work alongside you to ensure it's one that will fit into your lifestyle and won't leave you in difficulty. As pioneers of minimally-invasive treatments as well as plastic surgery, we can discuss all your cosmetic options and find a solution that is personal to you. It's your body, and we will work hard to make sure that it feels just that again.
The surgeons who perform abdominoplasty or tummy tucks are:
To book a consultation for a tummy tuck at any of our clinics you can call us on 0333 920 2471 or visit our website where you can find before and after pictures and read the patient stories of our tummy tuck patients.