Several of The Private Clinic's UK bases are now able to offer trichologist-led treatments for hair damage, hair thinning, and scalp issues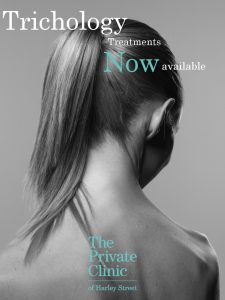 We're extremely excited to announce the arrival of trichologist-led hair treatments at our London Harley Street, Leeds and Glasgow clinics.
Thousands of us experience hair thinning or damage at some point in our lives, but a lot of time we're not really sure why. There's a multitude of reasons behind possible changes in your hair but, without proper diagnosis, treatment is often extremely tricky and unlikely to help.
Sometimes issues can come down to something as simple as gaps in diet or lack of adequate nutrition, but the problem can also be a mark of underlying conditions. Thyroid dysfunction and Polycystic Ovarian Syndrome (PCOS) commonly show themselves through hair loss in women, while the menopause, pregnancy and general hormonal imbalance can also be a frequent cause. Likewise, physical trauma can leave the hair and scalp damaged – it all comes down to understanding what has happened to your hair and seeing if it can be reversed.
Our team of expert trichologists are there to diagnose, guide and treat a range problems; varying from those related to trauma or physical damage, to ones owing to an underlying illness or stress. The team, all members of the prestigious Institute of Trichologists, have extensive years of experience between them and are highly focused on finding bespoke methods for your individual needs.
Beginning with a thorough medical examination, your personal trichologist will analyse your hair problem and diagnose what the underlying issue is. They will advise on the most suitable treatment for your needs; be it medication, topical creams, nutritional rebalancing, or referral to one of The Private Clinic's in-house Hair Transplant Surgeons or Dermatologists and will help you make sure your results are worthwhile and long-lasting. It's important to note that a lot of men suffer from something called 'male-pattern baldness' (or androgenic alopecia), in which case you're normally best suited to chat to one of our industry-leading hair surgeons who can lead you through hair restoration treatments.
Hair Loss DNA Test
We offer a specialised hair loss DNA test which combines the analysis of genetic variations, lifestyle factors and literature related to hair loss treatment to suggest appropriate treatment options through topical, oral or surgical solutions. This TrichoTest test is ideal for patients who wish to protect their hair from future hair loss by understanding the causes of their hair loss.
Everyone's hair loss is different. Therefore your treatment should be too. At The Private Clinic we're here to make sure we get to the cause of any problems with your hair and address them with compassion, care and extensive knowledge. www.theprivateclinic.co.uk