For months, the buzz was all about the prestigious MyFaceMyBody Awards. They are the first in the aesthetic industry to allow end customers to recognise and reward brands and clinics for their service, innovation and popularity. The awards saw 12,500 consumers vote for their favourite brand and clinic.
Last weekend saw the televised MyFaceMyBody Awards ceremony, where finalists for each category were recognised, and winners congratulated. We are extremely proud to announce that The Private Clinic won the award for 'Best Body Reshaping' category featuring our VASER Body Balancing procedure. We were also Highly Commended for Find out more about the winning categories here.
The Private Clinic's VASER Body Balancing procedure, an advanced VASER fat removal technique developed by Dr. Comins, was up against the likes of other body reshaping treatments, – such as BodyTite, LipoFirm Plus, Body-jet, CoolSculpting, Slendertone and Accent Ultra – and our VASER treatment was voted, by consumers and a judging panel, to be the most superior, effective, least invasive and safest body reshaping treatment available.
VASER Lipo is the very latest and most advanced fat removal technology. The procedure is minimally invasive, and carried out under local anaesthetic.
A small probe is used to transmit the sound energy and liquefy fat cells prior to removal through a gentle suction process. It is a less invasive procedure than traditional Liposuction. Having performed over 4,000 procedures to date, our doctors have perfected their skills and techniques to attain the highest standards of results.
Below are a few before and after photos of Sarah, our patient whose case was put forward for the award. Photos were taken before the procedure, 3 weeks on, and 10 weeks post treatment.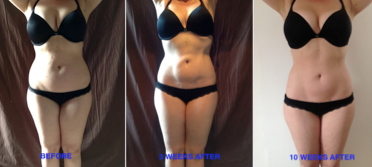 In 2008, The Private Clinic, along with Dr. Mike Comins, launched the revolutionary VASER Hi-Def procedure in UK, and we have since been accredited as a European Advanced VASER Training Centre.
Dr. Comins adds – "I am really delighted to win this award and would like to thank my wonderful team of nurses and MLD therapists."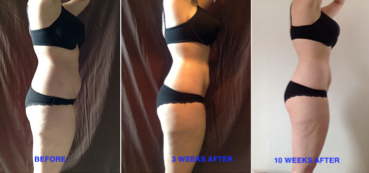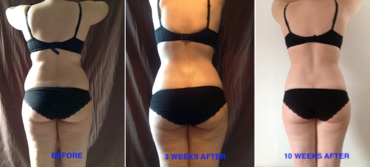 The Private Clinic would like to say a big thank you to everyone that voted for us to win at the MyBodyMyFace awards – it is a great honour and we will hopefully be making an appearance on the award again next year!
If you would like to find out more information about body reshaping and VASER Liposuction, then please visit our website. You can also watch former patient Jose, talk about his Vaser Hi-def Lipo Def six-pack surgery 2 days after his operation on ITV's 'This Morning'.