The popularity of hair transplants has steadily increased since more celebrities have talked openly about theirs making it more socially acceptable amongst men. Previously having any type of hair restoration procedure was very secretive but as the procedure and techniques have advanced more men are opting for minimally invasive hair transplant procedures with no worries about sporting a shorter cut for a few months.
So what are the options, we have put together a quick hair transplant guide to help you make a more informed decision ahead of your consultation;
The cause
The most common cause for hair loss is male pattern baldness with around one in three men experiencing varying degrees of male pattern baldness by the time they reach 30. Male Pattern Baldness is when a form of testosterone, Dihydrotestosterone (DHT) starts to attack the hair follicles. This attack of the hair follicles results in the follicles becoming smaller and only being able to produce hair that is thinner and shorter. Your begin to notice this more when the thicker and fuller hair follicles fall out leaving only these weaker hair follicles which results in the appearance of thinning and baldness.
Male pattern baldness is dependent on your genes as some people are genetically coded to resist DHT which makes them less susceptible to male pattern baldness. The follicles on the back and sides are usually coded to fend off Dihydrotestosterone which is why hair loss usually occurs in a specific pattern.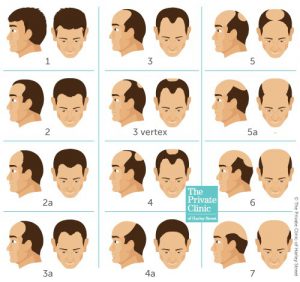 The solution
Hair Transplant procedures are the most common solution when it comes to 'fixing' hair loss and thinning. There are two types of hair transplant procedures; Follicular Unit Extraction (FUE) and Follicular Unit Transplantation (FUT) which both work in a similar way but have different methods and techniques.
At The Private Clinic we favour the minimally-invasive, no linear scar, no stitch technique which is Follicular Unit Extraction (FUE). Our experienced doctors perform a modified FUE method under local anaesthetic which uses a small punch incision around the hair follicles to extract the follicular units from the donor area ready to be harvested into grafts. The grafts are then implanted into the areas being treated which are performed under a high powered microscope using specially designed instruments, allowing the Hair Transplant doctor to work with the upmost precision for natural-looking results.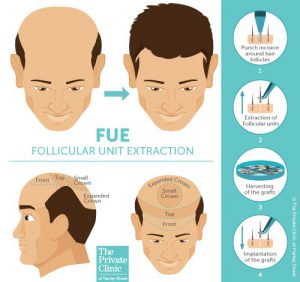 Follicular Unit Transplantation follows a different approach where instead a strip of hair is excised from the back of the head which would then need to be closed with stitches. The strip is then cut into individual grafts before being implanted into incision sites made in the areas being treated. The recovery time associated with a FUT Hair Transplant is a little longer than compared to other techniques due to the healing of the linear scar at the back of the head.
We have been perfecting our FUE Hair Transplant technique over the past 10 years. We find many of our patients are put off by the risk of being left with a long linear scar at the back of the hair following a FUT transplant and for this reason more and more patients come to us for a FUE Hair Transplant.
Hair Transplant FAQs
Does Hair Transplant surgery hurt?
An FUE Hair transplant takes place under local anaesthetic so you should not feel pain throughout the procedure. You may experience some discomfort during the healing process but this can easily be managed with pain relief.
Will a hair transplant leave a scar?
FUE Hair Transplant can leave minimal scarring that can appear as very small circular white dots. This would only really be noticeable if you were to shave your hair very short after the procedure. The scars are very small circular scars that may appear as white dots. FUT surgery is more likely to leave a scar on the donor site, although it can probably be hidden under longer hair.
How long does a Hair Transplant procedure take?
Hair Transplant procedures can be lengthy procedures due to the delicate process requiring a substantial amount of time to ensure that the best results are achieved. On average, FUE Hair Transplant procedures at The Private Clinic can be performed over the course of a day so usually between 6-8 hours. In larger cases the procedure may need to be spread out across two days and performing the procedure this way would not impact the effectiveness of the procedure.
When will I see the results of my hair transplant?
You will be able to see the outline of your new hairline immediately after the procedure but there is a lengthy healing process that you will need to go through first before you can start seeing the final results. The first results will start to become visible around 3-4 months but final results can take up to a year to be fully visible.
How many hair transplant procedures will I need?
In the first instance, only one hair transplant is often required to give patients the results that they wanted. Long term it is worth considering that you may need additional hair transplants in the future to maintain your results and give good overall coverage.
Are hair transplants permanent?
The results from a hair transplant are not guaranteed to last forever as male pattern baldness will still continue to occur in the future. However, hair transplant are extremely long lasting and one of the most successful treatments for hair loss. It is normal for your hair to shed after a few weeks after having your FUE hair transplant and after this time your new hair will grow and you will start to see results after 3-6 months.
Can women have hair transplants?
It is possible for a woman to have a hair transplant however many are not suitable candidates as their hair loss is often widespread and finding a suitable donor site can be difficult. We recommend that female patients see a trichologist first to assess the condition of their hair and try and work out a possible cause for hair loss.
To read more FAQs on Hair Transplant procedures click here.
Choosing a suitable hair restoration clinic?
There are many hair restoration clinics around across the UK. Personal recommendation is often the most common way that patients walk through our doors. If you are seeking a hair restoration clinic then we advise doing a lot of research beforehand about not only the clinics themselves but the surgeons that they work with too. Our surgeons at The Private Clinic are members of the International Society of Hair Restoration Surgery (ISHRS) and all have extensive experience in treating Male Pattern Baldness.
Although cost is always going to be an important factor when deciding if to go ahead with surgery, but it is important to not let it be the deciding factor. Many patients seek hair transplant procedures abroad as they are often cheaper than UK clinics however there is a huge risk such as not knowing who the surgeon is, not knowing the surgeons qualifications, not seeing the clinic beforehand, not being checked by the surgeon ahead of the procedure and just generally not having the after support there that a UK clinic would be able to provide. Hair transplant procedures abroad start of cheap but often end up costing more than if you were to stay in the UK due to complications post procedure.
We have hair restoration clinics in London Harley Street, Birmingham, Leeds and Manchester and Northampton.
FUE Hair Transplant before and after photos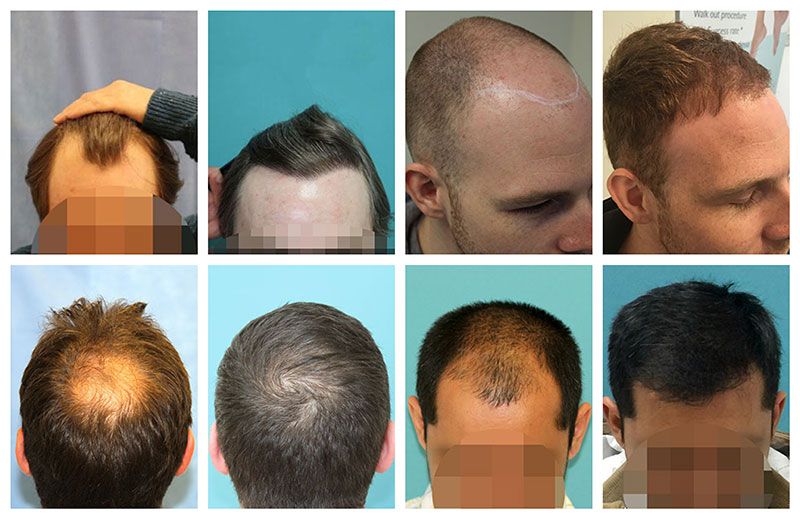 Why Choose The Private Clinic for Hair Transplant surgery?
You will be treated by highly experienced Doctors. Our Hair Transplant surgeons are specialised in FUE (Follicular Unit Extraction) and treat hundreds of patients every year.
FUE is a minimally invasive treatment (meaning there is no cutting of a strip), and carried out under local anaesthetic – many patients either watch TV, or even fall asleep during the procedure.
You won't require any stitches after your treatment. This means that the recovery time is also reduced when compared to the Strip surgery (FUT).
We use the finest instruments, resulting in as minimal trauma to your scalp as possible.
Thanks to our advanced skills and techniques, our team ensure that the donor area looks intact after the hair transplant procedure and you can keep your hair really short if you prefer without any obvious scarring.
Following treatment, there will be no linear scarring across the back of your head as seen with the strip method (FUT) – you'll be free to wear your hair long or short.
We choose the best follicular unit (a group of hairs); this ensures that only the strongest, healthiest grafts are used for your hair transplant procedure.
Your results will look natural, with denser packing – the hair is implanted in the direction that matches your hair growth, and because we select healthy follicular units, the treated area will look densely filled.
Our surgeons are the only surgeons in the UK offering the Unshaven Hair Transplant (U-FUE) (the long-hair hair transplant), to those who prefer not to shave beforehand. At your consultation, we will be able to advise you on whether an unshaven procedure is suitable for you.
Scars resulting from injuries or previous surgeries can also be corrected. This could be a previous bad hair transplant or we can cover linear scars caused from FUT hair transplants.
The Private Clinic has a network of UK clinics and has been established for 35 years with a strong reputation for quality care; see our Trust Pilot 5 star rating here.
Find out more information in our blogs
See our hair transplant before and after photos here
See our Hair Transplant videos here
Read our hair transplant patient stories here or watch videos here
Expert Hair Transplant Surgeons at The Private Clinic
For more information or to book a consultation with our expert Hair Transplant surgeons click here or please call us on 0333 920 2471