Consultant Plastic Surgeon, Mr Adrian Richards, MBBS, MSc, FRCS (Plast.) GMC Number: 3286812 has recently published a report in the Volume 7/Issue 1 December 2019 issue of Aesthetic Journal which is a monthly journal for medical aesthetic professionals.
The article titled; Updates to Breast Augmentation, Mr Richards report provides an overview of the latest trends and developments with breast implant surgery. Mr Richards stated that breast implant removal is on the increase with many women choosing to remove their implants instead seeking smaller and more natural results.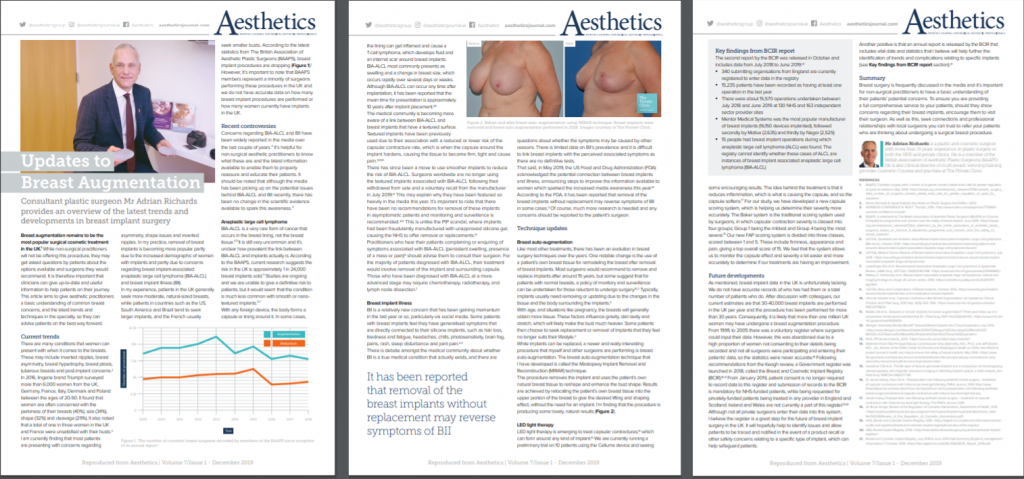 Mr Adrian Richards specialises in a breast implant removal technique known as Breast Auto Augmentation or MIRAR. The technique involves removing the implant and using the patients own natural breast tissue to reshape and enhance the breast shape
"Results are achieved by relocating the patient's own breast tissue into the upper portion of the breast to give the desired lifting and shaping effect, without the need for an implant. I'm finding that the procedure is producing some lovely, natural results"

Benefits of a breast auto-augmentation include;
Improving the shape of your breasts without an implant
Increasing the fullness of the upper breast
Correcting sagging of the breast
Lifting the breasts into a more youthful position
No added weight of an implant
A natural implant is achieved
Mr Adrian Richards is a plastic and cosmetic surgeon with more than 15 years' experience in plastic surgery in both the NHS and private clinics. He is a member of the British Association of Aesthetic Plastic Surgeons (BAAPS) and was named as one of the world's Top 100 Most Influential Cosmetic Doctors by international cosmetic surgery website RealSelf. At The Private Clinic, Mr Richards runs consultation clinics in London Harley Street, Northampton and Stokenchurch in Buckinghamshire and operates out of our purpose built theatre in Fitzroy Square, London.
To find out more about Breast Auto Augmentation procedure or to book a consultation, please call 0333 920 2471 or use our breast auto augmentation online contact form.