When speaking to patients about breast implants, one of the most popular questions we get asked is how much the breast augmentation treatment will cost. Also known as a 'boob job', breast augmentation is the the UK's most popular surgical procedure with over 11,135 performed last year. It's hardly surprising then that it can be particularly overwhelming to cipher through your clinic options and understand why there are seemingly so many different prices.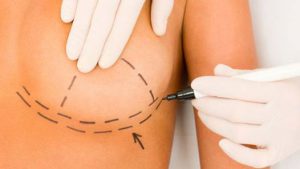 Unfortunately it's extremely difficult to give an exact price for any procedure prior to consultation. This is particularly true for breast augmentation where different implant brands need to be considered, as well as the complexity and specifics of each individual case. On average, our patients tend to pay on average £5,800 for breast augmentation, but this really does vary depending on the particular case and we would never promise a price until we know all the facts.
The first thing to ask when talking about price is what the quote you've been given includes; some clinics don't include everything you'll be paying for in the costs they give to you, meaning you get stung later down the line. Remember that your total cost should include the surgeon fee, anesthesia fee and your facility costs, and everything should be outlined to you prior to the procedure taking place. Does the clinic give details of what compression garments will cost, for example? Ask them to outline your exact costs including extras, medication and recovery aids. If an initial price appears too low, check with your clinic and take a look over written documents to make sure you're covered if they give you more bills later.
Similarly, if a price seems too good to be true and you're assured everything is included, you have to ask yourself why it is so cheap. Considering all the different factors your bill will be paying for, how can they afford to go so low when other clinics can't? Does this mean the surgeon isn't as skilled, or that the facilities don't have the necessary certificates in place? While prices will vary depending on the service you'll be receiving from a clinic and the surgeon's reputation, you'll find that most clinics charges will be within a similar range. Anyone who is charging significantly less than the general rate must have a reason for doing so and they could be compromising not only your results, but also your health.  Do some research and attend consultations to see what different clinics believe your particular case will cost. Once you have an idea, the question can begin to change from 'how much will my treatment cost?' to 'how much is my treatment worth?' and you'll not want to go any lower than this.
It's impossible to say exactly how much your breast augmentation will cost without a surgeon seeing you first. There are a lot of factors to consider and price is often an indicator of how good your surgeon is. Cost is an important factor for patients considering breast implants, but it shouldn't be your deciding one.
For more information on breast implants click here.
Why Choose The Private Clinic for a Breast Augmentation?
With over 35 years of Harley Street medical excellence, we are committed to providing patients with the very best cosmetic treatments. The only patients we allow to go ahead with a treatment are those who are fully informed and knowledgeable; we believe it is important to outline your risks, recovery and full cost information from the start. Your story is individual to you, we're here to make sure your treatment is too.
Why The Private Clinic is the right choice for you with the best cover:
We provide a 10 year warranty with £1000 towards your surgical costs.
Expert Cosmetic surgeons, see our before and after results here.
Dedicated post-operative care and appointments with your surgeon and nursing team, including a 24 hour help line.
Peace of mind with our personal three-year aftercare breast cover.
The Private Clinic covers a lifetime guarantee on your implant.
We have state of the art hospital facilities.
Giving you the best results and patient care is our priority we have a 5 star Trust Pilot rating.
Breast Surgeons at The Private Clinic
To find out more about breast enlargement surgery, please call 0333 920 9135 or use our breast augmentation online contact form to request a call back.