Some would say that the charming Drew Barrymore and Ariel Winter were blessed with a busty cleavage, but they probably saw it more as a curse. While many pursue bigger breasts, the amount of those looking to reduce their heavy loads is increasing by the year.
An emotional and physical struggle
Drew Barrymore's relationship with her breasts was not a happy one. Not only did her breasts weigh her down physically, they also drew unwanted attention to her and warped her confidence until she opted for a Breast Reduction or mammoplasty – she explained it like so:
"There's something very awkward about women and their breasts because men look at them so much. When they're huge, you become very self-conscious. Your back hurts. You find that whatever you wear, you look heavy in. It's uncomfortable."
More recently, Modern Family star, Ariel Winter, made the same decision and was very open about her experience. When speaking to Glamour magazine, she revealed how by age 15 she struggled with F sized breasts and how they made her 'hurt so bad that I couldn't stand the pain'.  It also became apparent that her cleavage was focused on more than her acting, and for a girl who's still underage, certain headlines and comments were definitely not appropriate.
"That's pretty much all I was known for and that upset me. It made me feel really uncomfortable because as women in the industry, we are totally over sexualized and treated like objects. Every article that has to do with me on a red carpet always had to do with 'Ariel Winter's Crazy Cleavage!' Or 'Ariel Winter Shows Huge Boobs At An Event!' That's all people would recognize me by, not, "Oh, she does great work on Modern Family," Ariel recalled.
Now, she's happy as Larry and feels like a 'new person' who can function normally. Both she and Drew had a number of reasons to reduce the size of their breasts, but both are doing all the better for it.
Breast Reduction Surgery, or Mammoplasty, treatment in a nutshell
In 2015, Breast Reductions were up by 13% on the previous year, according to the British Association of Aesthetic and Plastic Surgeons (BAAPS),  and surgeons say that Ariel Winter's openness has been a significant factor in raising awareness about the procedure and how it's helped her.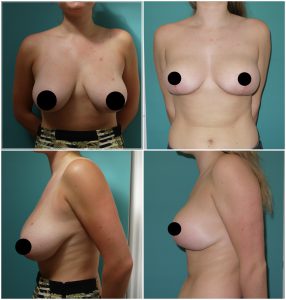 The main aim is to reduce the weight, volume and size of your breasts by removing excess skin, fat and glandular tissue. This is most commonly done by making an incision around the areola, then a vertical onto the crease of the breast, where the final cut is made. Other methods include stopping at the breast crease or only lining the areola.
Once everything is removed, the position of your nipples and the size of your areola can be adjusted and you can opt for a Breast Uplift to ensure that the reduction in volume doesn't leave you with sagging breasts.
During a Mastopexy (Uplift), any excess skin will be removed to give your breasts a full and toned appearance, while ensuring that they're correctly positioned and pulled up.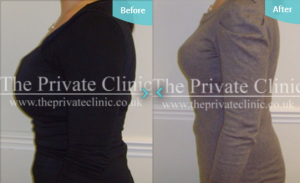 You'll need one to two weeks to recover, but afterwards, you finally won't feel like the weight of the world is hanging off your shoulders.
Breast Reduction at The Private Clinic
We offer top UK consultant plastic surgeons for breast reduction, who have accumulated decades of experience
More than 35 years of medical cosmetic expertise and experience
24-hour patient helpline to ensure you are always in the best of hands.
Three years cover for all surgical, hospital and nursing care, in case of any medical issue giving you peace of mind.
Comprehensive Breast Reduction Patient Guide.
Outstanding hospital facilities.
5 Star Trustpilot Rating
96% of patients would recommend us to friends and family
As many post-operative care and appointments with your surgeon and nursing team as required.
See our selection of breast reduction before and after photos.
Read our extensive breast reduction FAQs.
You can expect the utmost discretion and professionalism from our renowned Consultant Plastic Surgeons, whose skill and expertise enables them to deliver results without ever compromising on patient safety. They include:
Our expert surgeons are available for consultations in our clinics in London Harley Street, Birmingham, Manchester, Leeds, Northampton and Bucks (Virtual consultation).
To find out more please call 0333 920 2471 or use our online breast reduction contact form to request a consultation with one of our expert breast surgeons.