Known as being one of the most glamorous events in the showbiz calendar, the Oscars held its 89th academy awards this weekend and the stars certainly put on a show! From the outfits to the hair and make-up, we just didn't know where to look! Everyone looked stunning and we could only wish to have been there to join in with the glitz and glam of celebrity life.
Of course, the majority of us can only dream to be invited to something as exclusive as the Oscars but we have many events going on in our own lives that are just as special to us. From weddings and parties to fundraisers and nights out there are important times in our lives when we want to look red carpet ready as if we were turning up for the Oscars.
For many however, times like these go from being enjoyable to instead making us feel quite anxious and uncomfortable especially when it comes to deciding what to wear and feeling confident with our appearance.
Here at The Private Clinic we offer a number of minimally invasive, non-surgical treatment options to deal with issues like excess weight and leg veins. One of the most popular reasons for patients to choose to go ahead with procedures is down to a special event lurking that they want to look their best for.
EVLA
If you have varicose veins then the thought of baring your legs at a special event can be just unthinkable. Our EVLA treatment is a minimally invasive way of removing varicose veins. The procedure is performed under local anaesthetic which means quicker recovery times and most treatments are completed in under an hour meaning you will be able to head home shortly after with results being seen instantly. Removing varicose veins is a perfectly safe procedure as often the varicose vein is no longer serving any purpose with its role being taken over by other veins.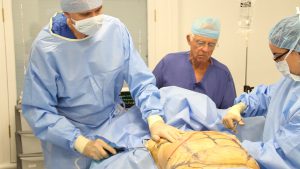 Vaser Lipo
You've had the event marked up on the calendar since last year but despite your best efforts of healthy eating and regular exercise, the weight is struggling to shift. If you are left with some stubborn areas of fat then vaser liposuction is a great way to remove this and leave you with the toned body that you have been working so hard for. Vaser liposuction is another of our minimally invasive treatments performed under general anaesthetic with no overnight stay. You can have vaser liposuction almost anywhere including your thighs, buttocks, stomach and upper arms. The procedure works by using a small probe to transmit the ultrasound energy which liquefies the fat cells prior to them being removed through a gentle suction process. Most patients can see the results straight away but it will be a few months before the best results are seen once the initial swelling has subsided. You will not require any stitches and you will be able to get back to your normal routine within a couple of days.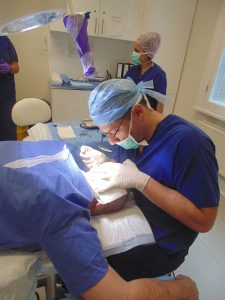 Hair Transplant
When it comes to hair loss, hiding it is not always an option. Many men opt for hats, hair pieces and even a variety of hair loss sprays, but this can often be a very costly and time-consuming lifestyle to maintain.  Some men openly admit to their hair loss and are not too bothered about showing it but for others it can be a huge factor in their life and can find events, where photos are being taken for example, quite uncomfortable. The FUE (Follicular Unit Extraction) hair transplant technique is a minimally invasive way to restore the hairline back to its pre-hair loss position. The procedure works by using donor hair follicles taken from healthy areas of growth on the patient's own head and then grafting them into the bald or thinning areas of hair. The procedure is performed under a local anaesthetic and many patients are able to return to work the next day. However this is not an instant fix with the full results of the transplant not being seen until 6-12 months later, meaning you will have to plan your treatment well in advance of any special events.
So why not be the one to make a grand entrance at your next special event? Whether you have been lucky enough to be invited to the Oscars or if it's simply your best friend's birthday party, you deserve to be the best version of you…because it's your body.
The Private Clinic
At The Private Clinic, we only offer treatments that our growing team of Doctors and Surgeons specialise in. They are among the most experienced in their field, and you can rest assured that you are offered honest advice and the most suitable treatment for you.