Last week, hair transplant surgeon, Dr. Raghu Reddy, broke records when he performed the biggest FUE hair transplant to date! In the first procedure of its kind, the epic session took place over 3 days.
The procedure saw Dr. Reddy implant 13,604 hairs (4,847 grafts) into a patients' scalp. To put this into perspective, 6,000 hairs is the typical amount implanted during one sitting.
Dr. Reddy was presented with a unique case, where the patient suffered from level 7 hair loss on the Norwood scale (shown in the image below), and so to achieve a full head of hair (with a low hairline and good hair density), the patient would need approximately 25,000 hairs, or 8,000-9,000 grafts. During the three-day session, Dr Reddy and his team were able to extract over half the ideal amount of hair for the patient. The growth of the newly implanted hair will be carefully monitored during check-up appointments, and if necessary, a second procedure can be carried out to 'top-up' the results.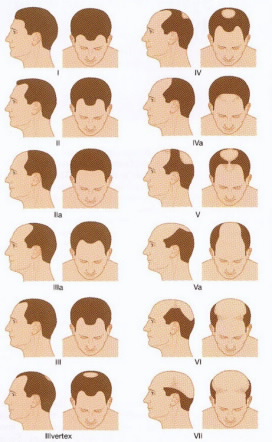 A video showing the patient's head post-procedure is now available to view here. It is remarkable to see just how clean and neat the head is immediately after the procedure has taken place!
To find out more information about the FUE hair transplant procedure visit our website here or alternatively, why not call us up and book a consultation for free of charge: 0800 599 9920.