As the year starts to come to a close we find that we start to analyse ourselves and think about making resolutions, aims and goals for the New Year.
A popular decision for many this time of year is to start to look at how we can change ourselves for the better so for some that may be a new diet and exercise regime with the goal of shedding the pounds or for others it may be seeking treatment for a recurrent skin concern and for some it may be seeking a head of new hair.
Back in February, it was reported that the UK has the fifth highest count of balding men, with 39.23 per cent of males losing their hair. Male hair loss can occur as early as the late twenties and half of men will experience hair loss by the time they reach 50.
FUE Hair Transplants have become increasingly popular especially with popular celebrities such as Wayne Rooney, James Nesbitt and Calum Best admitting that they have had hair transplant procedures.
So what can you expect?
Deciding to have a hair transplant procedure is not a decision to take lightly and should be backed up with plenty of research but one of the most popular questions that we are asked is; what results can I expect?
Knowing what to expect from an FUE Hair Transplant is difficult in that everyone's results will differ depending on their male pattern baldness grade score, the condition of their donor hair, the number of follicles being transplanted, the technique used and of course the skills of the surgeon.
Our online gallery of FUE Hair Transplant before and after photos are a great way to see a range of different patients who have all achieved great results despite experiencing different types and stages of hair loss.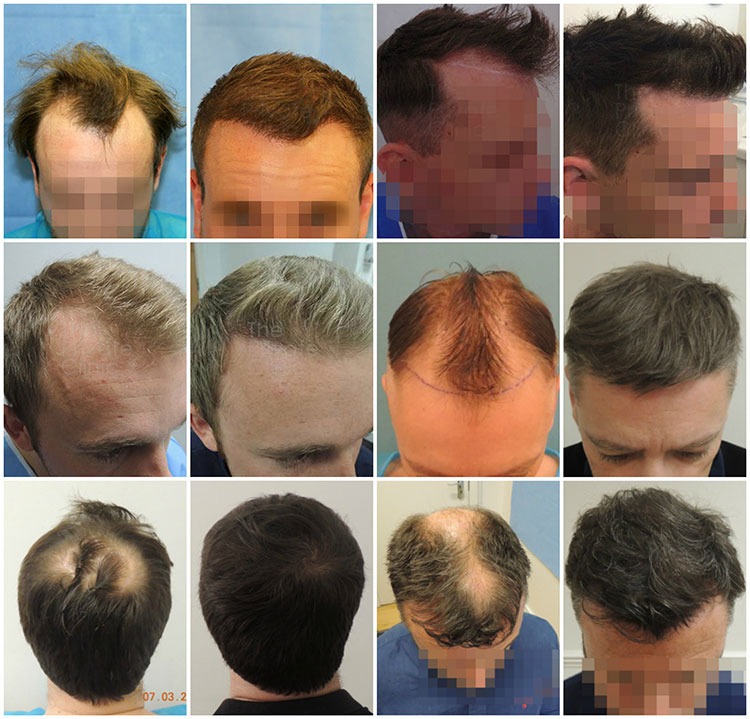 Although the best way to get a realistic view of what can be achieved is to have a consultation with your surgeon; the before and after photos showing a range of different patients allows new patients to be able to see patients who may have experienced similar hair loss and what results can be produced.
Our collection of hair transplant reviews are also a great way to hear about our FUE Hair Transplant patient experiences of both the procedure and the clinic that they were treated at.
"After looking at plenty of clinics for a hair transplant I settled on The Private Clinic after reading the great reviews. From the initial consultation with Dr Mouzakis, to the day of my transplant the team have been superb. The surgery was practically painless and I am very happy with my new hairline, all the team were constantly ensuring I was ok and were very professional. The aftercare I have received has been great and I've had phone call already to check how I am. I like also like knowing that I can phone at any time if I need any advice.
I would recommend Dr Mouzakis and The Private Clinic team to use for a hair transplant."
Sean, Leeds
Had a FUE hair transplant on 16 December with Dr Furqan Raja. He and the two nurses he worked with were fantastic!
They made me feel very comfortable throughout the procedure and constantly checked in with me. I had 1700 grafts taken from the back of my head and put into the front where I had gone bald either side of my widows peak.
I am now following the after care information they gave me and also the full kit of products they provided (all included in the price) to help me make sure I look after the new grafts properly. I have follow up appointments with the nurse and access to an emergency on call nurse 24/7 if required. But so far, I have no pain and everything is exactly as described to me in advance of the procedure.
I did a LOT of research online and found many of the other national FUE/FUT hair transplant clinics too sales driven and very pushy. Dr Furqan Raja and the team at the private clinic gave me time and space to decide on what was right for me, and importantly they never sold to me but just answered all my questions in a professional, caring and trustworthy manor.
This is why I chose them and looking at the early results I am pleased I did!
If you speak to other clinics and do your research, make sure you also book a consultation with The Private Clinic. Alex Clair in Manchester was my Patient Coordinator and he went out of his way to help me and gave me lots of free, practical and helpful information up front. Their straightforward, honest and friendly approach was great throughout. Highly recommended Dr Furqan Raja, Alex Clair and the whole team.
Michael, Manchester
"I am extremely pleased with the professionalism and care provided by all the staff at The Private Clinic during my FUE procedure. From Wanda to Dr Ismail and everyone in between, I felt like a friend and a VIP all in one. Brilliant, and I'm already happy with the results."
Neil, Birmingham
Why Choose The Private Clinic
You will be treated by our highly experienced Hair Transplant surgeons who are specialised in FUE (Follicular Unit Extraction) and treat hundreds of patients every year.
FUE is a minimally invasive treatment, carried out under local anaesthetic and many patients either watch TV, listen to music and some even fall asleep during the procedure.
You won't require any stitches after your treatment like you would after a Strip (FUT) procedure. This means that the recovery time is also reduced when compared to Strip surgery.
We use the finest instruments, resulting in as minimal trauma to your scalp as possible.
Scars after your surgery are virtually undetectable thanks to our advanced skills and techniques.
You won't have any linear scarring across the back of your head following treatment meaning you'll be free to wear your hair long or short.
We work by hair, not per graft – this ensures that only the strongest, healthiest follicles are selected for your transplant procedure.
Your results will look natural, with denser packing – the hair is implanted in the direction that matches your hair growth, and because we select healthy follicles, the treated area will look densely filled.
Our surgeons are the only surgeons in the UK offering the Unshaven Hair Transplant (U-FUE) to those who prefer not to shave beforehand. At your consultation, we will be able to advise you on whether an unshaven procedure is suitable for you.
Scars resulting from injuries or previous surgeries can also be corrected.
Read our extensive hair transplant FAQs.
Hear from previous hair transplant patients in our patient stories and patient videos.
Find out more about hair transplants in our blogs.
Hair transplant consultations are available in our clinics nationwide: London Harley Street, Birmingham, Leeds, Manchester and Northampton.
Expert Hair Transplant Surgeons at The Private Clinic
To find out more about FUE Hair Transplants please call 0333 920 2471 or use our hair transplant online contact form