FUE Hair Transplant FAQs with Dr Raghu Reddy Part 1
HAIR LOSS & HAIR TRANSPLANTS
Home » FUE Hair Transplant FAQs with Dr Raghu Reddy Part 1
The American Academy of Dermatology has declared August to be National Hair Loss Awareness Month so we are going to be focusing on hair restoration treatments to help improve the appearance of hair loss in a series of videos by Dr Raghu Reddy.
There are a lot of causes of hair loss including over-styling, illness, stress, medications, poor diet and even smoking but the biggest cause of hair loss is male pattern baldness which is usually down to your hormones and family history.
Male pattern baldness is assessed using the Norwood scale (below) and our Hair Transplant surgeons use this scale to denote the areas to be treated during your hair transplant.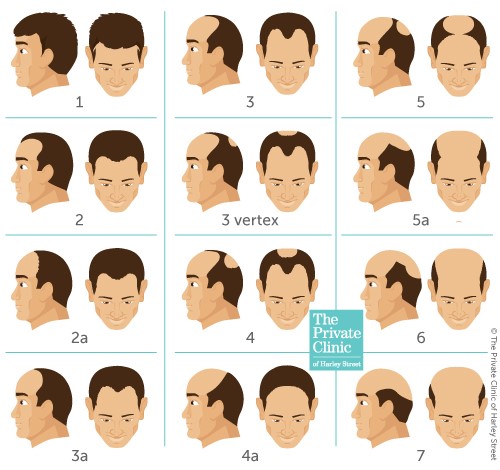 In the videos below, Dr Reddy answers some popular questions on the FUE Hair Transplant procedure such as;
What is a FUE hair transplant?
An FUE Hair Transplant is a surgical procedure which involves redistribution of healthy follicles from the back of the scalp to the front of the scalp. FUE Hair Transplants are performed under local anaesthetic and you will be able to return home shortly after the procedure is complete. The procedure is relatively pain free although some patients note some discomfort when administering the local anaesthetic. The downtime associated with a FUE Hair Transplant is relatively low with many patients returning to their usual activities 24 hours after the procedure has taken place.
Find out more about FUE Hair Transplants here.
Is a FUE hair transplant the best procedure for me?
Dr Reddy explains that the majority of clients that come to The Private Clinic for a consultation are actually not suitable for a FUE Hair Transplant. There are some primary reasons why patients are often dissuaded from having a hair transplant and these include being too young, medical history and unrealistic expectations.
Patients who are under 30 should approach having a hair transplant so young with caution. Hair loss is progressive so over time many patients find themselves having to have multiple procedures. The donor area is a limited zone so it should be treated delicately and having too many hair transplants so soon could easily affect the amount of grafts available for any procedures in the future.
What results can I expect?
The results that you can expect from a FUE Hair Transplant will depend on your own personal experience. Each patient will have slightly different hair and no results will be the same, although it is always our aim to leave you with results that are near natural in density over the space of 12 months. Dr Reddy believes that we are at a stage where most of the grafts that are transferred are then taken up by the patient for the remainder of their life provided they look after them well.





The patient satisfaction rate for FUE Hair Transplants at The Private Clinic is relatively high and we believe that to be down to the experience of our highly skilled hair transplant surgeons.
https://youtu.be/z4JhLwLdGiQ
https://youtu.be/Euw3nnsqA0I
Why choose The Private Clinic?
Outstanding results, don't take our word for it, see our Trust Pilot reviews click here
24 hour patient helpline to ensure you are always in the best of hands.
As many post-operative care and appointments with your Hair Transplant surgeon and nursing team as required.
Highly experienced Hair Transplant Surgeons.
Comprehensive patient information, every step of the way.
Outstanding hospital facilities.
Our excellent reputation for patient safety and satisfaction, honest advice and outstanding care means your journey with The Private Clinic will be an exciting experience to a newfound head of hair.
View our before and after results gallery
Find out more information in our blogs
Read our extensive FAQs
Hear from previous Hair Transplant patients in our patient stories and videos
We have clinics nationwide in London Harley Street, Birmingham, Bristol, Leeds, Manchester and Northampton.
Expert Hair Transplant Surgeons at The Private Clinic
If you would like to find out more or arrange a hair transplant consultation please call, 0333 920 2471 or use our online Hair Transplant contact form.