Earlobe surgery is a quick and effective surgical procedure to repair and correct ears that have been stretched or split through piercings or trauma. If you feel that your stretched or split earlobes are affecting your appearance, social life or career then The Private Clinic has a wide range of surgeons across our UK locations to help advise you on the best treatment plan.
Stretched Ear Repair
Stretched ear repair is requested by patients who have previously stretched their earlobes as a result of a tribal ear piercing. Stretched earlobe repair aims to correct the appearance of the earlobes by removing any excess stretched skin and restructuring the earlobe. Tribal earlobe repair usually takes around 30 minutes per earlobe and is performed under local anaesthetic so you will be free to go home shortly after the procedure.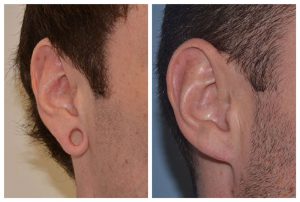 Split Earlobe Repair
Split earlobe repair is required when the earlobe has split either partially. This is usually caused by overstretching or accidental tearing when wearing earrings. Performed as a minor procedure under local anaesthetic, an incision is made in the earlobes and then stitched to repair the affected area. It is a relatively quick and simple procedure usually only taking between 30-40 minutes per earlobe. Patients can then choose to re-pierce their ears again after 6 months.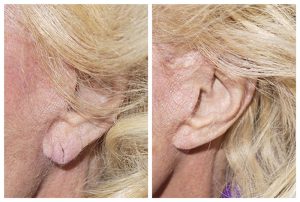 Stretched earlobe and split earlobe repair surgeons
Stretched earlobe and split earlobe repair in Manchester
Consultant Plastic Surgeon, Mr Adel Fattah, FRCS (Plast) GMC Number: 4764599
Mr Fattah is dedicated to patient safety and satisfaction and aims to attain the best results for all of his patients. Consulting from our Manchester clinic which is close to surrounding towns and villages such as Hale/Hale Barns, Bowdon, Alderley Edge, Wilmslow, Macclesfield, Leigh, Prestbury, Nantwich, Tarporley, Knutsford, Worsley, Altrincham, Cheadle and Deansgate.
Stretched earlobe and split earlobe repair in Leeds
Consultant Plastic and Reconstructive Surgeon, Mr Philip Lim, BSc (Hons), MB ChB, AFRCS (Ed), MRCS (Eng), FRCS (Plast) GMC Number: 4219068
Split or stretched ear repair surgery consultations are available with Mr Lim at our Leeds clinic and the surgery can take place in our state of the art in-house theatre too. Our Leeds clinic is near to Leeds city center, Chappel Allerton, Methley, Oulton, Stanningley, Otley, Calderdale, Pudsey, Scarcroft, Wetherby, Kirklees, Roundhay, Yeadon, Farsley and Harrogate.
Stretched earlobe and split earlobe repair in Birmingham
Consultant Plastic, Reconstructive and Cosmetic Surgeon, Mr Kenneth Kok, MBChB, MRCS, MSc(Hons), FRCS(Plast.) GMC Number: 4701147
Consultant Plastic Surgeon, Mr Mark Lloyd, BM, MRCS, MSc, IM&T(Health), MPhil, FRCS(Plast.), ECFMG, GMC Number: 4425050
Earlobe repair surgery can be carried out by our expert plastic surgeons in our Birmingham clinic. Mr Kenneth Kok and Mr Mark Lloyd are both experienced surgeons who will take great care to provide the best results. Our Birmingham clinic is easily commutable from surrounding areas including; Lichfield, Sutton Coldfield, Solihull, Shrewsbury, Kidderminster, Hampton in Arden, Leamington Spa, Stratford, Edgbaston and Harborne.
Earlobe repair at The Private Clinic
To find out more about split earlobe repair or tribal ear correction surgery call 0333 920 2471 or click here to book a consultation with one of our expert surgeons.