If you are feeling concerned by the appearance of sagging skin or deep lines and creases on the face, or feel that cosmetic treatments such as dermal filler and thread lifts just aren't giving you the desired results anymore then you may be starting to look into facelift surgery.
Facelift surgery has come a long way since it was first performed. Techniques have developed, recovery times have got shorter, results have got better and the amount of surgeons offering the procedure have increased significantly.
Whilst this does give you a great range of options to choose from, it can feel slightly overwhelming and picking the right surgeon for you can be quite a daunting task.
The first place to start in the majority of patients searches is the internet. The World Wide Web is a great way of locating surgeons and clinics that are close to you as well as seeing reviews from others and before and after photos. The internet is a great place to start but it is important to remember that it can be a source of misinformation and it should not in any way replace a consultation with the surgeon or clinic to find out more about them.
Don't be afraid to see more than one surgeon or clinic, whilst you are in your decision making process, it is completely normal to visit a number of different surgeons and providers. Listen to what they have to say, ask to see their qualifications, before and after photos and make sure to prepare a list of questions such as how long and how often they have been performing facelift surgery.
Most of all it is important to take the time to make a fully informed decision and go with your gut. You should find your surgeon welcoming and polite and someone you feel that you can easily talk to about anything to do with the procedure including any concerns should they happen post-surgery.
At The Private Clinic we have some of the best facelift surgeons in the UK and are proud to offer all of our patients medical expertise, outstanding care, patient satisfaction, excellent customer service and honest advice with all of the treatments that we offer.
Facelifts at The Private Clinic
We offer a range of facelift options in our clinics across the UK. These include;
Full Facelift
A full facelift is a procedure which is designed to lift both the upper and lower face for a total facial rejuvenation. The procedure removes excess skin and helps to reduce the appearance of sagging jowls, deep lines and folds.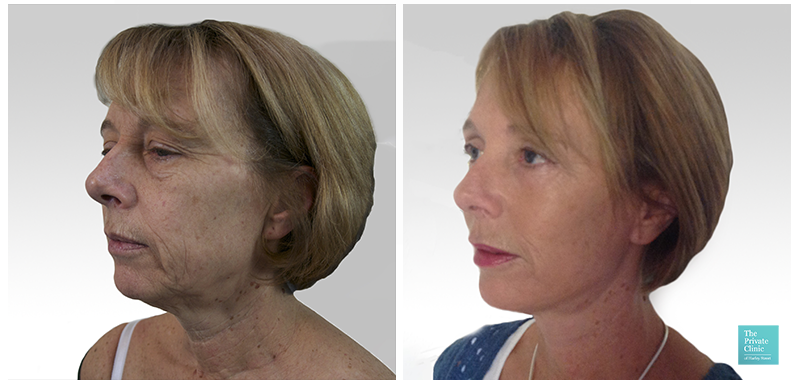 Mini Facelift
A mini or SMAS facelift is more focused on the lower half of the face. It aims to lift sagging jowls and the neck by removing excess skin resulting in a better-defined jaw and neckline.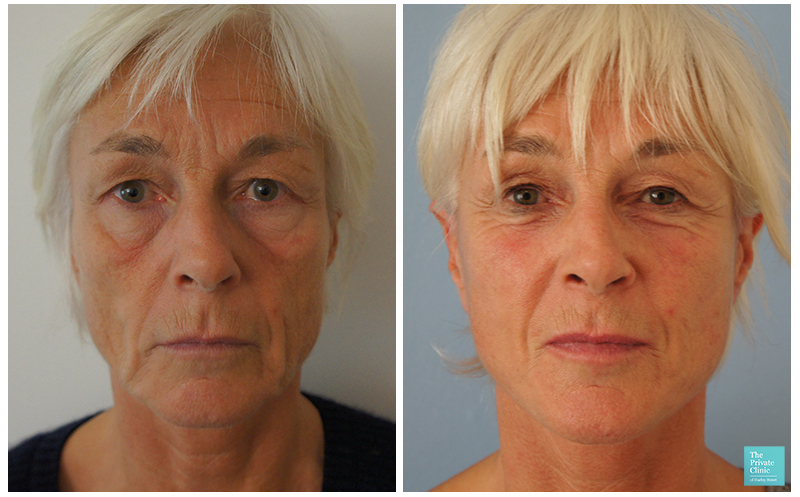 Forehead Lift
Also known as a browplasty or brow lift, this procedure lifts the forehead to remove deep lines and elevate the brows. Although the forehead lift is only targeting the upper face, you will often find this treatment can help improve the overall appearance of the face too.
Temporal and One Stitch Facelift
The temporal or one stitch facelift is the ideal option for patients looking for subtle results with minimal downtime. This facelift procedure is performed under local anaesthetic targeting either the mid or upper face with a much smaller scar than a traditional facelift. As featured in Harper's Bazaar's Cosmetic Tweakment Trends of 2019.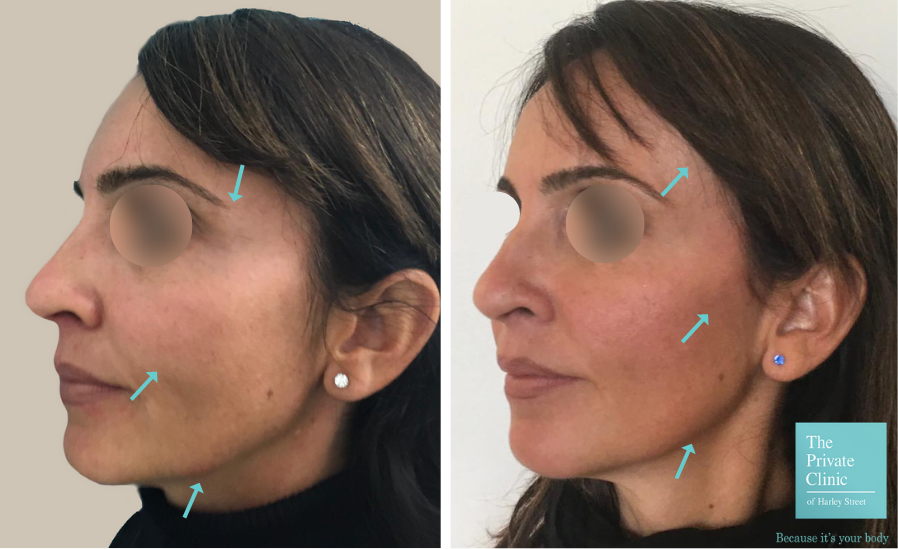 Mid Face Lift (Cheek lifting / Malar Lift)
A malar lift is great for the mid-face area. The procedure focuses on restoring the deep nasolabial folds, sagging cheeks and the hollowing between the lower eyelid area and upper cheek bone. You will notice that tired and sagging cheeks will appear more lifted and the downward slanted corners of the mouth will be upturned giving an overall more rejuvenated appearance to the face with a youthful contour and reduced sagging jowls.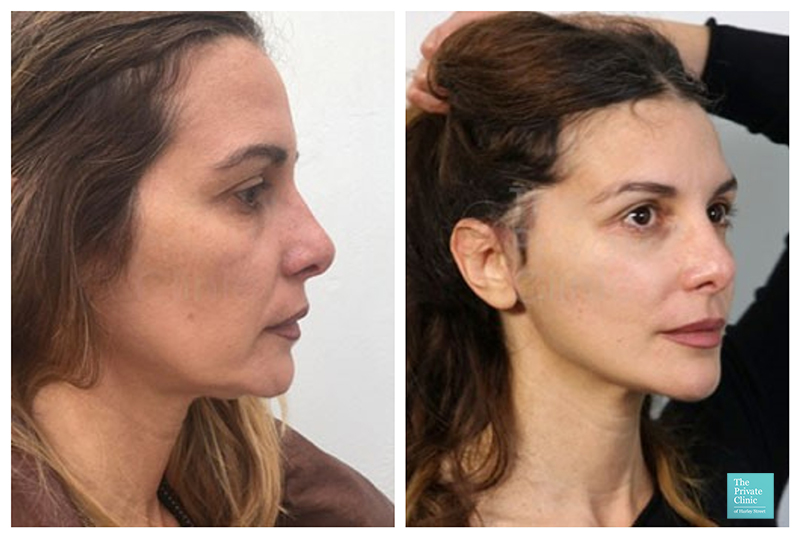 Facelift and Blepharoplasty
A facelift procedure does not target the eyes, so if your surgeon feels that you have sagging eyelids or lower eye bags that may impact the results of a facelift they may suggest a combined facelift and blepharoplasty procedure to ensure that you achieve an overall facial rejuvenation.
Why choose The Private Clinic?
We offer highly skilled and extensively experienced plastic surgeons for our facelift surgery procedures, who represent some of the best for facelifts in the UK and achieve impressive results.  We know that a facelift is not a 'one-size-fits-all' procedure, and all of our patients will always have a bespoke solution, tailored to their desired outcome and suitability.
With The Private Clinic, you can have peace of mind you will have the safest and most comfortable journey possible. We afford all of our patients care and service of the highest quality, before, during and for a long time following their procedure.
Please see below our renowned Facelift Surgeons and their locations:
To find out more about our facelift surgery options, please visit our website. If you are interested in booking a consultation with one of our Senior Consultant Plastic Surgeons, or Patient Advisors, who can answer queries and provide information before meeting a surgeon, please book by calling 0333 920 2471 or use our facelift online contact form.