There are many reasons why patients would consider getting their implants removed. These include a change in trends with many patients now favouring smaller implants other larger ones. Medical reasons for removing implants include capsular contracture and implant rupture and some patients just don't want to have breast implants anymore.
When it comes to removing your breast implants, there are a number of things to consider but most importantly we ask patients to think about the end result and what they wish to achieve from surgery. Typically after removing implants your breasts usually return to how they appeared before surgery. But in some cases, breast sagging can occur, particularly patients who have had larger implants or implants that have been in place for a number of years.
We offer a wide range of options to patients who are considering breast implant removal. Our expert plastic surgeons will be able to help you decide which one is going to be best for you but to help you feel as informed as possible ahead of your consultation, see below for our breast implant removal options.
Breast Implant Removal with Breast Auto Augmentation
A breast auto-augmentation is a breast reconstruction procedure that uses your own natural breast tissue to essentially act as an implant. During a breast uplift, the skin is removed and the nipple is raised but the breast tissue is usually left untouched. A breast auto-augmentation instead relocates a portion of your breast tissue from the lower breast to the upper breast. This helps to change the entire shape of the bust giving the appearance of volume without the need for implants.
A breast auto-augmentation is a really effective procedure that only uses your natural breast tissue and it has a big advantage over implants in that it will only increase volume in the upper pole, no volume or weight will be added to the lower pole of the breasts. It may be difficult to replicate the same size your breasts were with implants, but it will be a close match.
An auto augmentation procedure is performed under general anaesthetic and usually takes around 2-4 hours to perform. Some patients may be required to stay overnight in the hospital but if not they will be discharged a few hours following their procedure once being deemed fit.
An Auto-augmentation is a specialist breast reconstruction surgery technique that only a select number of specialist breast surgeons are able to offer.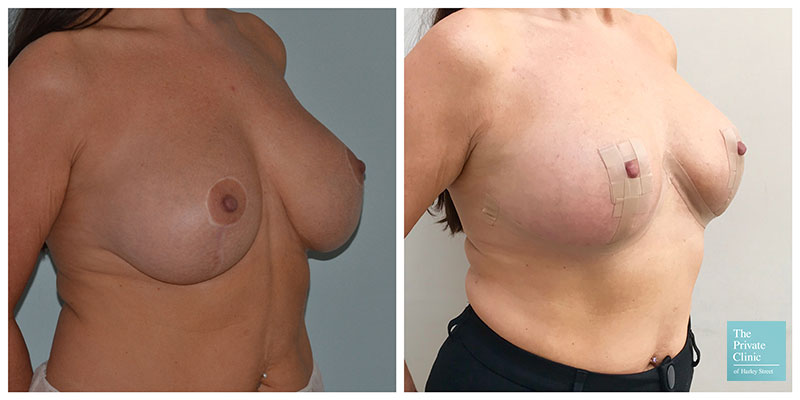 Breast Implant Removal
A breast implant removal procedure is pretty much explained in the title. In this procedure, your implant is removed from your breast pocket and no other procedures are performed. Breast implant removal procedures are performed under general anaesthetic and your surgeon will aim to remove the breast implant from the same incision where your implant was originally inserted. Each case will vary but the procedure on average will take 1-2 hours. Patients are not usually required to stay overnight following a breast implant removal procedure and many return home a few hours after the procedure once discharged by the surgeon.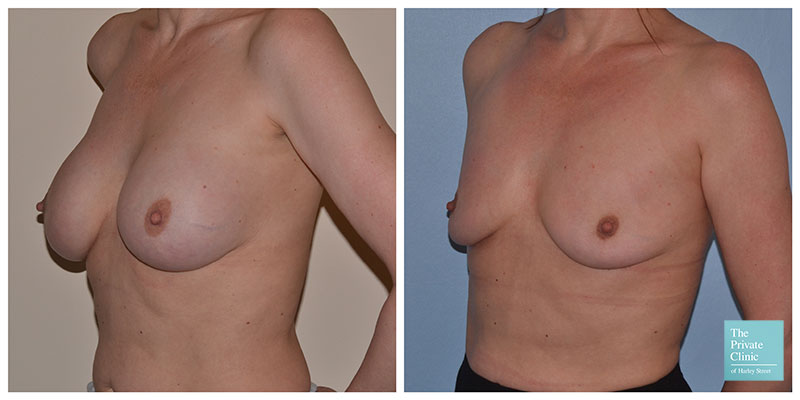 Breast Implant Removal with Enbloc
An enbloc procedure is when the implant and capsule are removed from the breast pocket. This usually happens as standard if you have capsular contracture for example but an enbloc procedure can also be requested by anyone who is looking to have their implants removed.
In some cases an enbloc procedure may not be possible, this is usually when the capsule is very delicate and thin and the process of removing it could actually cause damage to surrounding vital tissues. In all breast implant removal cases, precautions are put in place to allow for proper healing including sterilising the remaining capsules.
Not all surgeons offer this procedure due to the additional risks so it is important to make your preference clear ahead of booking in for a consultation with your surgeon.
Breast Implant Replacement
If you are choosing to remove your implants in favour of implants of a different size then a breast implant and replacement procedure will be performed.  This procedure is also great for patients who have experienced issues with their current implants and wish to replace them with new implants of the same size or different. This procedure takes out your existing implants and replaces them with implants that are either smaller, bigger or the same size as your current implants. The procedure is performed under general anaesthetic and your surgeon will aim to use the same incision that your original breast implants were inserted via. Recovery after a breast implant replacement is likely to be similar to your previous breast augmentation recovery.

Breast Implant Removal with Uplift 
A breast implant removal procedure combined with a breast uplift procedure is a great option for patients who are likely to have sagging after their implants removed. The surgeon will remove your implant but then also remove any excess skin and relocate the nipple to a higher position to give the chest a more uplifted appearance. The procedure is performed under local anaesthetic and usually takes 2-3 hours and there will be some additional scarring usually a lollipop or anchor shaped scar where the uplift procedure has taken place. You will also have some additional recovery time similar to that of breast augmentation and some patients may be required to stay overnight at the hospital.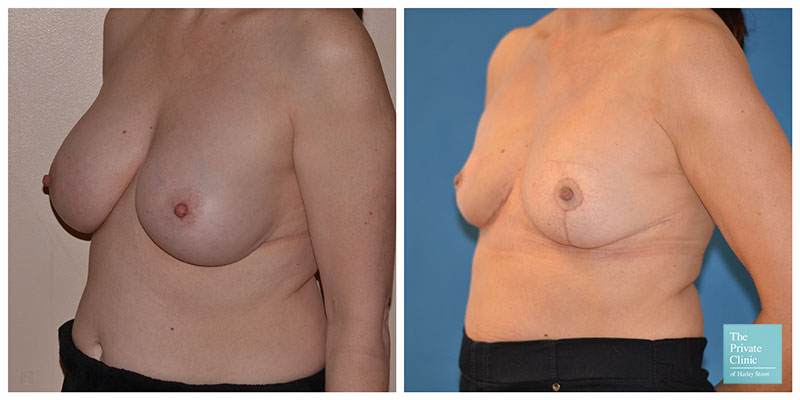 Why Choose The Private Clinic?
Choosing a clinic for your breast implant removal procedure can be difficult. At The Private Clinic, we see over 15,000 new patients every year and have one of the highest patient satisfaction records in the sector with a 9.4 rating on TrustPilot and 96% of patients saying they would recommend us to their friend and family.
The Private Clinic prides itself on its commitment to Medical Expertise, Patient Care and Satisfaction, Honest advice and most importantly Excellent Results. We are able to offer a range of implant removal options to suit all patients. We have highly skilled expert Cosmetic surgeons, see our before and after results here. We provide dedicated post-operative care and appointments with your surgeon and nursing team, including a 24-hour helpline. All procedure is performed in our state of the art hospital facilities and giving you the best results and patient care is our priority.
To find out more about our breast implant removal procedures, please call 0333 920 2471 or use our breast implant removal online contact form to request a consultation.