Of all the signs of ageing, one of the hardest to disguise is drooping, excess skin around the eyes. Short of constantly wearing sunglasses it can't be hidden, nor can make-up conceal it as easily as other imperfections.
What makes the matter worse, however, is how many of us it affects. In 2013 BAAPS reported a 14% increase in the number of people opting for eyelid surgery with 7,808 procedures carried out. Further yet, with many in their twenties and thirties suffering from the condition, eyelid laxity is far from just a problem for those battling the years.
But what can be done about it and how complicated is the treatment? We explore the surprisingly quick and easy blepharoplasty – a procedure designed to transform your eyes from tired and sagging, to refreshed and youthful, in what can be as little as 30 minutes under local anaesthetic.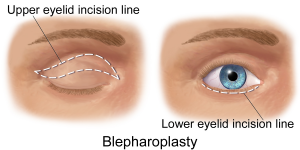 Image: Blausen 0085 Blepharoplasty-EyeLift by BruceBlaus.
What is blepharoplasty?
Whether it's performed due to time leaving its mark or genetics, blepharoplasty is a surgical procedure to remove excess skin and fat from the upper or lower eyelids. The treatment can be used to tackle a number of issues around the eye including reducing drooping, tightening creases and folds in the eyelids, or lifting the skin surrounding eyes.
How does the blepharoplasty procedure work?
Everyone is different, and we keep that in mind with every treatment. Each candidate needs to be properly assessed prior to blepharoplasty and your treatment will depend both on what you're hoping to achieve and the view of the expert on how to achieve it.
There are two main areas of treatment:
Upper blepharoplasty
Procedures on the upper eyelids are relatively quick and can take as little as 30 minutes. Usually performed under local anaesthetic, an upper blepharoplasty is extremely safe and requires minimal downtime following the procedure with patients able to return home swiftly afterwards. We carry out our upper blepharoplasty procedures in our very own theatres, avoiding the need for a hospital stay.
Lower blepharoplasty
More complex than the upper blepharoplasty, procedures for the lower lids often require general anaesthetic and take between 1-2 hours to perform, but are again a safe way to combat ageing eyes.
For some, a combination of both procedures may be more beneficial to restore a youthful and refreshed appearance, but the look you want and the best method to achieve it will always be discussed fully at consultation stage with one of our Consultant Plastic and Reconstructive Surgeons.
It is important to remember that despite its benefits, blepharoplasty is not a one-size-fits-all wrinkle buster; lines like crow's feet cannot be treated through eyelid surgery and any surgeon you consult should advise you on other treatments like wrinkle injections and fillers to resolve this.
Quick and safe when performed by industry professionals, blepharoplasty is an effective solution to tackle excess skin around the eyes. While the procedure itself is speedy, the results our expert cosmetic plastic surgeons achieve can be life changing. By working with only the best professionals, your safety and satisfaction can be guaranteed and one of the most frustrating facial annoyances can be fully transformed.
The Private Clinic
At The Private Clinic we are proud to host some of the country's most experienced and reputable consultant plastic and reconstructive surgeons. Blepharoplasty procedures are available in our London, Birmingham, Manchester and Bristol clinics with the majority taking place within our own rooms. Find out more about the treatment on our website.
To find out more about the procedure, arrange a consultation or visit our site.