When it comes to researching hair transplant surgery it can generate a lot of questions that you may struggle to find the answer too. A consultation with one of our experienced surgeons or patient advisers is a good way to get the answers to your questions as the internet can be a confusing source. We asked put some recently asked questions to experienced surgeon, Dr Michael Mouzakis, see his answers below.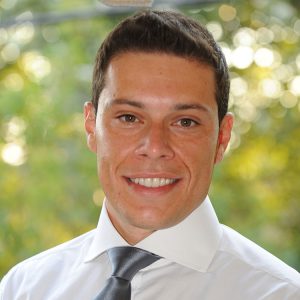 What technique do you offer and tools are used?
At The Private Clinic I offer the FUE (Follicular Unit Extraction) hair transplant procedure. This procedure is performed under local anaesthetic using a small cylindrical shape micro blade known as a punch. The punch I commonly use has the diameter of 0.8 – 0.95mm and is used to separate the hair shaft from the surrounding tissue in the donor area of the patients scalp. This unit is then grasped and extracted from the surrounding skin.
An implant pen is then used to implant the follicles to restore the recipient area of the patients head. A follicular unit of GRAFT usually contains between 1-4 healthy hairs. The implanter pen was first invented in the 1990s by Yung Chul Chou of the Kyungpook National University. The device was designed to reduce the amount of labour required during hair transplants and it reduces the amount of direct physical contact to the patients scalp. I only use sophisticated high quality implanters during my procedures so you can be sure that you are in safe hands.
How many grafts per square centimetre?
In a healthy male, the natural density of the temporal area which is located 2cm above the ear can each up to 240 -300  hair follicles per square centimetre. It is the thickest area of hair on the human body. In a FUE Hair Transplant we can place up to 45 grafts per square centimetre on the scalp; this is the limit to ensure you achieve maximum percentage of hair growth which is close to 95%. If any more grafts are placed within the square centimetre then it is likely that they will die as the blood supply to the area will not be enough for all of the grafts.
When we transplant hair, we use hair from the back of the head which is not affected by DHT and male pattern hair loss and it is also thicker, stronger and darker which gives patients the best results.
I aim to achieve results that look natural, meet the patient's expectations and will last for many years. That's why to me it is important to listen to the need of each patient and focus on a custom-made design of the hairline to make it look natural and unique.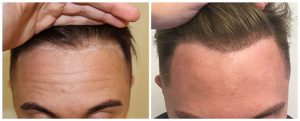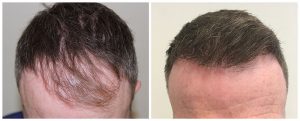 Dr Michael Mouzakis, Hair Transplant Surgeon at The Private Clinic in Birmingham, Bristol, Leeds, Manchester and Northampton.
---
We have a full team of expert hair transplant surgeons at The Private Clinic
Some other common FAQs include;
Will the surgeon be the one performing the procedure?  And are they member of a national or international organization for doctors such as ISHRS?
All hair transplant procedures at The Private Clinic are performed by highly experienced hair restoration surgeons. Each hair restoration surgeon is a member of national or international organisations for doctors which includes; The International Society of Hair Restoration Surgery (ISHRS), The International Alliance of Hair Restoration Surgeons (IAHRS) and The British Association of Hair Restoration Surgery (BAHRS). To be accepted into these organisations shows the surgeons elite surgical competence and recognition for their chosen field.  These organisations ensure that our surgeons are kept up to date with the latest methods and news about hair transplants and promotes the highest standards of medical practice.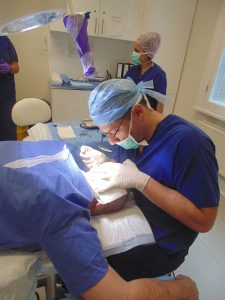 What sort of guarantees can you give regarding survival percentage of implanted hair grafts?
To offer a 100% guarantee for a hair transplant procedure is very unreasonable and we always warn patients about clinics making these false claims. No hair transplant surgeon  or hair transplant company should be making claims about a 98%-100% guarantee as each procedure will have its own risks and complications which although are rare, can still happen.
A good hair transplant surgeon will offer to fix any problems you have with your results where possible and we advise all patients seeking hair transplant surgery to do their research into not only the procedure but the surgeon and the clinic where the procedure will be carried out to ensure you are not being sold something that is false.
Here at The Private Clinic we do not claim any guarantees on our hair transplant procedures. Our team of expert surgeons will let you know of your suitability and will go through all of the risks associated with the procedure.
What will the cost of my treatment include?
Hair Transplant surgery costs will be given to you after a consultation with one of our experienced surgeons. Every individual's needs are different, meaning we treat all our patients on a case-by-case basis and we are unable to give an accurate hair transplant quote before you have been seen and assessed by our surgeons.
The cost of our FUE Hair Transplant surgery at The Private Clinic includes;
Access to our 24 hour patient helpline
As many post-operative care and appointments with your surgeon and/or nursing team
Aftercare medication
Lunch, snacks and drinks throughout the procedure
Do you see men that have had previous hair transplant with other companies?
We regularly see men that have had previous hair transplant procedures and are not happy with their results. At The Private Clinic we can perform revision FUE Hair Transplant procedures to help improve the patient's results which include increasing the overall density of the hair, altering the hairline to look more natural and improving the appearance of a FUT Hair Transplant scar. 30% of the hair transplant procedures that we carry out at The Private Clinic are from men who are not happy with their previous hair transplant procedures that they had either elsewhere in the UK or abroad.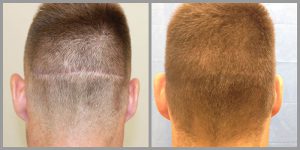 FUE Hair Transplant Surgery at The Private Clinic
24 hour patient helpline to ensure you are always in the best of hands.
As many post-operative care and appointments with your Hair Transplant surgeon and nursing team as required.
Highly experienced Hair Transplant Surgeons who have many years of experience.
Comprehensive patient information, every step of the way.
Outstanding clinic facilities.
Our excellent reputation for patient safety and satisfaction, honest advice and outstanding care means your journey with The Private Clinic will be an exciting experience to a newfound head of hair.
View our before and after results gallery
Find out more information in our blogs
Read our extensive FAQs
Hear from previous Hair Transplant patients in our patient stories and videos
We have clinics nationwide in London Harley Street, Birmingham, Leeds, Manchester and Northampton.
To find out more about hair transplant surgery and to ask any further questions please contact us on 0333 920 2471 or use our online Hair Transplant contact form.