Hair Loss Medication or Hair Transplant?
We understand that the thought of having a Hair Transplant may be overwhelming, and that you may find it easier and more convenient to opt for medication. We wanted to explain the difference between being a suitable candidate for hair loss medication, and when your only suitable treatment is a hair transplant.
Hair loss medications are effective ways of targetting and halting further hair loss. To give you a better idea of the stages of male pattern baldness, please have a look below: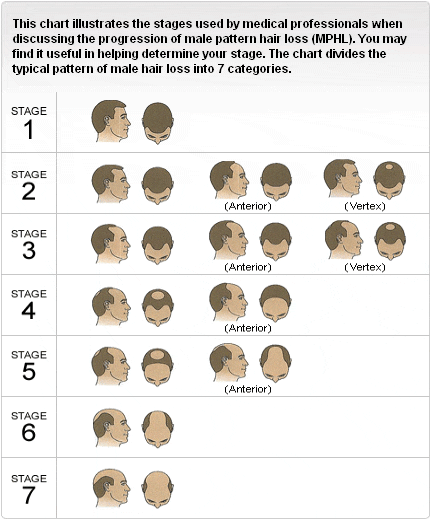 There are only two medications – Minoxidil and Finasteride (Propecia) – that have been approved for the management of hair loss. It is worth keeping in mind that these medications help slow down hair loss, but neither act as a hair regrowth or restoration treatment.
Minoxidil has been used for a number of years to treat baldness. While some success has been reported, it appears that the effects of using Minoxidil in this way are only temporary and men using it continue to bald over time – although at a slower rate.
Minoxidil can be purchased over the counter, without prescription, in concentrations of either 2% or 5%.  The medication appears to have the most benefit between the first 5 months and 2 years, after which, effectiveness gradually decreases.
Minoxidil needs to be used on a continuous basis to remain effective; hair preserved by Minoxidil will shed once the medication is stopped. It can therefore end up being more expensive than surgical treatment for hair loss.
Propecia or finasteride is a medication which blocks the conversion of testosterone to dihydrotestosterone (DHT) – the hormone that causes male pattern baldness. It can be an effective way of minimising hair loss. However, it is only effective on areas of the scalp where there is some hair still present. It does not stimulate growth in completely bald areas.
If you are thinking about taking Minoxidil or Propecia then it is worth bearing in mind that when you stop taking the drug you will lose the hair that was gained or preserved by the medication, and will return to the stage of baldness you would have been at if you had never taken the drugs in the first place.
The only permanent solution for hair loss is a Hair Transplant procedure.
d patient satisfaction at the core of what we do – always.