Cutera CoolGlide treatment for Thread Veins
"Looking back – it's amazing how much the veins had affected me!" 
Keeping in shape meant a lot to Tina; as a fitness instructor she was used to toning away any problem areas in the gym. But, in spite of working hard to make sure every muscle was how she wanted it, there was one thing even the most gruelling class out couldn't assist with – the small, but incredibly frustrating, veins on her thigh.
While they might seem a small, barely noticeable, problem to most, to Tina they were a big deal. In direct correlation with the thin blue marks becoming more noticeable, her skirts began to get longer and her confidence began to dwindle.
"Working with a reputable clinic was really important for me – I wanted to know I was safe." 
A chance online encounter informed Tina of The Private Clinic's treatment for small vein problems and she decided to look into it further and book a consultation to see if it was worth it.  Meeting with a therapist and hearing that hers was a common problem made Tina feel instantly better. The veins seemed so small to most that she was often told she was silly by friends, but now she had proof she wasn't alone and there was something she could do about it. Her therapist's enthusiasm and empathy confirmed it was something she wanted to try – with nothing to lose, she decided to go ahead.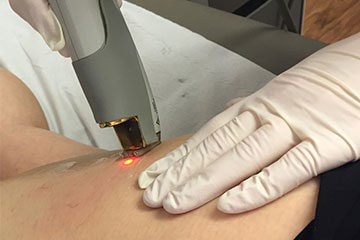 Slightly nervous about what, exactly, the thread vein treatment entailed Tina soon found her fears quashed. She'd decided she would only go ahead with any form of treatment on her veins in a well-known clinic to stay safe and ensure the best results. Sure enough, the non-invasive treatment was hardly painful, with concentrated beams of light being focussed on the problem thread veins and no need for any incisions, cuts or general nastiness. She could hardly believe it when it was time to get up and go…virtually as quickly as she'd arrived.
30 minutes later Tina was out of the treatment room. A few hours later she was trying on the shorter hemlines that had long been confined to the back of the wardrobe. It was a simple problem that had caused a surprising amount of problems for Tina. Thankfully treatment was, in her eyes, equally as simple.
And as for the results? Well, here they are immediately after…

*All of our patient stories are based on the personal experiences of our patients and represent individual body shapes and results. Please bear in mind that results may vary from person to person. All testimonies are provided voluntarily by our patients and clients. Their comments have not been altered in any way, and their experiences are their own.