Sabrina is a model and actress living in London.
Sabrina has previously struggled with adult acne that had left her skin with scarring, redness and pigmentation and was seeking treatment to help improve the overall appearance of her skin.
"Because I've had adult acne and stress acne I wanted to get rid of these acne scars and pigmentation and improve my skin texture – it was about time I looked into getting it sorted!"
Researching treatment options online she came across The Private Clinic of Harley Street and was impressed with our range of treatments and before and after photos of previous patients.
Walking into The Private Clinic, Sabrina felt warmly welcomed and was excited to work with her practitioner Maria to come up with the perfect treatment plan to suit both her skin and her busy work schedule too.
"It was really nice to be with the same person every time who knows you and knows your history and we were able to build a bit of a friendship so we always had a great laugh together making the whole treatment more personal which made me feel very comfortable"
Sabrina's career means that she can't always have a lot of downtime, especially when she is having treatment between photoshoots, casting calls or filming schedules. Previously Sabrina felt this would have a big impact on what treatments would be available to her but was surprised to find out that she could still receive a lot of the treatments she had previously researched and carefully mapped out a treatment plan with her practitioner Maria who made sure that none of them would affect her work.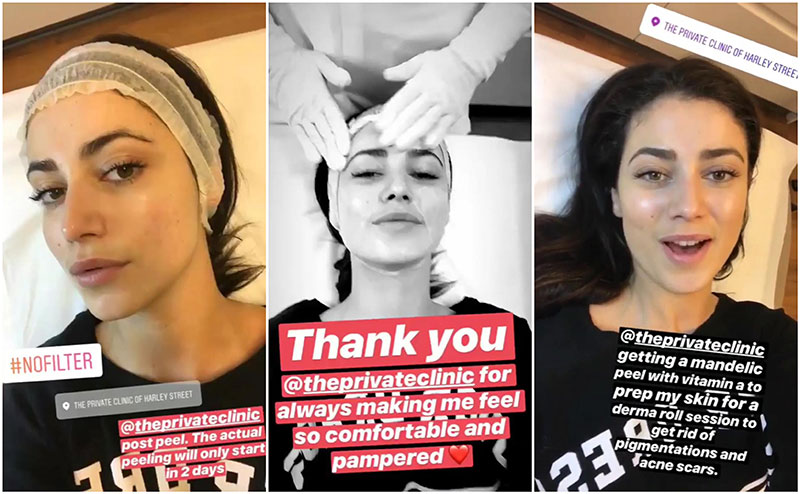 IPL (Intense Pulsed Light) is a great treatment for reducing redness in the skin, and its minimal pain and downtime made it an excellent choice for Sabrina to start her treatment with. IPL Skin Rejuvenation worked to improve the overall colour and texture of Sabrina's skin reducing the appearance of redness that she was previously unhappy with.
The next step of her treatment plan was a series of mandelic peels which would work to prep her skin ready for the final stage. Mandelic peels in particular are great at brightening the skin and reducing the appearance of pigmentation. They are also a very gentle peel making it perfect for Sabrina to have between work events without her having to worry about the downtime.
Sabrina's final step of her treatment plan was a dermaroller treatment. This part of the treatment was targeting her acne scarring. Dermaroller treatment is also known as microneedling which involves using medical roller with hundreds of micro-skin needles to causes small micro punctures in the skin which then stimulates the skin to regenerate and repair itself which as a result can reduce the appearance of acne scarring.
"It has changed my life in a way that I am now feeling more comfortable and confident to arrive to shoots not wearing any make up, completely bare faced. I always feel like my skin just looks fresh and dewy and I am not worrying about scars or pigmentation anymore"
Sabrina is delighted with the results of her treatment and having make-up artist's compliment her on her skin has been a massive confident boost compared to how she felt before. Going to castings you often have to arrive with a bare face which was always a worry for Sabrina but now she is arriving to her shoots with confidence which is showing in her work.