Minimally Invasive Bunion Surgery – Karen
Karen first noticed the signs of bunions on her feet after she left secondary school. Her parents had always ensured that she had the best quality shoes from Clarks with laces and although they fitted well, they had always felt uncomfortable for Karen to wear for long periods of time.
Bunions were not uncommon in Karen's family, her father had suffered with them but never went ahead with surgery to correct them.
Karen would feel her feet throbbing at the end of the day as was often desperate to get home and remove her shoes. The winter months were hard for Karen as she felt this was when they would ache the most from the cold and wearing wellies or trainers were difficult for her.
"I would be desperate to remove my shoes whenever possible, my shoes used to get passed around the class during school as I was forever removing them as soon as I sat down for lessons."
Karen's bunions were starting to have a negative impact on her life affecting her posture, how she walked and the options of shoes that she could enjoy wearing on a daily basis. Working as a school teacher she is always on her feet and having shoes that she could comfortably wear was important.
"I found myself having to buy wide-fitting shoes as a necessity but these are invariably much more expensive that normal fitting shoes so my options were limited."
In the summer months Karen also struggled with the appearance of her feet and found herself rarely being able to wear heels or flip flops that fitted comfortably and looked nice.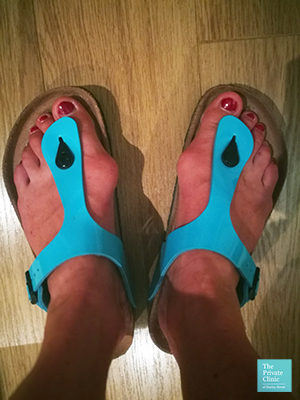 She enquired about having a bunion removal procedure on the NHS but was put off by the extensive downtime that would impact both her work and home life.
"I was told that I would need to have at least six weeks off from work, per foot. I could not afford this and I have two young children to care for."
Karen had heard about a new minimally invasive keyhole procedure for bunions and was excited to book a procedure with Dr Andreas Bianchi at The Private Clinic in Harley Street to find out more about it.
"I choose to go ahead with Dr Bianchi's methods over the NHS's because I would be mobile quicker and back to work earlier which was perfect for me."
Karen arrived at The Private Clinic's Fitzroy Hospital for her first bunion removal treatment on her left foot. Dr Bianchi only treats one foot at a time so Karen would have to return again once fully healed for her second procedure to the right foot. Having never had a surgical procedure before, Karen was understandably feeling nervous but at the same time excited at the promise of leaving with one bunion-free foot!
"I just kept thinking of how this procedure would change my life because I would no longer be ashamed of my feet, I would hope to finally be pain-free and I would be able to choose pretty, strappy, higher shoes and sandals."
A few hours later Karen was able to walk out the doors of the hospital with no need for crutches and returned home to recover in comfort knowing it was going to have minimal impact on both her work and home life.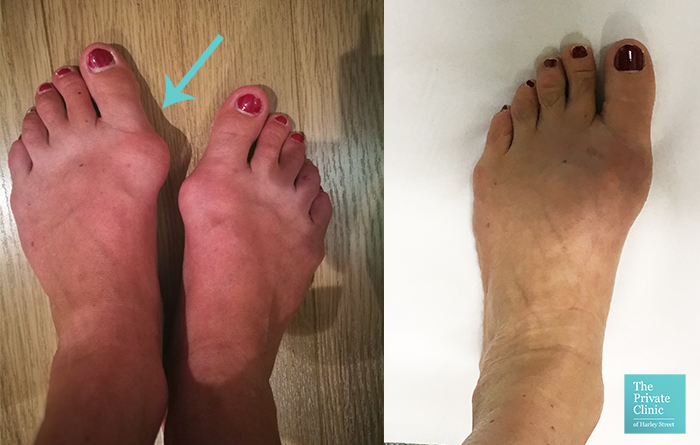 Arriving for her follow-up appointment with Dr Bianchi, Karen expressed her delight in the new appearance of the foot and couldn't wait to book in to get the right foot treated in time for the summer so she could finally wear her sandals with confidence.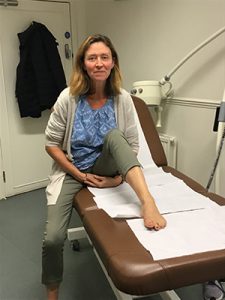 "I'm so happy with the results so far that I could cry!"
* All of our patient stories are based on the personal experiences of our patients and represent individual body shapes and results. Please bear in mind that results may vary from person to person. All testimonies are provided voluntarily by our patients and clients. Their comments have not been altered in any way, and their experiences are their own.