Minimally Invasive Bunion Surgery – Michelle
Michelle first became aware of her bunions in her 50s but at this time they were very small and not bothering her too much. It wasn't until she had an accident and damaged her knee resulting in surgery that she started to notice that her balance had become uneven.
"I walked with my head forward and an arched back, my right foot was taking a lot of strain and the bunion just seemed to getting bigger and wider"
Michelle then started to experience pain in her left ankle and noticed that the bunion on that side of her foot was increasing also, she also noticed that her big toes were curling inwards and lumps and bumps were appearing from her poor walking posture.
Bunions had previously ran in Michelle's family with her grandmother and sister both suffering from them. Her sister had gone through with traditional bunion surgery with metal plates which prompted Michelle to seek referral from her GP to get a bunion correction procedure on the NHS however she decided to decline treatment as the recovery time was too extensive.
"The recovery time was long and I didn't have anyone to look after me or stay somewhere that didn't have stairs, so I didn't go through with it."
Michelle's bunions were not necessarily painful but she felt her left ankle felt twisted and unsupported and both feet were not suffering from a hammer tow. Her nail was damaged from being squashed by her bigger toe and her right foot was overall wider and the tops of her feet often felt bruised.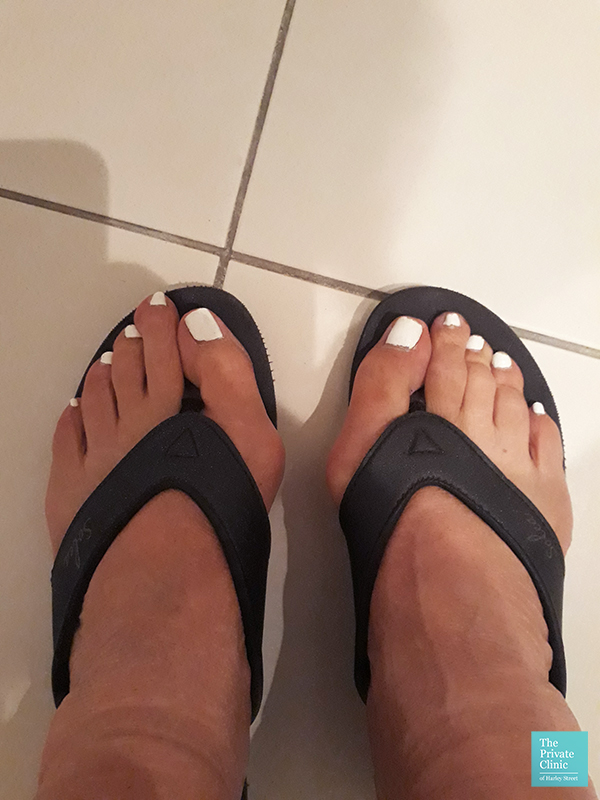 A year after declining her original offer for bunion removal surgery, Michelle decided that the time had come to get something done. She was very aware of the deformed appearance of her feet, especially in the summer when she was wearing sandals. She felt very limited about her shoe options often opting for flat and wide fitting footwear over high heels and sandals.
"All my shoes have stretched where the bunions are. I always have to spend more money on good trainers and innersoles but can't do up my laces, it is very painful."
After hearing about a revolutionary new minimally invasive bunion keyhole surgery she booked in for a consultation with Mr Andreas Bianchi at The Private Clinic in London Harley Street and was pleased to hear that the concerns she had about traditional bunion surgery such as the extensive downtime, not being able to walk and use of screws and metal plates were not an issue with this exclusive new procedure.
"I had always been nervous about having a bunion op because I had heard that the recovery was absolutely horrendous. When I had the minimal surgery explained to me I thought it sounded amazing and it was worth taking a risk"
Turning up at The London Fitzroy hospital for her surgery a few months later, Michelle was nervous but excited at the promise that she would be walking out the clinic doors without the need for crutches a few hours later.
And a few hours later, she did just that!
"It was really important for me that I would be able to manage on my own, I literally walked out, managed to walk up stairs and could walk myself to the bathroom. It has been really fantastic compared to what I was expecting."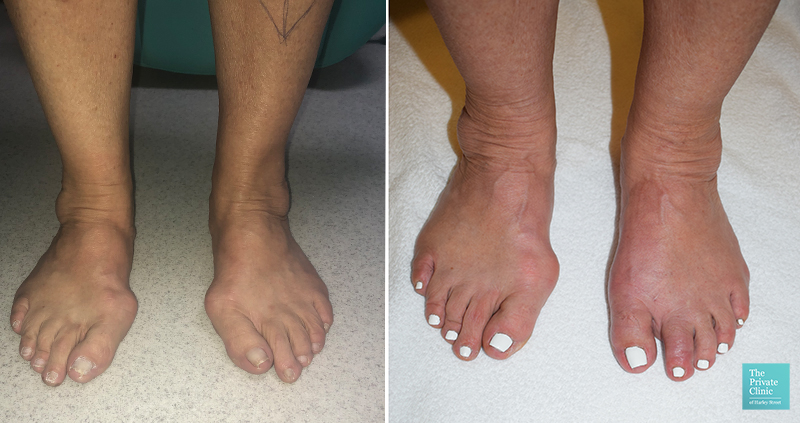 Michelle's recovery exceeded her expectations after initially being put-off surgery due to the potential downtime required. She was able to walk around her apartment and was not in any serious amounts of pain.
Returning to the clinic for a dressing change Michelle was shocked to see the results of her procedure and even more so that she was being allowed to leave wearing trainers after only 2 weeks of recovery.
"I have been pleasantly surprised if not ecstatic that I have been able to walk out after the surgery and look after myself. I am extremely happy with my results so far and will be back soon to get the other foot treated!"
* All of our patient stories are based on the personal experiences of our patients and represent individual body shapes and results. Please bear in mind that results may vary from person to person. All testimonies are provided voluntarily by our patients and clients. Their comments have not been altered in any way, and their experiences are their own.