Why choose The Private Clinic in Harley Street for a Hair Transplant Procedure?
HAIR LOSS & HAIR TRANSPLANTS
Home » Why choose The Private Clinic in Harley Street for a Hair Transplant Procedure?
Choosing the right clinic for your Hair Transplant procedure is not a decision to take lightly and there are a number of key points to follow to ensure that you are making the right decision and getting the best results that you desire these include:
Selecting the best hair transplant surgeon
Picking the right surgeon and expert team are vital to getting the best results. The Hair Transplant team at our London Harley Street clinic include the highly experienced Dr Ragu Reddy. Dr Reddy is a member of the International Society of Hair Restoration Surgery (ISHRS). He has many years of collective experience in treating male pattern baldness and have treated thousands of men and women.
Choosing the best hair transplant clinic facilities
Our London clinic is located on Harley Street which is where your hair transplant procedure will take place too. We pride ourselves follows only the very highest standards of care and hygiene and use the finest instruments to ensure you achieve the best results. Your consultation, procedure and any follow up appointments will all take place in the same clinic giving you peace of mind.
View hair transplant Before and After result photos
Hair transplant surgery aims to restore your hair and hair line naturally so that it is not obvious that you have had a hair transplant. The FUE hair transplant leaves minimal scarring, making very small entry points into the scalp. Our team ensure that any scarring is virtually undetectable to the naked eye.
The best way to see the result of a hair transplant is to view before and after photos from your surgeon which is why we have put together an extensive photo gallery of before and after photos for you to browse through in your own time. Take a look at our selection of before and after photos here.


Watch Videos on Hair Transplant Procedures
Photos are great to see but we also believe that viewing hair transplant videos that feature our specialist surgeons and real patients are extremely beneficial too.
We have a selection of videos that feature patient results, testimonials and even information straight from the surgeons, all of which are on our YouTube Channel.
We also have video diaries from Doug who kept us updated at each stage of his procedure including footage from his actual procedure too.

Now at nearly a year post-op here are Doug's after photos;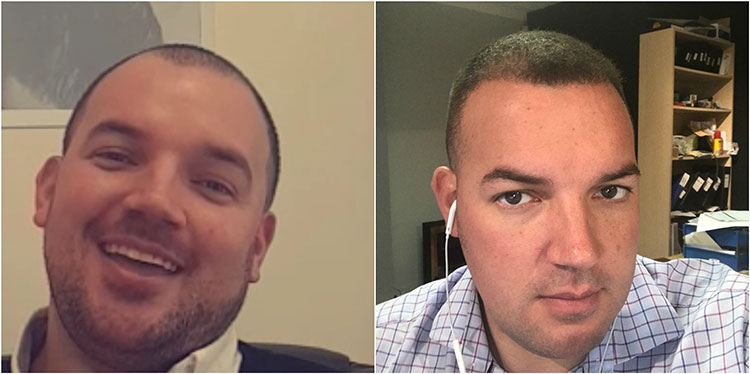 And we also have a range of videos featuring our surgeons detailing the procedure and answering your questions;
https://youtu.be/O_u7_fB-VHY
https://youtu.be/rc7GfINJ-ZM
So why choose The Private Clinic in Harley Street for a FUE Hair Transplant?
You will be treated by our highly experienced Hair Transplant surgeons who are specialised in FUE (Follicular Unit Extraction) and treat hundreds of patients every year.
FUE is a minimally invasive treatment, carried out under local anaesthetic and many patients either watch TV, listen to music and some even fall asleep during the procedure.
You won't require any stitches after your treatment like you would after a Strip (FUT) procedure. This means that the recovery time is also reduced when compared to the Strip surgery.
We use the finest instruments, resulting in as minimal trauma to your scalp as possible.
Scars after your surgery are virtually undetectable thanks to our advanced skills and techniques.
You won't have any linear scarring across the back of your head following treatment meaning you'll be free to wear your hair long or short.
We work by hair, not per graft – this ensures that only the strongest, healthiest follicles are selected for your transplant procedure.
Your results will look natural, with denser packing – the hair is implanted in the direction that matches your hair growth, and because we select healthy follicles, the treated area will look densely filled.
Our surgeons are the only surgeons in the UK offering the Unshaven Hair Transplant (U-FUE) to those who prefer not to shave beforehand. At your consultation, we will be able to advise you on whether an unshaven procedure is suitable for you.
Scars resulting from injuries or previous surgeries can also be corrected.
View our gallery of hair transplant before and after results
Read our extensive hair transplant FAQs
Hear from previous hair transplant patients in our patient stories and videos
Find out more about hair transplants in our blogs
To find out more about FUE Hair Transplants or to book a consultation please call, 03339209135 or use our hair transplant online contact form.