Liposuction is a popular procedure among both men and women to remove unwanted and stubborn fat deposits in certain areas of the body.
There are many types of liposuction procedures available, so in this blog post, we will be covering some of the most popular ones and will advise on which one to choose and why.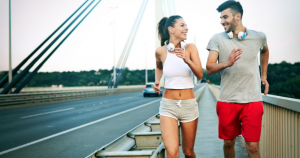 SmartLipo MPX is a type of laser liposuction that consists of removing stubborn fat deposits in several areas of the body. This procedure uses laser technology to break and melt the fat cells. However, there are some issues associated with this procedure; since it uses laser technology to melt the fat, there is a higher risk of leaving some areas of the body with an uneven texture as the heat is absorbed differently in different parts of the body.
LipoLite is another laser type of liposuction which uses heat to melt down unwanted fat, similar to SmartLipo but targets smaller areas of the body. This procedure involves the same risks, meaning the heat applied not only affects the treatment area but also the overlying skin, leaving it more susceptible to possible burns and bruising.
Traditional Lipo is a surgical procedure where unwanted and excess fat is removed from your body to leave you with a more defined shape. For instance, larger patients may not be suitable for VASER Lipo.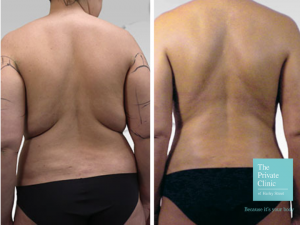 Micro-Lipo is a minimally invasive alternative to traditional or surgical liposuction. This treatment is ideal to treat small areas of the body such as neck, chin or arms. The procedure involves the use of micro-cannulas to remove stubborn fat and it's performed under local anaesthetic. The downtime is minimal with patients being able to get back to their daily routine almost immediately. Results are usually long lasting and do change the shape of the area targeted.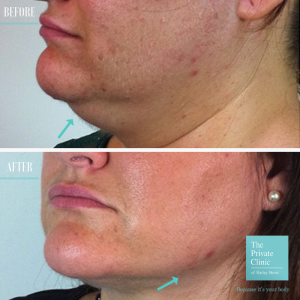 Vaser Lipo also known as Vaser liposelection or Ultrasound Liposuction and is a minimally invasive fat removal procedure that uses the most advanced ultrasound technology to breakdown fat cells, which are removed from your body through a suction process. This procedure is suitable for both men and women. Vaser Lipo can be performed in different areas of the body, uses local anaesthetic with sedation and the downtime is minimal. There are some variants of vaser Liposuction such as Vaser High Def which is a type of liposuction that targets the unwanted fat deposits and eliminated them to then contour the muscles to achieve a more athletic look. Men are often after the more athletic six-pack look.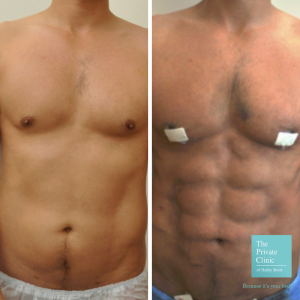 What are the main differences between liposuction treatments?
Smart lipo is a newer type of liposuction compared to Vaser liposuction but at The Private Clinic, we believe that Vaser Liposuction is still the most advanced and effective form of liposuction. This is why it's the only type of minimally invasive liposuction that we offer.
Vaser Liposuction uses ultrasonic technology that only targets the treatment area without affecting the surrounding body tissues, unlike Smart Lipo which can affect the surrounding tissues, the results are far less bruising, less swelling and shorter recovery time.
Micro-liposuction is a great option for the small areas and because a microcannula is used there is minimal downtime.
Why should you choose The Private Clinic?
When it comes to liposuction, is not about the treatment of choice but about the surgeon who performs it. The years of expertise and technique is what makes the difference in the results and our expert surgeons will only recommend the best treatment based on your body's unique needs, shape, and patients desired goals.
At The Private Clinic, we work with world-class doctors, experts in liposuction and body contouring techniques with years of experience.
During your consultation, you will be assessed by our expert surgeon who will recommend the best treatment for you based on your needs and goals.
To date, The Private Clinic's Doctors have performed over 11,000 VASER Liposuction treatments. The Private Clinic prides itself on offering the best possible care with:
Consultations with specialist liposuction surgeons.
We offer as many post-operative care and appointments with your surgeon, doctor and nursing team as needed.
One year cover for all surgical, hospital and nursing care, in case of any medical issue*.
24-hour patient helpline for our patients with direct access to our nursing team and surgeons.
Comprehensive patient information and expert care every step of the way.
Outstanding state of the art hospital facilities.
Over 35 years' experience of Cosmetic medical Excellence.
Excellent reputation for patient safety and satisfaction, honest advice and outstanding care means your journey with The Private Clinic will be an exciting experience to a newfound figure.
Consultations available in London Harley Street, Birmingham, Leeds, Manchester and Northampton.
To book a Liposuction appointment at any of our clinics across the UK call 0333 920 2471. To see Liposuction before and after images of our Vaser Lipo patients please visit our website.