What is hyperpigmentation?
Hyperpigmentation is also known as uneven skin or skin pigmentation. It is a common skin condition that usually occurs on the face but can affect the hands and other areas of the body that are exposed regularly to the sun.
What are the symptoms of hyperpigmentation?
Hyperpigmentation appears as dark patches on the skin which are referred to as age spots or sun spots.
What are the causes of hyperpigmentation?
Hyperpigmentation usually occurs when the skin is exposed to sunlight which causes an increase in production of melanin causing the skin to tan but, in some cases, excessive sun exposure can disrupt this process causing hyperpigmentation. Other causes of hyperpigmentation include skin trauma which can result in a superficial burn injury or post-inflammatory hyperpigmentation, pregnancy that can bring on melasma as well as certain medications and diseases such as Addison's disease.
What treatments are available for hyperpigmentation?
There are a range of treatments that can help to reduce the appearance of hyperpigmentation on the skin, but in order for them to work effectively steps to prevent reoccurrence of hyperpigmentation is very important. Minimising sun exposure and using sun protection every day is the best solution for preventing the formation of sun pigmentation spots.
Chemical Peel treatment for Hyperpigmentation
Chemical Peels are a great treatment to help reduce hyperpigmentation on the skin. The type of peel and ingredients used will depend on your skin type and the severity of the problem. Once assessed, the peel will be applied to the skin which encourages the natural exfoliation of the skin where dead skin cells will be removed from the skin. A course of chemical peel treatments are often recommended in order to achieve the best results. Downtime will vary depending on the type of peel used.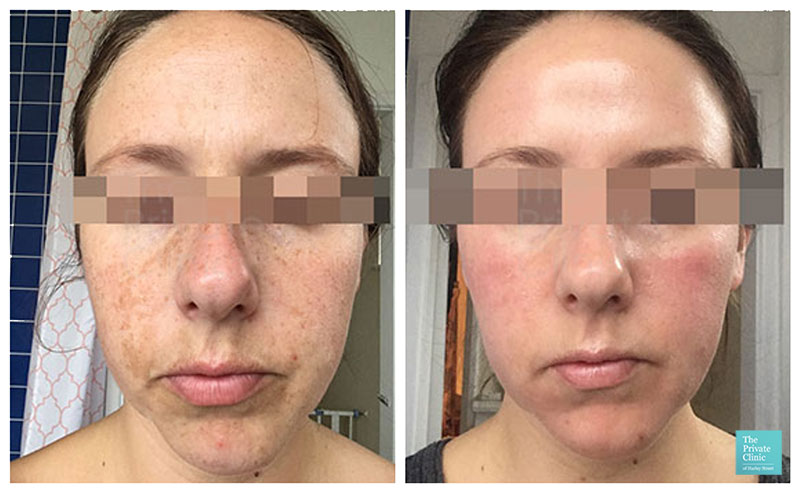 Results after a course of 3 treatments
IPL Skin Rejuvenation treatment for Hyperpigmentation
IPL Skin Rejuvenation is an intense pulsed light treatment. It is a really effective treatment for areas of skin pigmentation. A short burst of intense pulsed light will be fired at the area which will work to break down the pigmentation during a course of regular treatments. The treatment will be red and sensitive following the procedure similar to sunburn, but this will reduce in the hours following treatment.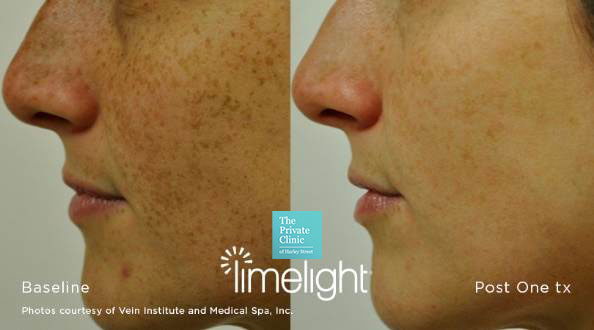 Results after 1 treatment
Laser Skin Resurfacing for Hyperpigmentation
Laser Skin Resurfacing is an innovative way to even out areas of discolouration in as little as 20 minutes per treatment session. There are three types of laser skin resurfacing techniques so the treatment can be tailored to the severity of your hyperpigmentation. Pearl Laser Skin resurfacing treats the entire top layer of skin by emitting pulses of light across the surface. The heat of the laser light can also work to target deeper tissue underneath the skin. Following treatment, the skin will form a natural protective dressing which will eventually peel off after 3-5 days revealing new and healthy skin. The final results from treatment are gradual as the skin will continue to improve for six months but best results are seen after a course of treatment.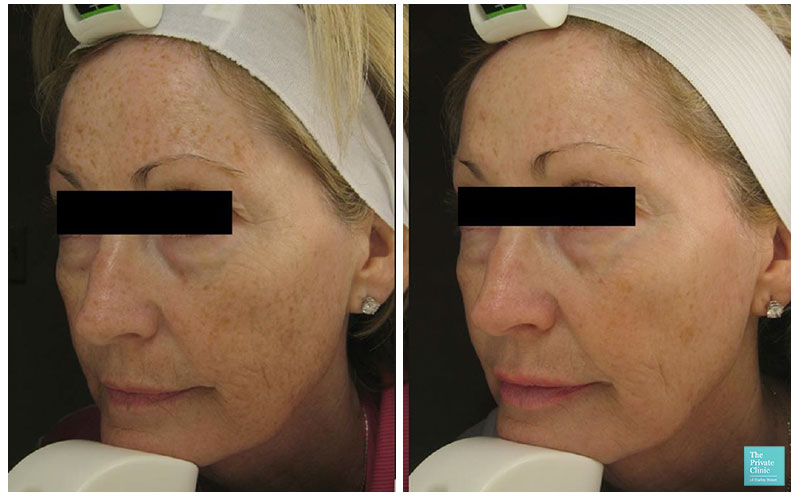 Results after 1 treatment
Hyperpigmentation Treatments at The Private Clinic
Hyperpigmentation treatments are available in our clinics located in London Harley Street, Birmingham, Bristol, Buckinghamshire, Leeds, Manchester and Northampton.
Our team of skin experts have extensive training in treating skin with hyperpigmentation and will be able to suggest the best course of treatment for your skin.
To find out more about hyperpigmentation treatments at The Private Clinic please call 0333 920 2471 or use our hyperpigmentation online contact form.