What does Blepharoplasty do?
PLASTIC SURGERY
Home » What does Blepharoplasty do?
It's often cited as one of the quickest and easiest plastic surgeries, with relatively small downtime and noticeable results. But what, exactly, does Blepharoplasty do?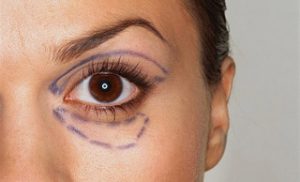 Our eyes are one of the first areas to show visible signs of ageing and the effects can sometimes feel impossible to prevent; at less than 1mm, skin around the area is the thinnest on the body and signs of tiredness or dehydration often rear their ugly head on even the youngest of us.
To make matters worse skin around the eye thins even more as we age, meaning fine lines become more pronounced and the most minor of issues can feel extremely noticeable. Perhaps it's no surprise then that Blepharoplasty was the second most popular cosmetic surgery treatment last year, with a total of 7,752 procedures performed in the UK alone.
The treatment, although surgical, takes little as 30 minutes and has extremely high safety records. The exact version of the treatment you need will vary, however, depending on what exactly you're looking to achieve from it…
Hooded eyelids
Those who have heavy drooping on their upper eyelids are best suited for an Upper Blepharoplasty. Having hooded eyelids is not just an aesthetic issue; lots of patients come to us complaining of issues with vision or heaviness in the area that can make them feel tired, regardless of whether they are young or old.
Treatment on the upper eyelids is normally the most simple of any blepharoplasty procedure – taking around 30-60 minutes for the majority of cases. Likewise upper eyelid revision is usually performed under local anaesthetic, allowing patients to return home on the same day as their treatment (after adequate resting time, of course), while recovery is normally relatively speedy with full results on show within a couple of months.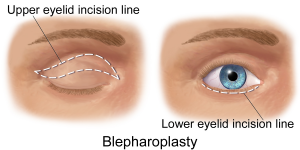 Under eye bags
Under eye bags: something a lot of us have to battle with (particularly as we age) and something that's extremely difficult to conceal. A Lower Blepharoplasty is usually the best way to address the issue, removing fatty deposits and excess skin from the area to reawaken the eye and leave the area refreshed.
More complicated than treatment for the upper lids (but still a fairly simple plastic surgery), lower blepharoplasty will normally take around 1-2 hours and is often performed under general anaesthetic, meaning you may have to stay in a hospital overnight after your procedure.
While the treatment is extremely effective in removing bags in the area, it's important to remember it cannot remove discolouration; consultations with skin experts are the best way to ascertain what will and, as always, we firmly recommend against going with any clinic that doesn't give you adequate consultation or consideration time.
Puffy eyelids
Depending on where the puffiness around your lids is, you may require either one of the above – or a combination of the two. A Combined Blepharoplasty will always be tailored to your needs so will vary massively from patient to patient, but is often be performed under general anaesthetic due to its more complicated nature meaning, again, the prospect of an overnight stay in hospital.
Sutures are often used to close blepharoplasty incisions, and these will normally be removed after 4-5 days regardless of the area it is performed in. Healing, however, is a completely individual process – work with your clinic to understand the best way forward for you.
Wrinkles
While Blepharoplasty can help ease heaviness in the eyes and get rid of excess skin, it isn't always the best treatment for wrinkles around the eyes. Issues like crow's feet are normally better solved through the use of non-invasive treatments like wrinkle injections or a resurfacing skin peel or treatment. This is why proper consultation with your practitioner is absolutely vital – only they can advise on the best way forward.
The Private Clinic
With over 30 years of Harley Street excellence and a team of the UK's leading plastic surgeons behind us, we know you're not simply a number. Your needs aren't the same as anybody else's and, even if undergoing the same procedure, your treatment should never feel the same as anybody else's. We believe in working with you so you're fully aware of why we choose a treatment, and what results you can expect to achieve.
Remember – Blepharoplasty is still a surgical procedure and should never be something you rush in to. A good surgeon should be able to assess you thoroughly and tell you whether the treatment is the best (or the only) way to combat whatever you're looking to achieve. You and your safety are always the most important part of any treatment; remember that, and you should be able to achieve your expectations with sensitivity and care. www.theprivateclinic.co.uk