It's a common misconception that varicose veins are a sign of ageing. While they occur more frequently in those who are closer to middle age (50% of women over 50 suffer from them) they can rear themselves at any age, even in spite of the best leg care regimes.
A perfect example of this is Laura, a 25 year old who gave up her dream of modelling at the tender age of 19 all because of varicose veins on her legs.  Refused treatment by the NHS, Laura felt she had nowhere to turn until a family member recommended The Private Clinic Manchester as a possible treatment centre. After consultation and a good talk with our Consultant Vascular Surgeon. Laura decided to go undergo EVLA (Endovenous Laser Ablation), a minimally-invasive laser method of vein removal.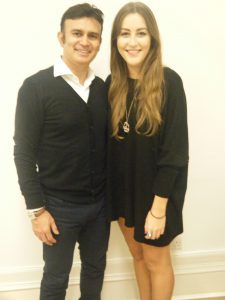 The walk-in, walk-out method is performed under local anaesthetic and yields better results (not withstanding quicker recovery) than more traditional, surgical methods of vein removal.
During treatment, damaged veins are located using advanced ultrasound. Once the Surgeon has then mapped the veins and is sure of the cause of the problem, radio-frequency energy is directed at problem veins to make their walls collapse and the bulging blue vein disappear. It takes as little as 45 minutes (or 30 minutes in Laura's case) and patients are free to leave once they've had a rest and their doctor believes they're safe to return home – no hospital stay required.
This, teamed with the treatment's success rate, has led EVLA to become NICE's (the National Institute for Health and Care Excellence) 'Gold Standard' for varicose vein removal. The non-departmental public body outline that the method is far more effective and safe than surgical stripping, with longer-lasting results and a much easier recovery.
For patients like Laura, it's not just about the veins look that mattered – it's how they make you feel. Visit Laura's patient story page to find out more.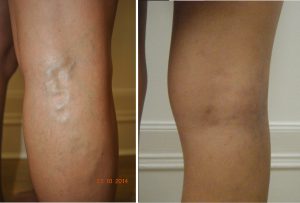 Varicose Vein Removal at The Private Clinic
We work exclusively with pioneers of minimally-invasive varicose vein treatments, meaning we only offer the most effective way to target damaged veins. As one of the UK's leading specialist vein centres, regardless of your age or what's causing the problem, our leading surgeons will work closely with you to find a treatment plan that works for you. With over 35 years of Harley Street medical excellence behind us, we have only one aim – your satisfaction.
The least invasive method for varicose veins and thread veins removal treatment for your legs, body and face.
Our Consultant vascular surgeons are pioneers in EVLA(Endovenous Laser Ablation) and have treated thousands of patients.
No lengthy downtime or recovery required.
The NICE (National Institute for Clinical Excellence) Gold Standard for treatment of Varicose Veins findings show that the success rate after five years for EVLA is 95.4%.
We also offer VenaSeal, Foam Sclerotherapy and Phlebectomy varicose vein procedures.
A consultation with one of our Consultant Vascular Surgeons costs £150, including a free ultrasound scan of your legs (usually priced between £350 and £450 at most clinics and private hospitals).
We focus on the underlying cause of your veins and you will only see a Consultant Vascular surgeon for varicose veins.
We have treated thousands of patients who have regained their confidence whilst avoiding health issues.
Treatment takes one hour, you can go home shortly after being treated.
Owing to our success, we have been featured on Channel 4's Embarrassing Bodies , TLC's My Naked Secret and featured in Harper's Bazaar's Cosmetic Tweakment Trends for 2019.
We have carried out over 7,000 procedures in treating Veins.
View our varicose veins before and after photos.
Read our extensive varicose veins FAQs.
Take a look at our varicose vein patient stories.
Find out more information in our varicose vein blogs.
Download our varicose veins brochure.
We offer Varicose Veins treatments and consultations in London, Bristol, Birmingham, Manchester, Leeds, Bournemouth, Bexhill, and Northampton
To find out more or to book a consultation, please call 0333 920 2471 or use our Varicose Vein online contact form.