Top 12 Questions about Breast Implants
BREAST AUGMENTATION AND ENLARGEMENT
Home » Top 12 Questions about Breast Implants
How long do breast implants last?
The average lifespan of a breast implant is 10 years although many women have had their implants in much longer and have had no problems. If there is nothing wrong with your implants after 10 years then you should not feel obliged to remove them unless cosmetically you decide you want too. Women's bodies go through a lot throughout their lifetime which could include pregnancy, breastfeeding, ageing, menopause and fluctuations in weight which can all cause a change in the appearance of implants. For some patients they may feel their lifestyle has changed and they wish to remove or change their implants to something that suits them better. Overall, if the implants do not show any clinical signs of problems then there is no set time for when they have to be replaced.
Are all breast implants the same?
There are a wide range of different types of implants available for breast augmentation surgery. The biggest difference is in shape, there are two different shapes of implants; round or teardrop. The shape of the implant will determine the shape it forms on your chest. Different implants will also have different coatings so some will be smooth whereas others are textured. Implants also come in different projections including low projection and high projections. To find out more about the different types of implants click here.

What are breast implants filled with?
There are two main types of breast implant filling in the UK; saline and silicone. Saline is a salt water solution whereas silicone implants nowadays are made up of a cohesive silicone gel implants that is often referred to as gummy bear implants in the USA.
How do I know the correct size implant?
You will work with your surgeon to decide on the correct size implant for you depending on what you wish to achieve from breast enlargement surgery. Your surgeon will take measurements and you will be able to trial different sized implants in a specialist bra to get an idea of how you will look post-surgery.  If you were undecided between sizes then your surgeon may use an implant sizer to see which implant size fits best whilst in surgery.  At The Private Clinic we ensure that the consultation is thorough enough to allow you as the patient to not only find out more about the surgeon and the breast augmentation procedure but you will find out about the best sizes and implant shapes to suit you, your body and your goals and you will be able to ask as many questions to the surgeon as you wish to ensure you are well informed about the procedure. Click here to book a consultation.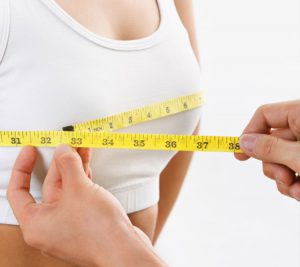 Are breast implants the only way to increase breast size?
Breast implants are the most common way to increase your breast size. If you are seeking an alternative procedure then a breast fat transfer procedure is another alternative. Breast Enlargement with Fat Transfer involves removing pockets of fat from other areas of your body however you will need to have enough fat to transfer for treatment, meaning it is not always suitable for those with low body mass. For those looking for a significant increase in size then breast implants would be the most suitable option to meet your expectations.
Will I be able to breastfeed with breast implants?
Although there is always a risk, many patients have had no problems with being able to breast feed after a breast augmentation as long as they have had functioning breast tissue prior to surgery. If you have had a combined procedure such as an uplift or nipple correction then there may be more of a risk of functioning breast tissue being removed.  Our expert breast surgeons are very experienced in performing breast enlargement procedures that allow patients to breastfeed after the procedure.
Do breast implants hurt?
The majority of our breast implant patients at The Private Clinic leave the hospital to go home relatively pain free. Our surgeons all use a technique in surgery that helps patients manage their pain without the need for continuous pain-relief medication. Local anaesthetic is placed within the breast as well as along the incision line which lasts for up to 72 hours allowing the patient to wake up and leave almost pain free. To find out more about breast surgery book a consultation here.
How will I know if my breast implant ruptures?
The majority of patients will know if they have a ruptured breast implant. They may notice a change in size or shape of their implants, hardening of the breast and in some cases pain, soreness and swelling may be present too.  The best way to know if your breast implants have ruptured or not is to firstly visit your plastic surgeon who will then most likely refer you to have a MRI or ultrasound.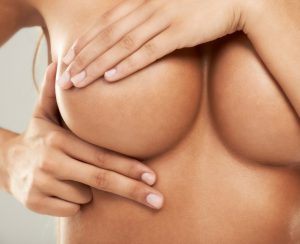 Will I be able to have a mammogram with breast implants?
Patients must still attend regular routine mammogram appointments even if they have breast implants. It is important that you let the radiology centre or your technician know prior to your appointment as they may need to use a special technique to ensure that you get a reliable x-ray. The specialised technique is known as the Elkund technique which uses a modified compression process for patients who have breast implants or post reconstructed breasts giving them an improved quality of image.
It is very uncommon for a mammogram to cause any complications to your breast implants.
Will breast implants cause me to gain weight?
Breast Implants may result in a slight increase in weight but this should only be around 1-2 pounds. Breast Implants are measured in CC's and for every 100cc of silicone implant weighs around 0.23lbs so for example a 300cc silicone implant is likely to weigh 0.69lbs individually and as they come as pair it would be all together an additional 1.38 pounds on your chest.  However it is very unlikely that you will notice a huge change, the weight of the implants resemble that of natural breast tissue
After surgery it is common for patients to retain fluid so you may notice a slight increase for the initial days after surgery but as long as you continue to live a healthy lifestyle post-surgery then you should not see any excessive weight gain.
Will breast implants improve my sex life?
A poll on RealSelf revealed that 70% of women who had a breast enlargement reported an improved overall sex life by at least 34%. We believe that rather than it being anything to do with the implants directly, the boost in self-esteem is often enough to really increase a women's self-confidence and allow them to feel more positive about their body image which may have been subconsciously affecting their sex life previously.  Although it is worth pointing out, we do not believe that this is a standalone reason to get breast implants as they are not designed to cure any underlying psychological or relationship problems. If you are considering breast implants, all decisions relating to the surgery should be yours and not influenced by your partner or friends.
How much does breast augmentation surgery cost?
The cost of a breast enlargement can't be the deciding factor for your decision to undergo surgery.  At The Private Clinic we pride ourselves on being able to provide the best cover available including;
Consultations with our highly experienced Cosmetic Breast Surgeons who have decades of experience.
A 24 hour patient helpline to ensure that you are always in the best of hands whatever the time of day.
Three years surgical, hospital and nursing care cover in case of any medical issue giving you peace of mind.
Lifetime guarantee on Nagor implants which covers rupture and capsular contracture.
Our exclusive warranty of £1000 towards surgical costs in case of rupture for 10 years from the date of your operation.
Comprehensive Breast Enlargement Patient Guide.
Outstanding hospital facilities.
As many post-operative care and appointments with your surgeon and nursing team as required.
Our experience and medical expertise makes your journey a reassuring one, to find out more about us click here
At The Private Clinic, breast implant surgery costs from £5,800 however we don't follow a one-price-fits-all policy and prices are quoted on a case by case basis.




Click here to see more breast implant before and after photos.
To find out more about breast enlargement surgery at The Private Clinic call 0333 920 2471 or click here to request a consultation with one of our specialist breast surgeons.