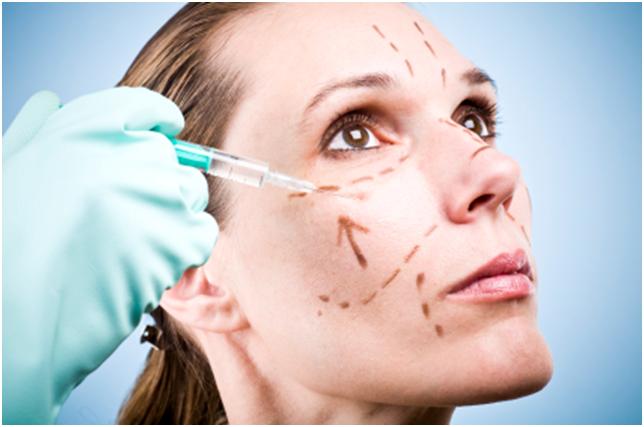 The Organic Lift (fat transfer to the face) vs. surgical facelifts
FAT TRANSFER
Home » The Organic Lift (fat transfer to the face) vs. surgical facelifts
Self-improvement comes in many forms and it can be easy to get lost in the options. A yoga course or perhaps a new hobby can reap huge benefits for the mind and body but sometimes we need a little bit more help. As we age, we often look towards ways to soften the impacts of those added years. If you take the face alone, there are dedicated aisles in many retail stores tirelessly promising the world. Meanwhile the cosmetic sector has been working hard to make those promises definitely come true. Whether you are looking to recapture a look, or revitalise, the face is often the most important part of any such undertaking.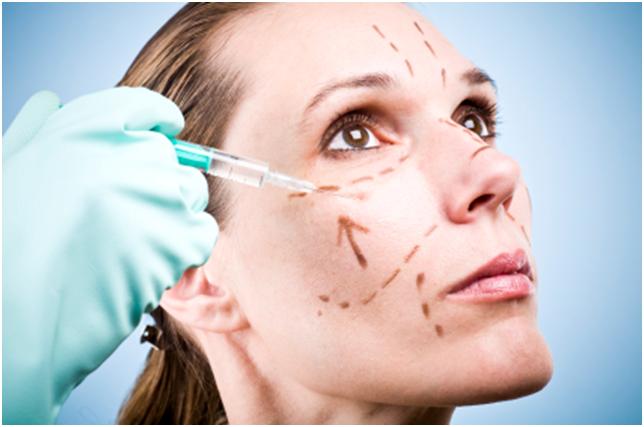 The face plays the hardest part when we express ourselves. It stands up to the coldest months and the sweltering ones too, unfortunately, all eventually taking its toll. Ageing doesn't help; drawing the skin downwards, as fatty tissue and the skin's elasticity are lost, leading to those tell-tale visible signs of ageing, like the sagging jowls and bags under the eyelids.
So what can you do about it?
Our extensive experience, as well as secondary research, have taught us valuable lessons when it comes to tackling the ageing process, particularly with the face. Time and time again people have sought out natural-looking results to treat and reverse some of the hardest parts of ageing. Until recently, the options were often limited to surgical facelifts to attain that noticeable, confidence-rebuilding result. Now, the cosmetic sector has reaped the rewards of its research and development into non-invasive procedures, which can comfortably offer the tailor-made and painless support clients have always wanted.
The Organic Lift – the minimally-invasive approach
The Organic Lift or facial fat transfer essentially involves transferring small amounts of fat cells from your body into vascular parts of your face in order to restore the fat cells lost through ageing. As a non-invasive procedure, there is minimal downtime and discomfort.
It has been likened to miniature liposuction in reverse, although the process requires considerable expertise in order for the fat cells to remain intact during transference and placement. The treatment will help to fill in any hollows and enhance your facial contours, in a sense giving your face back to you and even enhancing it to get your desired result. Available procedures include; fat transfer to cheeks, fat transfer to face and fat transfer to under eyes.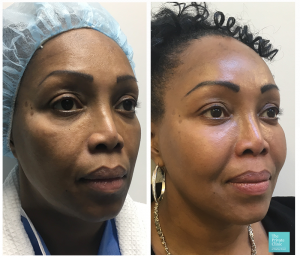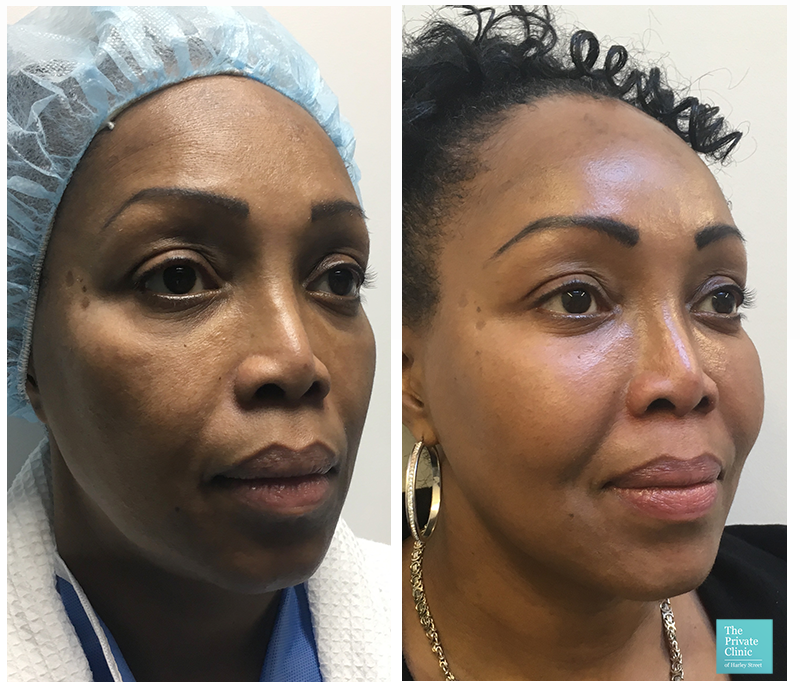 Fat transfer to cheeks.
See more organic lift / fat transfer to the face before and after photos here.
Surgical Facelifts – the invasive approach
Surgical facelifts certainly have their advantages and should not be dismissed. Advancements have helped to dramatically reduce the typical areas of concern, such as scarring and recovery time. Although it would require a brief hospital visit and some quiet time, whilst the body adjusts. If you have a lot of loose skin, looking for an instant 'lift' and immediate rejuvenation this may well be the option for you. If you are still undecided, combination treatments are proving popular as well. A mini facelift coupled with the Organic Lift can afford you incomparable and long-lasting results, combating the unwelcome effects of ageing and banishing that 'skeletal' look.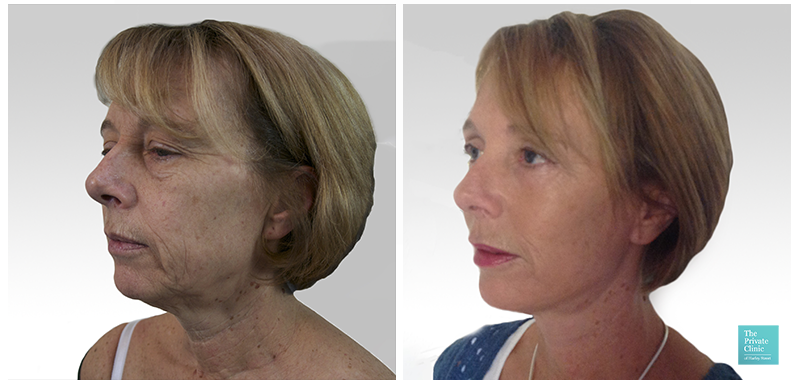 See more surgical facelift before and after photos here.
And the winner is…
We like them both. Honestly, it was never really much of a battle. Each procedure has suitability criteria – if you're basically missing volume, the Organic Lift is your option, but if you have loose skin and sagging facial features, then you may need surgical intervention. Both treatments work well independently and in combination with one another. Of course, discussing this in greater detail in consultation can be the first step for you. With consultations available across the UK with leading specialists for your ease, The Private Clinic can be personally there for you at every stage along the way and offer you the aftercare and assurance to give you full peace of mind as you recover and return to your life, with added verve.
Facelifts at The Private Clinic
The facelift isn't a standard 'one-size-fits-all' procedure and we offer bespoke solutions to each of our patients depending on their desired results and suitability. Facelift surgery with top plastic surgeons, best for Facelifts in the UK – Mr Davood Fallahdar, Mr Navid Jallali, Mr Roberto Uccellini and Mr Paul Tulley in London Harley Street,  Mr Dario Rochira in London Harley Street and Bristol , Mr Adel Fattah in Manchester, Mr Kenneth Kok in Birmingham, Mr Philip Lim in Leeds and Mr Mrinal Supriya in Northampton and Birmingham.
To find out more about surgical facelifts or fat transfer to the face London please call 0333 920 2471 or use our facelift online contact form.