Steven Ashworth is one of the patient co-ordinators here at The Private Clinic who actually consults for Mr Michael Mouzakis on a regular basis. As someone who suffers from hair loss himself he was able to sympathise with his patients.
Having worked in the cosmetic industry for 7 years, it was only after joining The Private Clinic and working closely with the surgeons here that he finally felt confident and comfortable enough to go ahead with FUE Hair Transplant surgery.
As a patient co-ordinator Steven knows how much potential patients love seeing and hearing about other patients' results and so decided to document his journey through regular video diary updates that he would then be able to share future patients who are looking into hair transplant surgery.
Steven's hair loss has been a gradual process since he was 18, now aged 33 he finally decided it was time to take action and decided to have a Partially Shaven FUE Hair Transplant to treat the crown and temples on both sides of his head with Mr Michael Mouzakis.
In the lead up to the procedure Steven had to keep his head out of direct exposure from the sun, avoid spicy food, alcohol and coffee for a week.
Arriving at the clinic feeling a little nervous but more excited it wasn't long before Mr Mouzakis got him prepped and ready to start his procedure. You can see what happened on the day here;
Steven soon catches up with us again 1 day, 2 days and 4 days after the procedure letting us know what the recovery has been like.
As part of the FUE Hair Transplant recovery procedure you will have been given both painkillers and antibiotics to take and a saline spray which needs to be sprayed over the treated and donor areas regularly.
Recovering from a hair transplant is a slow process and results are sadly not instant, but if you follow the aftercare advice given to you by your surgeon then you should be able to make a quick initial recovery with minimal fuss and discomfort and return to work and normal routines relatively quickly.
Your results will start to be seen about four – six weeks after treatment with full results being seen after approximately six months but it can take up to 12 months for the hair to be fully-grown.
It has now been a month since Steven has his procedure and he has recorded a video diary entry to let us know how he has been getting on and show us his results so far.
Read more about Steven's FUE Hair Transplant procedure on his patient story page here.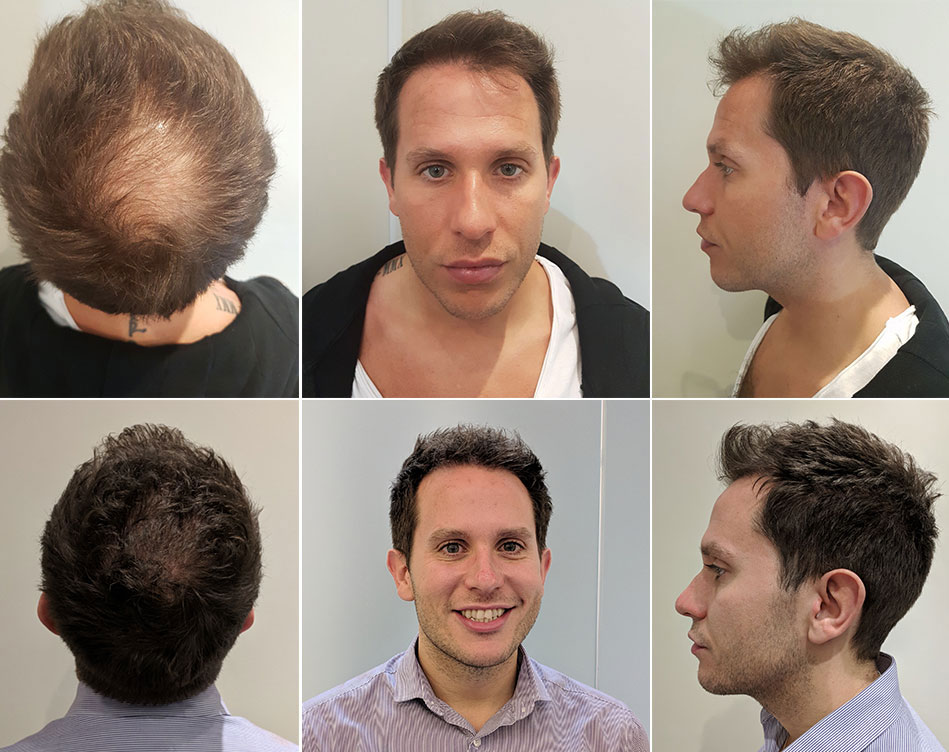 Why choose The Private Clinic for an Follicular Unit Extraction (FUE) Hair Transplant?
FUE is a minimally invasive treatment, carried out under local anaesthetic.
We use the finest instruments, resulting in as minimal trauma to your scalp as possible.
Highly experienced Hair Transplant Surgeons who have many years of experience in FUE (Follicular Unit Extraction) and treat hundreds of patients every year.
You won't require any stitches after your treatment which means that the recovery time is reduced when compared to the Strip (FUT) surgery.
Thanks to our advanced skills and techniques, results can be undetectable.
You'll be free to wear your hair long or short post-treatment with minimal scarring.
We work by hair, not per graft – this ensures that only the strongest, healthiest follicles are selected for your transplant procedure.
Hair is implanted in the direction that matches your hair growth meaning your results will look natural, with denser packing.
24 hour patient helpline to ensure you are always in the best of hands.
Comprehensive patient information, every step of the way.
Outstanding clinic facilities.
Our excellent reputation for patient safety and satisfaction, honest advice and outstanding care means your journey with The Private Clinic will be an exciting experience to a newfound head of hair.
Our surgeons are the only surgeons in the UK offering the Unshaven Hair Transplant (U-FUE) to those who prefer not to shave beforehand. At your consultation, we will be able to advise you on whether an unshaven procedure is suitable for you.
View our gallery of Hair transplant before and after results
Hear from previous hair transplant patients in our patient stories and videos
Read our extensive hair transplant FAQs
Find out more in our hair transplant blogs
The Private Clinic hair transplant surgeons are:
Hair transplant consultations are available in our clinics located nationwide:
To find out more or to book a FUE Hair Transplant consultation please call 0330 311 4474 or use our FUE Hair Transplant online contact form.