Skin Rejuvenation
Roll away imperfections in minutes with a Dermaroller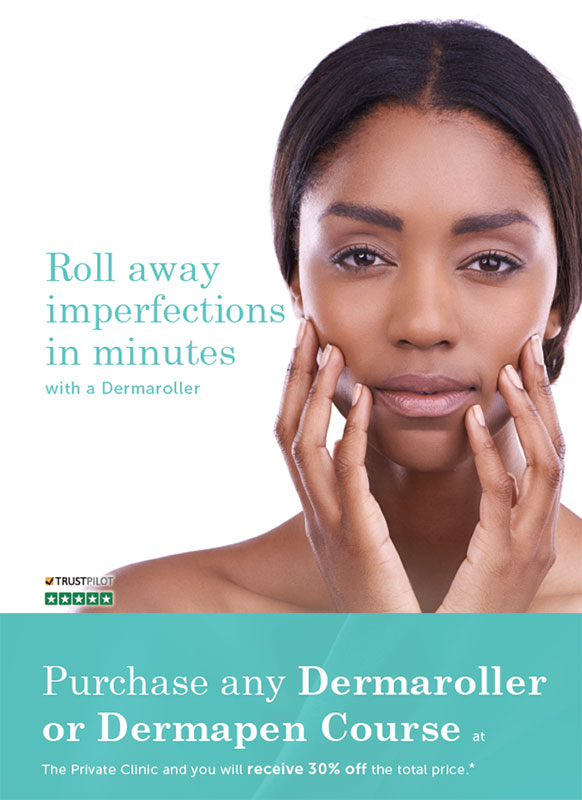 Purchase any Dermaroller or Dermapen Course at The Private Clinic you will receive 30% off the total price.*
Dermaroller (Course of 4) £660 Now £462
If acne scars, hyperpigmentation or ageing skin in general are of a great concern to you then you may want to consider the benefits of a dermaroller treatment. A dermaroller is a medical roller with hundreds of micro-skin needles that cause small micro punctures to the skin surface. As the dermaroller creates this damage it encourages your skin to regenerate and repair itself naturally and safety resulting in smoother, brighter, healthier and younger-looking skin.
Dermapen (Course of 4) £750 Now £525
The Dermapen is a small micro needling pen that provides effective results comparable to the dermaroller however is designed to target precise or small areas of the face and body.
A full skin consultation is required for the treatments listed above.
Terms and Conditions:  The 30% off any Dermaroller course offer is only valid for Dermaroller courses, not pay as you go or single treatments. Full payment must be made before offer ends 31st July 2017. You cannot pay a deposit, part payment or other. If this is a new treatment for you, you will be required to attend a consultation prior to your course to ascertain your suitability. If for whatever reason you are deemed unsuitable for treatment upon consultation, a full refund will be issued. These offers cannot be combined with any other discounts and are subject to availability. Not applicable to existing or ongoing treatments. You have 12 months from the date of purchase to redeem this offer. All Dermaroller courses must be completed within 12 months of the first treatment *
8 Point Lift
Beautiful Skin in 8 Points
8 POINT LIFT from £1200*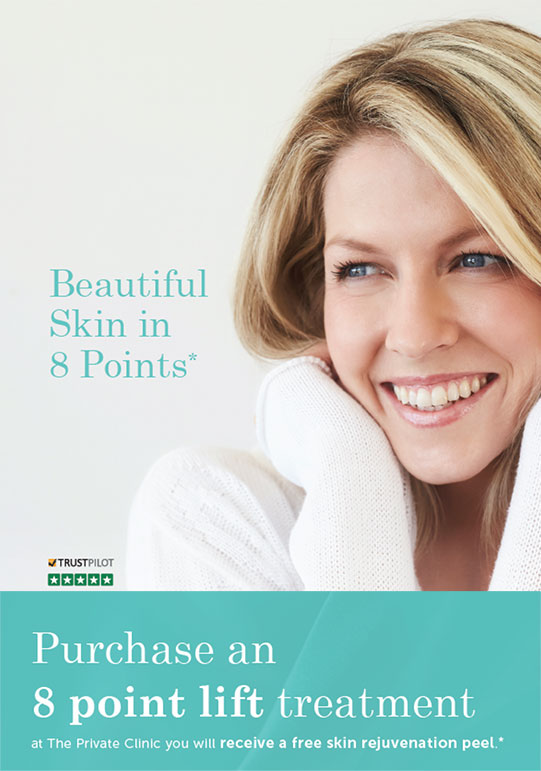 The 8 Point Lift is a specialised volumising and lifting facial treatment, also referred to as a non-surgical facelift or liquid facelift. The treatment uses dermal fillers in 8 key areas of the mid-face to lift, contour and revitalise the whole mid-face and lower face.
Purchase an 8 point lift treatment at The Private Clinic and you will receive a free skin rejuvenation peel.*
A full skin consultation is required for the treatments listed above.
Purchase an 8 Point Lift treatment and receive a free skin rejuvenation peel offer is valid only with one of the following treatments (Circadia Lactic Acid Peel or Circadia Enzyme peel). Full payment must be made before offer ends 31st July 2017. You cannot pay a deposit, part payment or other. If this is a new treatment for you, you will be required to attend a consultation prior to your course to ascertain your suitability. If for whatever reason you are deemed unsuitable for treatment upon consultation, a full refund will be issued. These offers cannot be combined with any other discounts and are subject to availability. Not applicable to existing or ongoing treatments. You have 12 months from the date of purchase to redeem this offer. courses must be completed within 12 months of the first treatment *