As the leaves on the trees are starting to turn that familiar shade of orange the majority of us may be mourning the loss of the long afternoons and warmer weather. For some of us however, the autumnal chill is a long-awaited feeling as we dig out the woolly tights and jeans in sheer relief.

For some however, that relief is not just over the excitement of a change of wardrobe, but instead goes a little deeper and is more connected to a feeling of self-consciousness over the appearance of their legs.
There are many reasons why you would want to cover up your legs from prominent veins to unwanted fat deposits but here at The Private Clinic we have a number of treatments to help you get great looking legs that you will be eager to show off come next summer!
Varicose Veins
Varicose veins are large prominent veins which take on a bulging or blue/purple appearance that many find displeasing. They are most common on the legs and feet and can cause symptoms such as swollen feet or ankles, aching legs, dry skin and muscle cramps.
Unfortunately for many people varicose veins are not serious enough for treatment on the NHS and you may just be recommended to wear compression stockings, exercise and elevate your legs when resting but these are often not enough to reduce the appearance of them.
When it comes to treating varicose veins we have a variety of treatments but our most popular is EVLA (Endovenous Laser Ablation) which is a minimally-invasive method of destroying dysfunctional varicose veins. The treatment is performed under local anaesthetic and has a quicker recovery time and higher success rates compared to traditional vein stripping.
We also offer VenaSeal, foam sclerotherapy and phlebectomy for veins that are not suitable for EVLA. In some cases it may be suggested that a combination of procedures are performed in order to give you the best possible result.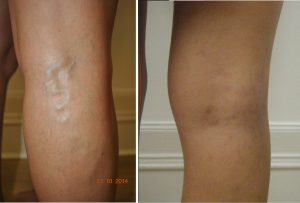 "Six months and three treatments later, my veins of leg are transformed. I am taking my new legs to Ibiza, where they can embrace miniskirts on a daily basis." *
Jessica Lacey, Beauty Features Editor, Marie Claire
-Sclerotherapy with Mr. Constantinos Kyriakides.
 Varicose vein consultation and/or treatments available at;
London Harley Street, Birmingham, Leeds, Manchester, Northampton, Buckinghamshire, Bexhill and Bournemouth
Thread Vein Removal
Thread veins are little blood vessels that run close to the surface of the skin resulting in the prominent appearance. They are often red or blue in appearance and are also called spider veins, broken veins or telangiectasia.
Thread veins are not usually dangerous but they may grow in size and new ones appear over time. Some people with thread veins actually have deeper varicose veins. If you are getting any of the symptoms of varicose veins these will need to be treated before thread veins can be treated.
There are again, several treatments for thread vein removal and your practitioner will be able to advise on the best treatment for you. Laser treatments such as the Cutera CoolGlide is a popular choice for smaller thread veins and it involves directing an intense light at the veins which causes the blood to coagulate and redirect to alternative veins below the surface of the skin.  We also offer Sclerotherapy which is when the veins are injected with a solution causing them to collapse and fade.
It is common to require a course of treatment to ensure you achieve the best result but once they have been removed they are gone. Treatment will not stop any new veins from appearing however so things like hormonal changes, pregnancy and weight gain could potentially cause new ones to appear over time.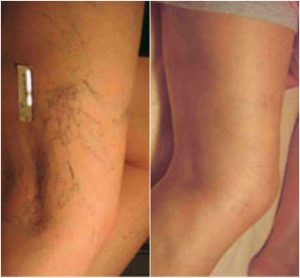 "I was stoked with the results. I'll be flashing my pins this summer!" *
Penny Carroll, Chief Sub-Editor, Women's Fitness – Cutera Veins Treatment
Thread vein consultation and/or treatments available at;
London Harley Street, Birmingham, Leeds, Manchester,  Northampton, Buckinghamshire, Bournemouth and Bexhill
Vaser Liposuction
There may be many reasons why someone would want Vaser liposuction but we are going to focus on some popular reasons for wanting vaser liposuction in the leg and thigh areas.
Excess fat around the knees may cause you to avoid wearing shorts or skirts. Fat around your knees can be stubborn and in many cases a good diet and regular exercise can result in a leaner appearance but for some this is simply not the case. The fat around your knees is usually subcutaneous fat and it is often harder to lose as your body essentially holds on to it in case of emergency.
Vaser Liposuction is a minimally invasive treatment aimed at contouring and shaping the body and unlike traditional liposuction it can be performed under local anaesthetic and sedation (if requested). A small probe transmits the ultrasound energy which liquefies the fat cells before they are removed through a gentle suction process.
You will need to wear support garments post procedure and you may experience side effects such as swelling and water leakage from the wound but generally the downtime is minimal with you being able to see results 5-6 weeks post procedure.
Vaser liposuction is also suitable for thighs (inner and outer), Stomach/Abdomen, Buttocks, Flanks, Arms (Bingo Wings), Chin, Back, Male Torso, Knees and Male chest reduction (gynecomastia).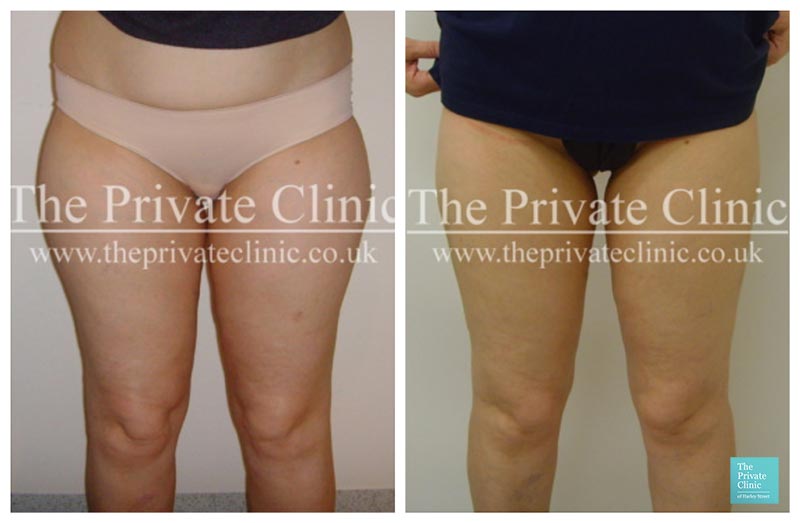 "No one but me would ever notice anything had happened, but I wore shorts with confidence for the first time in many years and my knees garnered their first ever compliments. Subtle enough to be undetectable, significant enough to make a real difference – the holy grail of cosmetic surgery."
Vaser Liposuction consultation and/or treatments available at;
London Harley Street, Birmingham, Leeds, Manchester and Northampton
CoolSculpting
CoolSculpting® is also known as fat freezing or Cryolipolysis. It is a FDA Approved non-invasive and non surgical fat reduction treatment that treats areas of unwanted excess fat such as on the legs or inner thighs. The treatment uses controlled cooling to target and destroy only the fat cells being treated and is ideal for patients who are looking for gradual fat removal with no downtime. Clinical studies have proven that CoolSculpting can reduce fat cells by 20-27% across a range of treatment areas.
Over 7 million CoolSculpting treatments have been performed worldwide and treated fat cells are permanently destroyed. CoolSculpting is also suitable for treating the: chin, arms, flanks, tummy, thighs, back and buttocks.

CoolSculpting consultations and treatment is available in;
Manchester, Leeds, Birmingham, Northampton, London Marylebone and Stoke Poges in Buckinghamshire
Laser Hair Removal
A recent study has revealed that more than 49 per cent of us hate the idea of hair removal and while that may not be shocking, the fact that an average women would spend on average £23,000 to wax away unwanted hair over the course of her lifetime might be!
Laser hair removal is when unwanted hair is removed by exposing them to pulses of laser light that destroy the hair follicle. Our Laser hair removal treatments are suitable for both men and women of all skin types, including dark skin.
It's not only your legs but your face, underarms, arms, bikini line, backs, shoulders, chest and abdomen can all be treated too. Usually you will need a course of treatment to achieve the best result but many people will see 80%-90% less hair growth after their course of treatment.
"I am saying to myself 'why did I wait so long.' No more carrying my wax around when I travel. No more unsightly hair to be conscious about. Bliss!"
Anon, London
Laser Hair Removal consultation and treatments are available at;
London Harley Street, Birmingham, Manchester and Northampton
The Private Clinic
As one of the UK's leading aesthetic groups, we perform among the highest number of body contouring, skin and vein treatments in the UK. We offer a selection of procedures, from non-invasive treatments to plastic surgery, to make sure you receive unbiased advice and the most effective way forward.
To book a consultation or find out more information about any of the treatments above you can call 0333 920 2471 or use our online contact form.