Summer's finally here and we can all be a bit guilty of overindulging on Vitamin D – after all, the Great British heat wave comes but once a year and for a couple of days maximum.
What we rarely think about sprawled out on our lunch break, however, is the long-term effect our binge on much-coveted rays could be having on not only our skin, but also our health. 80% of all skin cancers are linked to over-exposure to the sun or sun beds, and the condition is now the most common cancer in the UK with rates rising faster than any other of the ten most prevalent forms. More worrying still is that treatment for the condition is not always as advanced as others, making regular check-ups and skin assessments essential for beating it.
It can be hard to know what to look out for when checking your skin, and difficult to understand what constitutes an 'unhealthy' mole compared to a non-threatening one. One easy way of understanding what to look out for is the 'ABCD' rule, as outlined by many skin cancer organisations:
Asymmetry: Do the two sides of your mole look different?
Border: Are the edges of your mole blurred, irregular or jagged?
Colour: Are there uneven tones of more than one shade in your mole?
Diameter: Is your mole wider than 6mm (around the size of a pencil eraser) in diameter?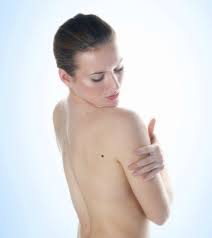 Alongside looking at your own skin regularly, experts also recommend checkups with trained professionals to talk about any changes you've experienced and to ensure your skin is healthy. It is with this in mind that we have partnered with SkinHealth UK, a leading provider of cancer detection services, to offer advanced full-body skin examination and risk assessment so you can understand your skin health now, and prevent any problems in the future.
Available at our clinic in Leeds the service is designed to detect any irregularities in your skin health as well as advise you on what to look out for in the future. It includes:
 A full body skin and mole examination using dermoscopy
 A thorough risk assessment
 Tuition in what to look out for
 Education on how to protect your skin
 Mole by Mole result letter sent back to you within 5 days
We're also proud to have some of the UK's leading Dermatologists and Surgeons at our Harley Street, Leeds, Birmingham Buckinghamshire, Bristol and Northampton clinics, all of whom can check moles thoroughly and remove anything suspicious if necessary or if you decide you'd like to.
Cancer causes more than 1 in 4 deaths in the UK. With regular checks and preventative measures, we can hope that this worrying statistic will soon become much smaller. Being cancer safe doesn't mean avoiding the sun altogether, but simply being knowledgeable about your skin health now and how to spot any changes in the future.
For more information about mole removal, or to book an appointment at your nearest clinic please call 0333 920 2471 or use our online contact form