A recent news story, featured in The Sunday Times last week, looked at a facial volume enhancing technique, currently being trialled in Belgium that uses stem cells in fat (adipose) tissue to selectively restore lost volume to the face, as a result of ageing. So far, it remains a trial – exactly what the stem cells are doing is unknown – if anything at all – but it is certainly an interesting trial. So while trials are the lifeblood of medicine, here at The Private Clinic our experienced team carry out fat transfer procedures utilising the latest proven techniques and technology. As a result, we wanted to share with you how we do the procedures and offer advice.
As you age, you lose fatty tissue from parts of the body that are hard to hide – most noticeably the face – and gain fat on the areas you'd like to keep it off. The skin on the face is a battleground against the elements and as you age your skin also loses elasticity, dropping downwards, exacerbating the effects of lost fat volume – evident in sagging jowls and nasolabial folds. As many struggle to shift pockets of fat in other parts of your body, science and medical know-how have stepped up and you can now have unwanted fat taken from stubborn fat deposits, around the abdomen for example, and transfer it to the 'not-so-plump' areas.
Fat transfer procedures typically involve taking unwanted fat from the patient's body via liposuction (we do it here with VASER Liposuction), filtering it and transferring it to the site required by injection. This requires specific knowledge and experience to transfer effectively, without damaging the fat cells and to limit bruising. The face requires even further consideration. Here at The Private Clinic, as our very own Dr. Dennis Wolf points out, "the cannulas I use are finer than traditional fat infiltration cannulas, causing less bruising and trauma to surrounding tissue." Make sure you ask about this, as bruising to the face is largely avoidable with an experienced doctor or surgeon.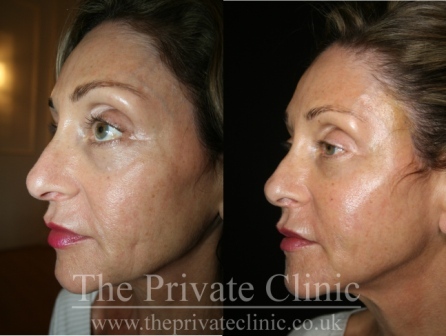 It is important to note that with breast enlargement via fat transfer the VASER liposuction performed will have a noticeable result on the donor area, due to the volume needed, and forms an important part of the procedure. However as less fat is required for the face, for example, the removal of fat for the 'Organic Lift' results in less noticeable fat loss (contouring) around the donor area, unless in combination with full VASER liposuction. The primary objective of this procedure is the added volume to the 'problem' area, which has been receiving very positive responses from patients.
The Private Clinic
It has never been safer and more effective and with The Private Clinic's experienced doctors and practitioners, we are at the forefront of the technology and techniques involved. We offer fat transfer procedures for the face (The Organic Lift), hands, buttocks and breasts. For more information about our clinic's procedures and to book a consultation, please see our website: https://www.theprivateclinic.co.uk/