There's always been competition in getting to the big corner office, but with these hard economic times, those high profile, senior positions are becoming scarcer and harder to get to.
Will the CEO hire the conservative, traditional, balding, beer-bellied elderly man, or the young, sharp, well-dressed, good-looking, charismatic younger man to head a department? The older man may have a lot more experience, but does he fit the brand? Does he fit the overall image of the modernised company? Possibly not!
Businesses have recently become more lenient with dress codes – giving higher importance to self image on 'dress down Fridays'. The casual outfits allow for more figure exposure – out come the beer bellies, slouched shoulders and man boobs.
Due to the social standards men have to live up to to compete at that top level, no matter what age they are, we are seeing a surge in male cosmetic surgeries. Men above the age of 45 are wanting to look their best in the competitive job market, for social and professional progression. Some of the most popular treatments requested are:
VASER Liposuction 
Vaser Liposuction is a popular choice for men looking to reduce areas of stubborn fat. Vaser liposuction is performed under local anaesthetic with sedation and is a walk-in-walk-out procedure with no overnight hospital stay. Vaser Liposuction is effective in areas such as the chest, upper arms, hips, buttocks and thighs. We also have surgeons who perform Vaser Hi-Def which is an advanced body sculpting technique that creates an athletic, sculpted appearance.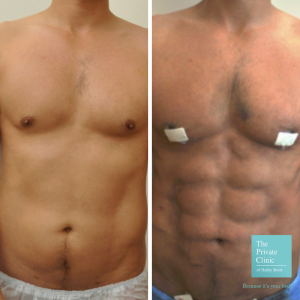 We also offer CoolSculpting treatment at many of our clinics which is a non-surgical method for fat reduction. The treatment uses uses controlled cooling to target and destroy only the fat cells being treated and is is ideal for patients looking for gradual fat removal with no downtime.
Male Chest Reduction
Gynaecomastia is a condition where excess fat develops in a man's breast area which affects around 15% of adult men in the UK. We are able to offer a range of male chest reduction procedures to help reduce the appearance of gynaecomastia including vaser liposcution, micro liposuction or surgical liposuction with surgical removal of the glandular tissue if required.  Many men choose to have male chest reduction as they are feeling self-conscious of the appearance of their chest especially men who are following a healthy lifestyle and their efforts at weight loss have not made an impact on their chest.
FUE Hair Transplant
Many men feel that having a healthy head of hair puts them in a more prominent position for a promotion so seeking for a way to cover up areas of balding or or hair thinning is a popular request from many of our male patients. In the first instances, we may recommend seeing a trichologist to assess the cause of hair loss or thinning but if suitable, an FUE Hair Transplant may be the recommended treatment. An FUE (Follicular Unit Extraction) Hair Transplant involves removing healthy hair follicles directly from a donor area usually at the back of the head where the hair is plentiful and grafting them onto the bald or thinning areas such as the hairline, crown or temples. The treatment is carried out under local rather than general anaesthetic and involves making very small entry points into the scalp to extract and implant the hair follicles. In most cases, patients are able to return to work the next day with their results however many choose to take some time off if they are looking to be more discreet about their procedure.
There is a narrowing gap between how men and women view cosmetic procedures. As women move more towards the minimally invasive procedures, since they've 'been there and done that', men are wanting to get the job done right the first time around, heading directly for the knife. Afterall, male patients now account for an increasing 10% of UK cosmetic surgery patients.
We have clinics located across the UK in;
To find out more about booking a consultation at a clinic near you, please call us on 0333 920 2471 or use our online contact form