If you're looking in the mirror most mornings and thinking that your face looks tired, there's a good chance that it's the area around your eyes that's making you feel that way. Lack of sleep may be a common cause, easily solved by getting a few extra winks but if you feel it may be a little more than that then you may be a candidate for blepharoplasty.
Blepharoplasty, sometimes also known as eyelid lift surgery or eye bag removal, is a simple, safe and quick procedure to remove excess fat and skin from around the eyes.
Your upper eyes may have excess skin which can give them a hooded, droopy appearance which as a result makes you look permanently sleepy, at the same time having excess skin on your lower eyelids can make your eyes look puffy and closed which again, makes you look tired.
The Causes of Sagging Eyelids
There are many causes for sagging eyelids; generally the ageing process plays a big part in the development of these issues which unfortunately can't be avoided. Some people can actually be genetically predisposed to having more skin and tissue in one or both eyelids and sometimes your lifestyle and environmental factors can cause the problem, for example, people who have worked outside for many years may experience drooping eyelids.
What does a Blepharoplasty procedure involve?
Blepharoplasty can be performed on either or both the lower and upper eyelids
Upper Blepharoplasty
https://www.youtube.com/watch?v=NSkIzdMUTdg
An upper blepharoplasty is a remodelling operation on the upper eyelid and it generally involves reducing the skin fold above the eyelashes and reducing the fatty pad which gives you the puffiness in the inner aspect of the eyelid. It is a relatively short procedure that can take as little as 30 minutes. Usually performed under local anaesthetic, an upper blepharoplasty requires minimal downtime and has lessened risks making it one of the safest and most speedy invasive procedures available. Patients can return home swiftly after their procedure with a huge difference to their eyes and face.
Lower Blepharoplasty
More complex than the upper blepharoplasty but still relatively quick, procedures for the lower lids often requires general anaesthetic and takes between 1-2 hours to perform. Eye bag removal can be done as part of a lower or combined blepharoplasty, helping to reduce puffiness, without causing a hollowed out look.
After a Blepharoplasty
After having a blepharoplasty, you will sometimes be required to stay in hospital for one night, in order to minimise swelling and bruising.
Benefits and Risks
Having a blepharoplasty, although a straightforward procedure, it is still one to research fully before you make any final decisions. You may be choosing to undergo eye surgery for any of the following reasons;
An improved youthful appearance
Increased confidence
Easier to apply make-up,
No more looking tired
Improved vision in some cases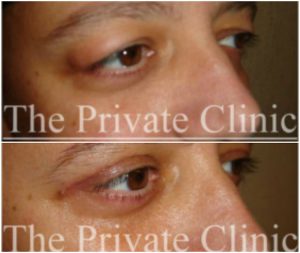 There are of course, as there is with any surgery, a set of risks and side effects which will be discussed with at your consultation.
The Private Clinic
Regardless of whether you are having an upper, lower, or combined blepharoplasty, our surgeons always use extreme precision along the natural folds of your eyes to prevent scarring and ensure a recovery that is as quick as possible.
Our Plastic Surgery team consists of some of the UK's most reputable Consultant Plastic and Reconstructive Surgeons who have years of experience and expertise. Consultations are available in London Harley Street, Manchester, Leeds, Northampton and Birmingham
To find out more about eyelid surgery at The Private Clinic please call 0333 920 2471 or use our blepharoplasty online contact form.