Mr Adrian Richards earns respected RealSelf Hall of Fame Award
PLASTIC SURGERY
Home » Mr Adrian Richards earns respected RealSelf Hall of Fame Award
Consultant plastic surgeon at The Private Clinic, Mr Adrian Richards is one of 1,000 board-certified doctors to be inducted into the RealSelf Hall of Fame, an honour recognising the highest-rated and most active doctors on RealSelf.
RealSelf is a community-driven website that allows people who are seeking cosmetic procedures to anonymously interact with other people who are also interested in aesthetic procedures or have previously had cosmetic surgery themselves.  The site is a great way for potential patients to engage in conversations with both patients and surgeons in a helpful and safe environment.
Patients on RealSelf are able to learn more about cosmetic procedures,  share their stories, share before and after pictures, leave reviews, and even ask physicians questions.
Many patients who come to see us in our clinics mention that they have researched procedures of RealSelf so we feel it is a really useful and valuable resource for patients to look into. Of course, full consultations are not able to take place over RealSelf and we do advise that patients who are experiencing any worries or issues to contact the clinic they were treated at first before seeking advice from others who do not know their medical history and surgical background.
For eight years, the annual RealSelf 100 and 500 awards recognises doctors and surgeons with outstanding records of high patient ratings who have given back to the RealSelf community by providing credible, valuable insights in response to consumer questions about elective cosmetic treatments ranging from surgical procedures to minimally invasive technologies to cosmetic dentistry. For the first time ever, RealSelf celebrates the Hall of Fame, a culmination of eight years of recognitions made through the RealSelf 100 and 500 awards program.
For a surgeon to be included in the RealSelf Hall of Fame, they must have received a RealSelf 100 or RealSelf 500 award in the past. The program honours the top-rated and most engaged board-certified aesthetic doctors on RealSelf. Doctors are ranked in three categories: earning patient reviews, answering consumer questions, and sharing before and after treatment photos. In order to be recognized in any given year, doctors must maintain the distinction of Top Doctor or Top Contributor and uphold an average rating above four stars.
"I am very honoured to be recognised in this way and so proud to be included in RealSelf's Hall of Fame. RealSelf is a great tool for patients considering many types of treatments and it is a website that I regard highly." – Mr Adrian Richards
Mr Adrian Richards is available for consultations in Buckinghamshire, London Harley Street and Northampton. He specialises in breast surgery including breast enlargement, breast uplift, breast asymmetry correction, tuberous breast correction, breast reduction and implant removal and or replacement procedures.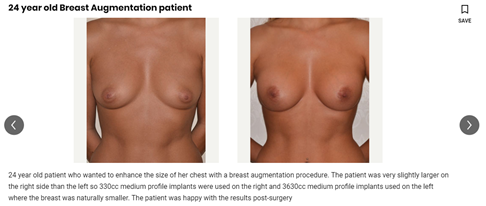 Click here to see more on Mr Adrian Richard's RealSelf profile.
Why choose The Private Clinic for Breast Implant Surgery?
We provide a 10 year warranty with £1000 towards your surgical costs.
Highly skilled expert Cosmetic surgeons, see our before and after results here.
Dedicated post-operative care and appointments with your surgeon and nursing team, including a 24 hour help line.
We offer you a three-year aftercare breast cover.
The Private Clinic covers a lifetime guarantee on your implant.
We have state of the art hospital facilities.
Giving you the best results and patient care is our priority.
To find out more about breast surgery at The Private Clinic, please call 0333 920 2471 or click here to book an appointment.