We offer the N-Lite acne treatment but with the release of the Lustre Pure Light Acne treatment onto the market, we wanted to respond to why we offer N-Lite as a superior acne treatment and talk about Roaccutane (contains the active ingredient isotretinoin) – the controversial acne drug. It's important you explore your options before deciding and our blog is a great way to help you make an informed decision.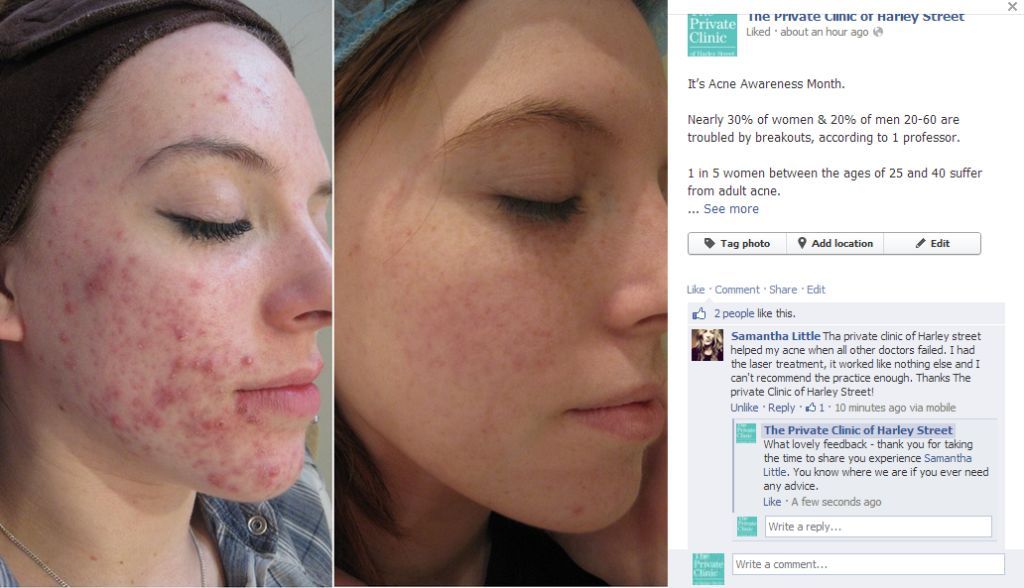 What is Acne?
One scientific report found that over 50% of women between 20-29 suffer from breakouts so you're far from unusual if you are affected. While for teens men and women are equally as likely to suffer from acne, in adulthood women tend to have acne more. Acne in men is common between ages of 20-29 at 42.5% but drops significantly lower beyond those ages, with only 12% of men aged 40-49 reporting acne compared to 26% of women of the same ages.
Acne is the result of trapped sebum, produced by the sebaceous glands, that is an ideal environment for the bacterium (germ) called P. Acnes to prosper. A large amount will cause the body to respond and result in inflammation. Pus may then develop and form small nodules and cysts. There are 2 main treatments available that tackle the environment that allows the bacteria that cause acne to flourish.
What is N-Lite Laser Acne Treatment?
N-Lite is a collagen building laser treatment that destroys the bacteria responsible for acne, clearing up your skin effectively. The laser also helps the formation of collagen below the spots, aiding the healing process and reducing the likelihood of developing acne scars.
Inflamed acne needs to be treated to avoid scarring. We use N-Lite acne treatment to target the bacteria that result in the inflammation and redness because we still believe it is one of the safest and most effective treatments out there for acne, especially compared to non-laser light based treatments. Non-laser light treatments don't offer the precision and depth of treatment that treatments like N-lite offer. We believe N-Lite to be the best option for acne treatments alongside Roaccutane.
N-Lite is a minimum fuss, minimum hassle way to treat acne, especially over weaker light-based treatments. N-Lite just requires a few sessions at our clinics, whereas other light-based treatments may involve lengthy at home usage. You can get right back to your daily life after a N-Lite treatments.
What is Roaccutane?
Roaccutane is a prescription drug that is used to treat and prevent acne but it's never too far from a headline with its links to significant side effects and some reported tragic consequences. Roaccutane works by suppressing the actions of the sebaceous glands. It reduces the amount of oil produced by skin glands, preventing the follicles from becoming as clogged. The strong drug also reduces the size of the sebaceous glands and the inflammation that results in acne. It can be a lengthy process (and expensive if you choose to go privately) to be prescribed the drug and undergo a course.
The drug is mostly prescribed when other methods have failed but there are some side effects and consequences that mean it is not a suitable option for everyone. Members of our clinics have been on the drug in the past and some are still living with the consequences years on. In fact, lots of our skin treatments (like laser hair removal) are unavailable to people on Roaccutane because of the strength of the drug. There's little denying that used correctly and carefully it can really help patients but there is a growing body of people who regret their decision to use the drug. It is important for anyone suffering from acne to be aware of the potential drawbacks and various positives to each treatment.
We don't treat patients for lots of our treatments until a year after they have stopped taking Roaccutane as the drug has considerable longer-term effects that interfere with treatments and procedures as well as your daily life. For instance, a recent news story involved a woman that was left with little option but to terminate her pregnancy after going on Roaccutane and discovering the fetus had developed abnormalities related to the drug. Typically this is explained to patients beforehand and the necessary precautions put in place.
The Private Clinic
We want all our patients to consider their options. Lots of our patients come to us after everything else apart from Roaccutane has failed to help. We are here as medical professionals to advise patients on their acne and not just the treatments we offer – in line with our patient philosophy. You can speak to our medical team about both options in a confidential and honest environment.
We also offer a range of other acne treatments at ours clinics including chemical skin peels and obagi products which have all given our patients amazing results.
We have over 35 years experience in treating patients at The Private Clinic. We have a number of patients who come to us after trying Roaccutane, looking for a treatment they can tolerate and one that works for them painlessly and easily. Our acne treatments have been featured in magazines, newspapers and on TV because they really can work wonders for most patients.
Acne treatment clinics are located in; London Harley Street, Birmingham, Buckinghamshire, Leeds, Manchester and Northampton