As a busy father of 2, Dean was putting almost any spare time he had into keeping fit at the gym but couldn't help feeling disappointed by his efforts. Despite visiting the gym 6 times a week, he still felt he had excess areas of fat that he was struggling to loose.
Dean had previously looked into other methods to help him remove this fat but was looking for something that was non-invasive, had no downtime and that had proven results.
When Dean came across CoolSculpting he was impressed with the subtle results and his ability to return to his usual activities straight away following treatment.
Attending a Consultation at The Private Clinic, our team of experts explained the procedure to him in detail and assessed him to see if he was suitable for treatment – which he was.
Dean attended clinic a few weeks later to have his CoolSculpting treatment. He worked with one of our CoolSculpting experts to put together the most effective treatment plan for him which involved targeting the flanks and the lower abdomen to achieve a full lower body contour. Dean had 2 sessions of treatment on the same day one session targeting the left flank and right lower abdomen and the other session targeting the right flank and left side of the lower abdomen. This meant every area was treated equally.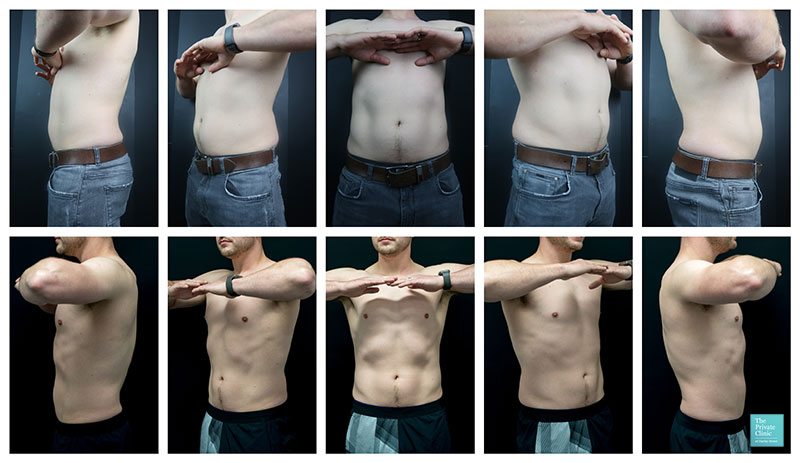 Dean found the treatment pain free and was able to watch TV meaning the time went quickly. In the days following treatment Dean felt a little tender in the areas treated but he was able to return to work and his gym routine instantly.
Now at 12 weeks post treatment, Dean is pleased with the results that his CoolSculpting treatment has achieved and feels that clothes are definitely fitting him better than they did previously.
"My overall experience was that everyone was friendly, everything ran smoothly and I couldn't ask for anything more"