Maisie, 21 has undergone a Breast Enlargement procedure at The Private Clinic with Mr Adrian Richards.
After a lot of research online, Maisie decided to visit The Private Clinic for a consultation with Mr Richards after being recommended by friends.
"I decided to have a Breast Augmentation because I wanted to enhance my appearance."
At her consultation she was able to ask all the questions that she had prepared, find out more about the procedure and discuss implant sizes.
Maisie booked in to have her Breast Enlargement procedure at our Fitzroy Hospital in London and was met on the day by the nursing team there who immediately made her feel comfortable, calm and ready for her procedure.
"On the day of my procedure I was really nervous in the morning but as soon as I got there I was met by the team at The Fitzroy and they made me feel a lot calmer!"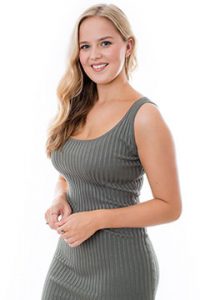 Now more than 6 months after her Breast Enlargement procedure Maisie has noticed a massive boost in her confidence and finds activities like dressing to go out and shopping for new outfits much more enjoyable.
"After my procedure I had a massive boost in my confidence and it enabled me to wear things that I couldn't do before."