What results can I expect from Vaser Liposuction?
Vaser liposuction is often credited as being at the top end of the fat removal treatment scale; with its minimally invasive technique and downtime you can understand why it is often an popular choice over other procedures for removing stubborn areas of fat which dieting and exercise just haven't been able to budge.
"Subtle enough to be undetectable, significant enough to make a real difference – the holy grail of cosmetic surgery." *
Sasha Slater, Deputy Editor, Harper's Bazaar – VASER Lipo with Dr. Dennis Wolf
As the quote states above, the results of vaser lipsuction are very natural in style and often unnoticeable to anyone unless you were to specifically point it out. Vaser lipo, as well as removing unwanted fat – also stimulates your natural collagen production which means your skin will stay tight unlike traditional liposuction treatments which can occasionally result in saggy skin. For those looking for a more defined, sculpted look, VASER Hi-Def liposuction should be considered to noticeably contour and shape the body.
What areas does Vaser Liposuction work best on?
You may find that some areas of your body are vulnerable to storing fat which is difficult to loose through just exercise and diet alone. You could be living a healthy lifestyle, but these areas can make you feel out of shape and unmotivated to continue. It can be difficult for many to achieve a fully athletic figure, in spite of regular workout regimes.
You can have vaser lipo on your thighs (Inner or Outer), Stomach/Abdomen, Buttock crease, Flanks, Arms, Chin, Back, Chest, Neck and Knees.

Vaser Liposuction Patient Story
Former Vaser Lipo patient Kyla was a regular gym-goer and had always eaten a healthy, balanced diet. Growing up in Australia she was used to leading an active lifestyle full of sports and good living. Despite this, Kyla felt unable to shift the extra few pounds that had accumulated in well-known problem areas, her stomach, waist, hips, bum and thighs.
"I have always had an hour glass figure. I have a small waist, curvy hips, and quite large thighs. I eat well, I go to the gym regularly and I don't mind having a curvy figure, but I have always wished that my body was more toned and sculpted. There were always areas, like my hips and my inner thighs, which I just wished I could tone up." *
Feeling frustrated, Kyla visited The Private Clinic and after doing her homework she booked in for Vaser Liposuction on her Abdomen, Waist, Hips, Inner & Outer Thighs, Saddle Bags and Chin.
"I decided to undergo this, not as a quick fix solution, but as a means of targeting the stubborn areas of fat on my body. I felt the procedure would help give me the motivation I needed, moving forward, to keep my body in the shape I wanted it to be." *
Her three hour procedure went smoothly and three weeks later she was back at the gym with a new found confidence.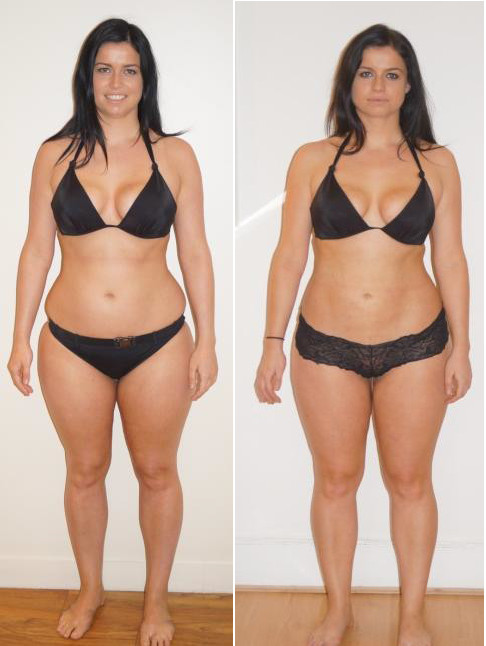 Vaser Liposuction is in no way a quick fix to losing weight and should still be seen as a serious surgical procedure despite not going under a general anaesthetic. Ideally, the treatment should be viewed as a compliment to regular exercise and a good diet, and not a replacement to a healthy lifestyle.
For those who are serious about sculpting their figure and committed to maintaining a healthy lifestyle, Vaser Lipo is second-to-none in terms of its precision and results achievable. Our Doctors are pioneers of Vaser Lipo and have advanced skills and techniques.
The Private Clinic
The Private Clinic is a training centre for Advanced VASER Lipo. We perform over 1,300 VASER procedures every year. Our Doctors and medical teams are of the most experienced in the country.
Liposuction consultations are available in London Harley Street, Birmingham, , Buckinghamshire, Leeds, Manchester, and Northampton.
To find out more about liposuction procedures at The Private Clinic, please contact 0333 920 2471 or you can use our online contact form to request a call back.