Here at The Private Clinic, we are fortunate to not be directly affected by the PIP breast implant scandal, as we only use high quality, reputable brands. We are as thorough as possible with the quality of our implants to ensure the patient is protected. Many people didn't keep up with the PIP breast implant scandal at the time and it can be a little confusing. We decided to give a snapshot overview of the scandal and offer you ways to suss out your clinic of choice to ensure you are in safe and professional hands that will be there for you before, during and after any procedure.
The PIP Scandal Overview
Poly Implant Prothèse (PIP) was a France-based company that manufactured silicone breast implants. In a management move, it was decided to reduce the quality of the silicone used in implants, from medical grade to industrial grade – totally unsuitable for implants and commonly referred to by its use in mattresses. The main reasoning seems to be cutting costs as industrial grade silicone is around one tenth of the price. French surgeons began to report abnormally high rates of rupturing that ultimately led to the exposure of the problem, sending shockwaves across the world. Lots of countries banned and stopped using PIP implants entirely, as the UK scrambled to work out just how serious and dangerous a threat the implants were for those affected.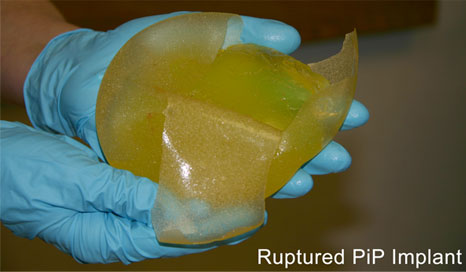 The UK's Chief Medical Officer, after careful deliberation, urged caution due to lack of evidence about the harm the implants posed. This was not enough for many of the 40,000 UK women thought to be affected. They turned back to their respective clinics with the expectation that they could remove the implants free of charge, only to be told by some that it was not possible for free. We urge patients to look into the scandal, from independent sources, to fully understand how far it all went. The different reactions from affected clinics really helped to galvanise industry opinion that more regulation was needed to protect patients and ethical clinics. Important reviews are currently underway and it is our clinic's hope that if the industry is rocked by scandal again then patients will not suffer for it.
What to Do to Avoid a Bad Clinic
Check which regulatory bodies the clinic adheres to, both legal and voluntary, as well as what that entails. These can be a port of call when things go wrong.
Beware of hard selling techniques and offers (for example, ones with time limits attached). A reputable clinic will not unduly pressure you into signing up for a procedure before you are truly ready.
The costs involved and the busy schedules of doctors and surgeons mean you will not always be seen by a medical professional in a consultation or meeting. Check beforehand and ask why to fully understand.
Saline implants are losing popularity but they still have some benefits, including being generally safer if there is a rupture as the body can absorb saline better than silicone. Discuss the options.
It is private healthcare; it is sadly not cheap. Beware of too good to be true prices. There is always a catch. Don't overpay but don't let your clinic of choice be determined solely by price.
Be cautious of financial plans offered to help structure your payments. They may not offer the best value and can have onerous terms and conditions. Ensure you fully understand before signing anything. Any reputable clinic offering them will understand.
A trustworthy clinic will explain to you the risks involved in a procedure, not shying away from some uncomfortable aspects, like recovery periods for invasive surgery. They will also manage your expectations from the initial consultation. Grand promises and vague answers to questions should sound an alarm in your head.
Check the clinic's use of social media. They might not have the time to be as active as they would like but a solid, evident internet profile helps to improve transparency and accountability.
It's a difficult truth to handle for some but sometimes a patient is unsuitable for a procedure. Beware of clinics willing to overlook other professional opinions.
Build up a written list of questions to ask. This will help you better understand the procedure and clinic of choice. It might sound obvious but it works.
The Private Clinic
We now work with experienced medical teams of doctors, nurses and surgeons to bring safe and effective breast implant surgeries, as we continue to build upon our 30 year Harley street reputation and expand our range of treatments into plastic surgery. See our website for more details and how to book a consultation: https://www.theprivateclinic.co.uk/treatments/plastic-surgery/breast-surgery/breast-enlargement-implants-augmentation/