If you're thinking about a hair transplant, you might be wondering what can be achieved and how, when you would see results, if there is any scarring involved, and if you are suitable for the procedure in the first place. We have you covered on all you need to know, referring to some of the differences involved with FUE and FUT hair transplants.
What can be done?
A hair transplant is able to take hair from your donor area (usually the back of the scalp – where your hair is plentiful) and transplant it within areas of hair loss.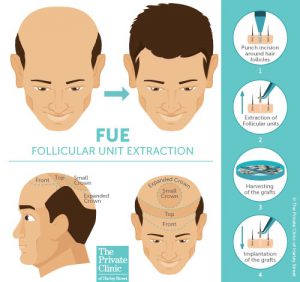 And how does a hair transplant work exactly? It depends on the hair transplant technique used. However,  FUE (follicular unit extraction), the advanced, popular technique, available at The Private Clinic, extracts healthy, individual hair follicles from your donor area, with their necessary glands, using a very fine, specialist punch device. The grafts (extracted hair follicles) are subsequently transplanted into hair loss areas marked out by your surgeon. These areas often include the hair line, sides, and crown of the head. However after a detailed assessment of your scalp, your surgeon will advise the suitable areas for transplantation in your case.
If you select FUT (follicular unit transplantation) for your procedure, the traditional hair transplant method and more invasive technique, a strip of tissue will instead be excised from your donor area. The donor area will be closed using stitches, and the strip of skin removed will be cut into follicular units and grafted into place.
The new grafts once healed are completely natural as they are your own growing hairs that simply have been moved from areas that you need it less.
When can I see results? With FUE, results begin to appear approximately four to six weeks post treatment, with final results revealing after six to twelve months. With FUT, you will see new follicles growing 2 to 3 months in, and after a year final results will be shown.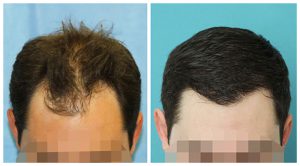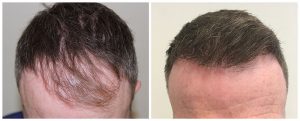 Natural-looking results
This is where your choice of a highly skilled and experienced surgeon and their approach is extremely important. At The Private Clinic, our world renowned FUE surgeons are able to achieve results that are natural-looking, with denser packing with their unique technique. Our specialists ensure grafts are implanted at angles and density corresponding with the natural existing hair growth of the patient. So, when new hair follicles start to grow, they will mimic the surrounding hair follicles' characteristics. Choosing only healthy units additionally ensures the affected area will appear densely filled.
The choice of U-FUE, the Unshaven Hair Transplant
For those preferring not to shave their head pre-procedure, U-FUE , a variant of FUE, allows hair to be unshaved pre-hair transplant. We're proud to say our surgeons are the only hair transplantation specialists UK-wide offering the innovative procedure. A highly delicate treatment requiring significant technical skill, we have spent several years perfecting the specialist method. Are you suitable for the treatment? This can be advised by an expert surgeon at your consultation.
Scarring Involved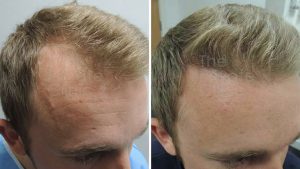 The scarring you can expect depends on the hair transplant technique chosen. If you choose a FUE hair transplant, you will be left with minimal scarring that will be virtually undetectable. Only when the donor region is shaved to be very short, small circular scars may show as small white dots. The precision and slenderness of the punch device used, allows them to heal quickly, allowing them to be hardly visible.
FUT, comprising of surgical removal of a strip of the scalp, will leave you with a linear scar at the back of the head. This is visible with short hair and puts you at risk of thickened or stretched scars, or keloid scars.
Am I eligible for a hair transplant?
You may be wondering if you are eligible for a hair transplant in the first place. Only your surgeon will be able to advise if a hair transplant is the best option for you, during a hair transplant consultation, and many factors will have a role in this decision. At The Private Clinic, offering the FUE hair transplant method, determining factors will include the patients':
Age: There is no real age limit, but the best candidates tend to be over 27-30 years old, as younger patient may require additional treatment later on as their hair loss still continues naturally
Donor Area: A good, healthy supply of hair follicles for transplantation is required. We can only use the hair you have for transplantation. The donor area is often the lower back part of the scalp or side of the head. Although, at The Private Clinic, we may be able to use hair from other bodily areas in some cases
Hair Loss Type: The cause of hair loss affects your suitability for the procedure. The best candidates have male or female pattern baldness, usually affecting only particular areas of the scalp, rather than the entire scalp
Health: Hair transplant patients must be in good health, through making health life choices, and medically
Why choose The Private Clinic?
We've been treating our patients for more than 35 years, with an excellent reputation for patient satisfaction and safety, outstanding care, and transparent, honest advice
We're proud to have the highest Trustpilot rating in the industry
Offer a team of highly experienced Hair Restoration specialists with decades of experience, who have undertaken thousands of hair transplants
You will be provided as many post-treatment appointments as you require, and will be provided comprehensive patient information at every stage
24 hour patient helpline to ensure you are always in the best of hands.
Comprehensive patient information, every step of the way.
Outstanding clinic facilities.
Consultations available in London Harley Street, Birmingham, Leeds, Manchester and Northampton.
Our excellent reputation for patient safety and satisfaction, honest advice and outstanding care means your journey with The Private Clinic will be an exciting experience to a newfound head of hair.
We are able to offer finance solutions with manageable payments to suit a variety of budgets.
We provide hair transplant consultations with our patient advisors across the UK, and FUE hair transplant consultations with our industry leading hair transplant surgeons in several locations.
If you would like to arrange a hair transplant consultation please get in touch via 0333 920 2471 or you can use our online hair transplant contact form.